SNHU Military Student Ran Boston Marathon to Support USO Mission

The Boston Marathon is one of the most iconic sporting events in the world. For many runners, it represents the ultimate challenge. For Southern New Hampshire University (SNHU) bachelor's degree student and active-duty service member Senior Chief Robert Bruce, the 127th Boston Marathon was more than just a personal test of endurance. It was an opportunity to raise funds for the United Service Organizations (USO), which has played a vital role in his life.
Bruce has a passion for real estate and was working in the industry until 2008. That's when the real-estate market crashed, leading him to re-evaluate his career and enlist in the Navy. He was deployed shortly thereafter.
It was during this time that Bruce first encountered the USO, at one of their airport lounges, and instantly felt like the USO was an extended military family. The USO sent care packages throughout his deployments, including phone cards so he could easily speak with his family.
He also applied for the USO's "Seats for Soldiers," where he and his son were selected to see the Boston Celtics and meet professional basketball player Kemba Walker.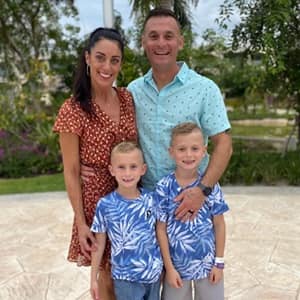 So, when Bruce first discovered Team USO and the Boston Marathon fundraising opportunity in 2022 on social media, he was intrigued. But he noticed the post too late into the process to get involved last year.
He said the thought of how fun and rewarding the journey would be to fundraise and train for such a historic event sat in the back of his mind all year.
"When the opportunity came up again, I spoke with my family, and they backed me one hundred percent," Bruce said. "So, I threw my name in the hat."
The Opportunity of a Lifetime
Running in the Boston Marathon is a lifetime achievement for some. But for Bruce, there was a catch. He had never run in any organized race before, let alone a marathon. But that didn't stop him from wanting to take on the challenge.
"A lot of people recommended doing some smaller races to prep and get a feel for how races are," Bruce said. "But I think the story is better going from zero races ever to arguably one of the biggest."
The time it takes to train for a marathon is a big commitment. Bruce ran about 30 miles a week — taking him around 6 hours to stretch and run the distance for his training. He started an 18-week training plan in December to help him prepare, and he said that each week his commitment increased as his training increased.
He admitted that balancing everything from family, work, school and training can sometimes be demanding. For Bruce, though, staying successful boils down to communication, time management, balance and determination.
"We all have the capacity to do more," Bruce said. "Deciding to take on more means you have to be efficient with your time, communicate to stakeholders (such as family and work) and maintain a focused mindset."
Picking Up Where He Left Off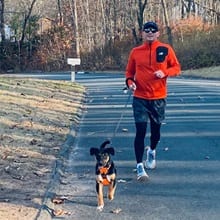 Before pursuing his bachelor's in business administration at SNHU, Bruce had prior college experience scattered across the past 24 years. He initially went to college right out of high school, but felt the timing wasn't right.
He attended a local community college next but work always took priority over school. It was around that time that Bruce went full steam ahead into real estate.
Throughout the years, though, he researched several online schools yet couldn't find a platform that was a good fit.
"The result was a bunch of college credits and no degree," he said. "It wasn't until I had this amazing experience with SNHU that I could finally see the pathway to a degree, and (I) am now as determined as ever."
Bruce became aware of SNHU from a family member, who would rave about the support and excellent online platform. So much of his decision to continue toward his degree came from being honest with himself — and with a little push from his commanding officer at the right time.
"I found myself with a capacity to do more," said Bruce. "After talking with my skipper, who was supportive of my quest to obtain a degree, I found myself saying it would be a wasted opportunity not to pursue my degree during this time period."
This made Bruce push harder.
"I feel like everyone that has helped me feels vested in my goal, and that is empowering," he said.
Being a Part of a New Community
Bruce instantly felt like he was part of the SNHU community, even with all his courses being online.
As an active-duty service member, Bruce feels SNHU has a strong understanding of the needs of its military students.
"Being in the military, my plans change more than most," he said. "My advisors have been amazing and understanding each time I call them and explain that I need to adjust my educational plan."
Bruce feels connected with the military community at SNHU.
"Every course I have been in has active or separated/retired members and even their spouses," he said. "That makes me feel part of a bigger community of my brothers and sisters in arms that are all trying to better themselves."
Bruce said that even the small things, like the military drop box that make it easier to submit documents rather than emailing and wondering if they were ever received, make a difference.
He has found his financial advisor to be equally as impressive, too. They walked him through the tuition assistance process and showed him how to submit everything.
"All around SNHU knows the challenges we as military members face, and I feel are an amazing support system," Bruce said.
Taking Advantage of His Support System
Despite juggling his education, work, family and training, Bruce has been doing well in his coursework. He credits his success to time management, communication, balance and determination.
"I would be lying if I said that I didn't feel stressed at times," he said. "But my amazing wife always helps by putting things in perspective and grounding me."
For Bruce, his outlook is essential. He frames everything he's doing as an added value to his life, and that helps keep him motivated to start and finish the best way possible.
"A support system is crucial," he said. "The USO team, SNHU team, my staff at work and family have all been so supportive. I couldn't accomplish any of what I am doing if I didn't have these support teams in my life."
Completing Goals and Chasing Dreams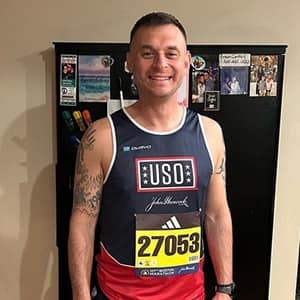 With three more semesters left until he completes his degree, Bruce already uses the knowledge he's gained from his coursework.
"I am like a sponge taking it all in and using it in real life," he said.
Retirement looms ahead in eight years. Bruce is unsure what's next for him but knows achieving his degree will provide confidence and open more doors when the time comes.
Bruce's journey toward completing the Boston Marathon and earning his degree is a personal accomplishment.
He far surpassed his initial goal of raising $20,000 for the USO, which has provided him and his fellow service members with countless programs and services to help them stay connected with their families and loved ones while serving their country. He topped his fundraising efforts at $26,540 – and finished the marathon with a time of 4:24.
Bruce said it felt amazing to complete a goal he had trained so hard for – and met some wonderful people while experiencing the energetic atmosphere of the city on marathon day.
"Most importantly, my two boys were able to see their dad set a goal, work towards it and achieve it," he said.
Nicholas Patterson '22 is a writer at Southern New Hampshire University. Connect with him on LinkedIn.
About Southern New Hampshire University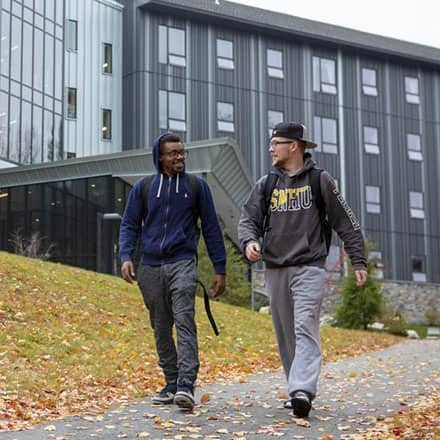 SNHU is a nonprofit, accredited university with a mission to make high-quality education more accessible and affordable for everyone.
Founded in 1932, and online since 1995, we've helped countless students reach their goals with flexible, career-focused programs. Our 300-acre campus in Manchester, NH is home to over 3,000 students, and we serve over 135,000 students online. Visit our about SNHU page to learn more about our mission, accreditations, leadership team, national recognitions and awards.