SNHU, Celtics Open 9th Tech Lab at Lynn Middle School
Katherine Latham, superintendent of Lynn (Mass.) Public Schools, was nearly bursting with excitement. Finally, in an old building she had hoped would be replaced by now, Pickering Middle School students would have the same opportunities as the students in the city's two other middle schools.
"It's just wonderful," Latham said. "The opportunities this is going to afford students in Pickering is just fabulous. We have nothing like it in this building. We are thrilled."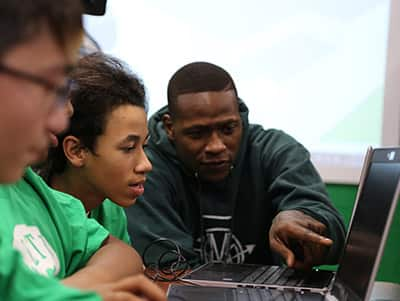 Latham was speaking during the unveiling of the ninth technology lab installed in Greater Boston schools as part of the partnership between the Boston Celtics and Southern New Hampshire University. The Pickering Innovation Lab opened Nov. 29 is the first to include CAD - computer-aided design - capabilities. It will accompany a woodshop the school district is building next door.
More than 20 students piled into the new lab that had been outfitted with 25 laptops, the latest CAD software and a 3D printer. With the help of a pair of special guests - Celtics point guard Terry Rozier and former Celtics guard Dana Barros - the students dove into the software program and began designing houses, garages, cars and more. Dave Hoffman, senior director of community engagement for the Celtics, gave game tickets to two of the braver students who shared their designs with the group. Hoffman said the lab, which opened this week, is one of more than 60 the Celtics have helped open in area schools in the last decade and one of the best parts of his job.
"We're able to leave a legacy behind for all the students in a school like this to be able to enjoy the latest cutting-edge technology to help them grow as students and help them grow as people," he said. "It's an exploratory opportunity for everyone. And for those who find their passion doing this, I hope it's a springboard for them to launch an academic pursuit or even, ultimately, a career."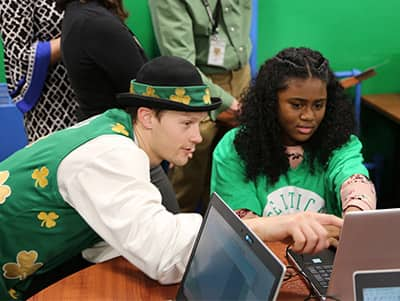 Latham said Pickering is the neediest of Lynn's middle schools in terms of technology accessibility. The CAD lab brings it in line with the newer buildings in the district. The students, she said, have been excited for weeks, trying to get peeks into the room as it was being renovated.
"We need to push STEM, and this is wonderful," she said. "We didn't have the CAD software in this school. It's really important for these students to have what all of the other students who go to the other middle schools in Lynn have. So, we're thrilled."
Gaynelle Swann, associate dean of academics at SNHU's College of Engineering, Technology, and Aeronautics, said she hoped the new lab would allow Pickering students to explore and experiment with design. "It's very important for us to have students of all ages engaged in technology from an early age," she said. "It spurs your creativity, your innovation and your insight - and hopefully excites you about pursuing careers in the STEM fields."
Before the students left for the day, Hoffman offered a spur-of-the-moment challenge. Over the next month, students can use the next tech lab to create their own design of the parquet floor at the TD Garden. Rozier will choose a winner, who will be invited along with a guest to a Celtics game. Hoffman said later he hopes the challenge and other work students will undertake in the lab will give them concrete examples of how what they're learning applies to the real world.
"This is so tangible. They design something on the computer that comes from their brain, from their imagination and it comes to life on the computer screen," he said. "It's pretty special."
Joe Cote is a staff writer at Southern New Hampshire University. Follow him on Twitter @JoeCo2323.
Explore more content like this article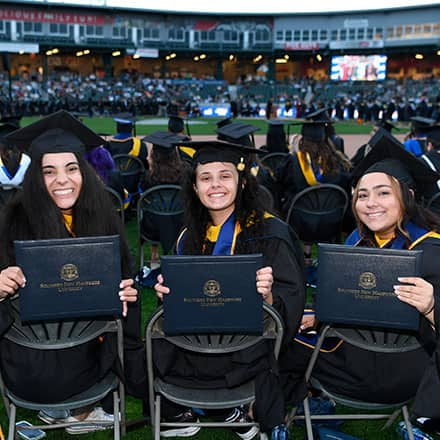 October 18, 2021
Southern New Hampshire University's Class of 2020 and 2021 campus graduates had their moment in the sun on Saturday when more than 400 celebrated their incredible achievements at Northeast Delta Dental Stadium in Manchester, New Hampshire.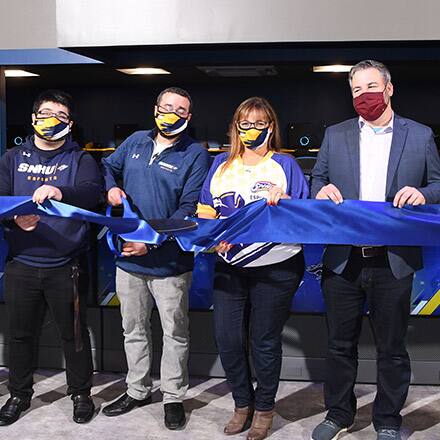 October 13, 2021
SNHU celebrated the grand opening of its esports arena on October 8th. A ribbon-cutting event marked the official opening to welcome the campus community and to see where esports players hone their gaming skills and compete against varsity-level opponents across the U.S. and Canada.
August 19, 2021
If you're wondering how to become a computer programmer, the field requires academic knowledge, a passion for math and engineering, adaptability and hands-on experience.