How to Become an IT Manager
Is 2020 the year you put the wheels in motion to become an IT manager? Smart. It's a valuable role in high demand across organizations of every size and sector.
The median IT manager salary reflects that demand. What's more, "IT manager" can be a great stepping stone to roles like IT director and Chief Information Officer or IT specialties such as cyber security or cloud computing.
But how do you go from point A – whether that's high school graduate, help desk or somewhere further along the food chain – to point B? The first step is to understand the role. Once you know it's right for you, you'll want to assess where you are on your career path, then get the education and experience you need to move forward.
What Is an IT Manager Exactly?
Before you pursue a career as an IT manager, make sure you know what the role involves. In a nutshell, IT managers plan, coordinate and direct an organization's computer-related activities.
But that definition just scratches the surface. The day-to-day life of an IT manager can touch on many aspects of a business operation, including operations-oriented functions such as:
Overseeing staff who ensure systems/networks availability
Monitoring for system security and performance
Assisting end users
Deploying or updating PCs
Administering databases
"On any given day," said Mark LePage, Southern New Hampshire University's executive director of STEM programs, "an IT manager could be dealing with an increase in calls to the help desk due to a software virus, deploying new notebook computers to staff in a regional office on the other side of the country, responding to a potential network security breach, planning for an application software update, or focusing on business continuity in the face of an impending severe weather event that will disrupt operations."
LePage notes that a key part of smooth-running IT operations is establishing procedures to troubleshoot the range of problems that can occur at any time of day or night.
To that end, many organizations employ IT managers to oversee development or maintenance of in-house software. That can mean everything from staying abreast of new technology to running cost/benefit analyses of new projects, determining resource needs and negotiating with vendors.
In the process, IT managers often serve as liaisons between the business and technical aspects of projects, monitoring progress to ensure the team is meeting deadlines, standards and cost targets.
IT Management by Degrees
Ready to learn how to become an IT Manager? Let's look at your degree options.
"Depending on the scope and scale of an organization's IT operations, an IT manager could be successful with an associate, bachelor's or master's degree," said LePage.
In a small shop, where LePage says IT managers are "doers as much as they are managers," a strong foundation of technical skills is a must. An associate degree in information technology can give you a leg up and a path to entry-level IT management positions.
In a mid-size firm, where front-line IT managers deal with larger teams, you'll want a bachelor's degree, which may also help you move up the ladder.
In larger organizations with a greater level of complexity, LePage says "the ability to interface within both the technical and business segments of the organization becomes very important." Here, a master's in information technology can lead to more senior levels.
"Many IT managers step through a progression of roles, building valuable skills and gaining experience along the way," LePage said.
That's how someone working at a help desk often begins to advance, he adds. "They demonstrate strong communication and technical skills and get promoted to team lead or team supervisor."
Experience Is Key
While a degree in information technology will help you hone the technical skills you'll need to enter the field or receive the promotion you want, experience is a key element in how to become an IT manager.
"Before you can manage a team, you have to be a member of a team, and many companies promote managers from within," said Tori Chartrand, a career advisor at SNHU. In general, she says most IT managers need a minimum of two to three years of experience.
Chartrand and SNHU colleagues Faryal Humkar, undergraduate IT career advisor, and Ernesto Chapa, military IT career advisor, recommend different approaches depending on your academic level and career phase.
"For learners trying to break into the field, I encourage them to gain experience through internships," said Humkar. "You can begin applying to internships once you start taking your core classes."
For career changers, Chapa advises studying and testing for industry-recognized certifications in IT specialties like project management, cyber security or data analytics.
"For learners already in the field and trying to move up into a management role, I recommend taking on more leadership projects so you can highlight that on your resume," said Chartrand.
The IT Management Skill Set
In a role that requires wearing multiple hats and straddling both technical and business operations, an effective IT manager needs both technical and soft skills in equal measure.
"There's always a strong focus on the technical skills to be an IT manager," Chartrand said, "but the soft skills are just as important. In an IT management role, you're managing a team as well as their technical skills."
LePage agrees with his IT career advising team. Here are the top six skills these experts recommend to become an effective IT manager:
Communication, especially the ability to listen, ask clarifying questions and communicate with audiences of varying technical abilities
Problem-solving, or being able to break down a problem to get to the root cause and avoid wasting time chasing symptoms
Prioritizing on the fly, which involves assessing a problem in terms of time and cost and balancing it against other demands
Project management, which includes scoping projects, defining resources, determining costs, setting schedules, and assessing and mitigating risk
Systems thinking mentality, or the ability to identify and evaluate the impacts of changes or events, both internal and external to the business
Technical ability, including a grounding in networking, security, hardware, database, scripting, cloud, and operating systems
In terms of technical skills, LePage points out that IT managers need to know enough to "understand the interdependencies of complex information systems and environments and effectively direct staff and manage operations."
Information Technology Management Salary and Job Outlook
The latest BLS reports place the median annual wage for computer and information systems managers at $142,530, although the information technology management salary range varies by industry. In May 2018, finance/insurance and manufacturing ranked among the top employers of IT managers, with median annual wages of $148,620 and $143,910, respectively. It is important to keep in mind that those salary ranges take into account high-ranking positions such as chief information officer and chief technology officer and more junior positions would be paid lower salaries.
The BLS projects 11% growth through 2028, much faster than the average for all occupations. Expansion of operations to digital platforms is spurring much of this growth, along with the need to reinforce cyber security systems in organizations of every size and category.
In addition to traditional business sectors, Chapa counsels students to look at Department of Defense (DoD) federal work and civilian contracting. Keep in mind, however, that DoD work requires special Information Assurance Technology (IAT) certifications. Learn more about the DoD IAT requirements here.
With challenging work, high salary potential and a wide range of opportunities, the role of IT manager presents all sorts of exciting possibilities.
Betty Egan '17 is a freelance copywriter with 25+ years of experience across a diverse spectrum of industry sectors, including higher education. She lives and works remotely from the mountains of northern New Hampshire. Connect with her on LinkedIn.
Explore more content like this article
August 19, 2021
If you're wondering how to become a computer programmer, the field requires academic knowledge, a passion for math and engineering, adaptability and hands-on experience.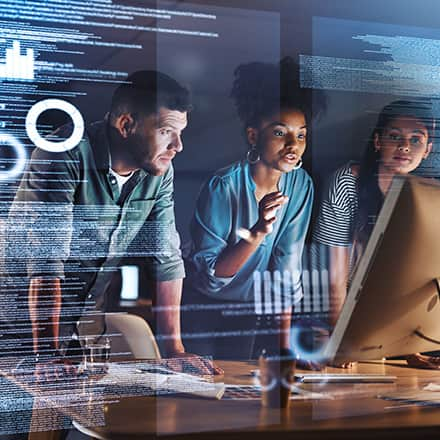 August 11, 2021
With a computer science degree, you can embark on a career with dozens of potential job roles suited to your interests. You can use the knowledge you develop earning your degree to work in technology, manufacturing and more.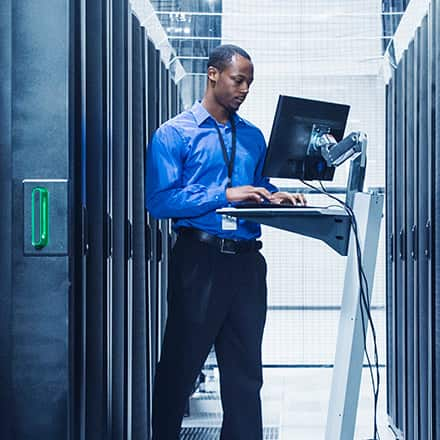 July 20, 2021
The field of cyber security is about leveraging top-notch problem-solving skills with technical aptitude to keep people and data safe. Despite being relatively new, the field of cyber security is here to stay.