STEM Students Host "I Hate Math" Conference for Middle School Girls

In April, 35 middle school girls spent a day on Southern New Hampshire University's Manchester campus for the "I Hate Math" Conference, designed specifically to inspire, encourage, and challenge girls to achieve their academic and personal goals. Created and run by four undergraduate SNHU students, the conference was designed specifically to inspire young women to persist in traditionally male-dominated fields of science, technology, engineering and math (STEM).
Meet the conference organizers:

Tori Berube | Director of Workshops & Curriculum

- Anticipated grad year: 2018
- Dual major in Middle School Mathematics Education and Mathematics, with a minor in Psychology
- Hometown: Hooksett, N.H.

Alycia Miner | Director of School & Participant Involvement

- Anticipated grad year: 2017
- Major in Mathematics, with minors in Education and Psychology
- Hometown: Hooksett, N.H.

Mary Shakshober | Director of Marketing & Promotional Design

- Anticipated grad year: 2018
- Dual major in Graphic Design/ Media Arts and Mathematics
- Hometown: Townsend, Mass.

Elle Tibbitts | Conference Director

- Anticipated grad year: 2018
- Dual major in Economics and Mathematics
- Hometown: Merrimack, N.H.
What inspired you to put this conference together?
ET: At the 2016 Women's Leadership Forum, I watched Reshma Saujani, the founder of Girls Who Code, speak about the barriers for young girls into engineering. I held onto the line "we condition our girls to be perfect and our boys to be brave." I was inspired and enraged, and I had the desperate need to do something. By the end of the day, I came up with the idea for this conference - an opportunity to inspire and encourage girls in my community while simultaneously providing the opportunity for SNHU students to practice their presentation skills on a topic they are passionate about.
Why do you think there's such a dramatic drop off in interest for middle school girls in math and other STEM fields?
ET: Lack of role models. I attended another conference through the Deborah L. Coffin Women's Center this past summer, and Kimberly Bryant, founder of Black Girls Code, talked about how we need "role models who look like us." It's difficult to envision a future that you do not see in your reality.

TB: Math shifts in middle school from simple computational problems to more challenging problem-solving questions. If students are not taught to enjoy the struggle of solving a problem as much as getting the right answer, they can shut down, believing they are no longer "good at math." And, female students are often insecure during this time, which can affect their ability to take risks in answering questions that they may not get correct the first time.

AM: That's true. Plus, a student's perception of their performance is more influential than their actual ability. This is how math (and other STEM fields) grow a negative connotation. It is so crucial for us to instill confidence in middle school students, stripping away the negative mindset instilled in mathematics.

MS: These gender roles are tacked onto students so early. Adults and students alike seem to always be surprised when they see a female excelling in math or science, and likewise when a male is clearly successful in art or English. And we can see just how far down the road this affects female representation in STEM.

How did you select the lineup of workshop topics and presenters?

TB: We had a wide variety of workshop topics, such as accounting, ratios, math in fashion, science using genotypes, and motivation and growth mindset. These presentations were primarily done by undergraduate students at SNHU, but we had some participation from campus professors and public school teachers.

Our presenters and volunteers for the event made this a huge success! In addition to our presenters, students and faculty showed up bright and early to help set up; and students showed up midday to act as lunch mentors, where they ate with the students, talked to them about their college experience, and answered their questions.
How did you recruit participants?
AM: With the guidance of our curriculum heads, we contacted principals of local middle schools in January to begin advertising, and we also did some school visits. Many schools were excited to see a female empowerment program in place for middle school girls, and assisted our team in encouraging their students to apply and attend the event. And, many of our attendees were children of those who work for SNHU.

In the end, our turnout for the day was 35 students. This surpassed our goal of 25 (what STEM programs in the area have typically attracted), and we were overjoyed to share our love and appreciation of math to these students.
Why is it important to have a mentor or role model and to be part of a network, especially for girls and women?
MS: Mentors and role models have a way of shaping who we become. Having powerful women in my life has undoubtedly been an encouraging experience, and now, as a role model to others, I can honestly say that there are few things more rewarding for me than to remind girls just how much power they hold. These girls deserve to know their worth, without question.
How does this conference relate to your own career aspirations?
ET: I want to use economics to fight human trafficking. Trafficking follows the principles of supply and demand, so I can utilize the skills necessary to run a successful business to tear one down. I was able to turn this conference from an idea into reality - from writing the proposal, to gathering funding, to developing a team, to the final product.

TB: My plan is to become a middle school mathematics teacher. I have always wanted to teach at the middle school level because of the struggles most students face at this age, both academically and developmentally. It is an amazing feeling to help a student, and I want to help as many as possible!

MS: I foresee myself working in a technology field with my graphic design major. As the Marketing and Promotional Design Director for this conference, I got to really test my ability to design under deadlines and under stressful circumstances. And, I have always felt very strongly about being an active citizen and being a role model both in personal and in professional settings.

AM: Outside of school, I am a professional tap dancer and dance teacher/choreographer. Thus, I work directly with students of this age range every day. I aspire to empower these young ladies through building confidence, self-esteem, and demonstrating to my students that anything is possible. The goals of the I Hate Math Conference align directly with my teaching philosophy.
Do you think this could become an annual event? Why or why not?
ET: Yes! We are planning to move the event to October, and we hope to further integrate the program into the SNHU community, and encourage the leadership and confidence of SNHU students.

Audrey Bourque is the director of advancement communications at Southern New Hampshire University. Connect with her on LinkedIn.
Explore more content like this article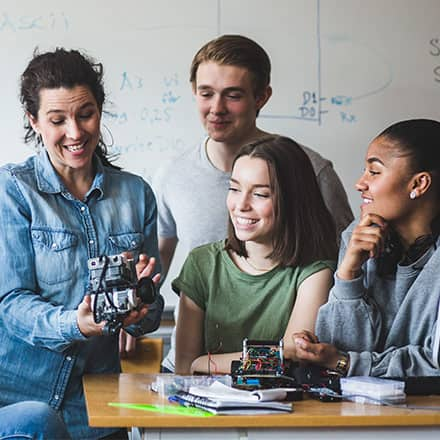 Let's start with a basic question: Exactly what does STEM mean? It's a term many are familiar with, but don't necessarily understand. STEM is a common abbreviation for four closely connected areas of study: science, technology, engineering and mathematics.
From Grace Hopper, an early pioneer in computer programming, to Katherine Johnson's contributions as a space scientist, women have been proving their value to the STEM fields for years and years. While there isn't one straight pathway into STEM, there are some general strategies that will help.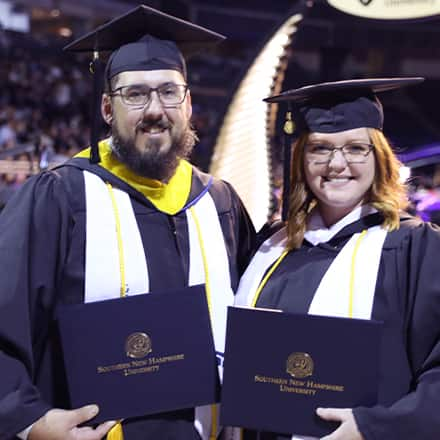 Michael and Taria Richards, both first-generation college graduates, earned their bachelor's degrees together from Southern New Hampshire University. Despite unconventional journeys, they've secured new jobs and are determined to set an example for their children.
About Southern New Hampshire University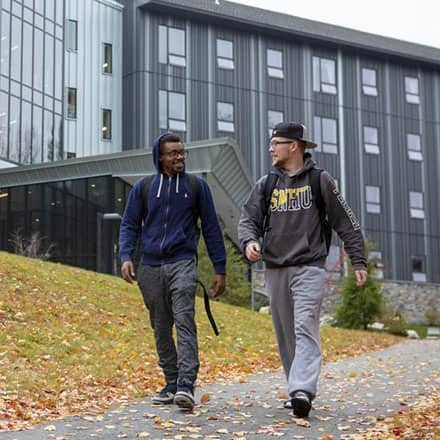 SNHU is a nonprofit, accredited university with a mission to make high-quality education more accessible and affordable for everyone.
Founded in 1932, and online since 1995, we've helped countless students reach their goals with flexible, career-focused programs. Our 300-acre campus in Manchester, NH is home to over 3,000 students, and we serve over 135,000 students online. Visit our about SNHU page to learn more about our mission, accreditations, leadership team, national recognitions and awards.