SNHU Students Show Off Video Game Skills, Meet the Pros at PAX East
There aren't many conventions whose FAQs include the relative safety of prop weapons alongside information about parking options. Then again, one doesn't often spot Mario, Link and a Stormtrooper strolling past in a matter of minutes either.
But that's the zany charm that is PAX East, a celebration and demonstration ground for the world's best and brightest game developers of all sizes. It's also where a dozen Southern New Hampshire University students found themselves this month to show off their skills and connect with gaming industry pros.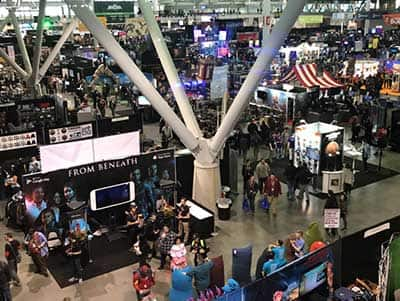 Instructors Ed Brillant and Dave Carrigg have brought students to the convention for three years because it's the best place for them to explore as much of the vast gaming industry as possible. One of the most critical aspects of the convention for students - networking - happens away from the SNHU booth.
The floor of the Boston Convention and Exhibition Center is enormous, and when PAX East takes over it is jammed wall to wall with game creators, marketers, software and hardware developers and many more, as well as tens of thousands of fans of games of all varieties. Companies the size of Facebook, Dell and Microsoft rub shoulders with independent developers that have found their own niche in the massive industry. This gives students like Greg St. Angelo, a senior game programming and development major, a golden opportunity to make connections with professionals in the field and collect as many business cards as he can.
"We're showing off the games that we've made at school ... and networking and just trying to get our games out there," St. Angelo said. "Networking is a big thing since I'm graduating soon."
Brillant, coordinator of SNHU's campus game art and design major, said previous PAX East visits have served as de facto job fairs for students. Many have landed internships and jobs from the connections they made on the convention floor. That's because the students chosen for the four-day event are some of the program's best. They're selected based on the number of games they've made or amount of art they've produced. They also have to have a complete personal website, a polished resume and a set of business cards.
"The real big thing is these are our best students. You earn your way to get into this place," Brillant said. "The real reason is they're going out and networking. We have exhibitor badges, and it makes them different. They're on an equal level now. Because our students know what they're talking about, they can talk shop."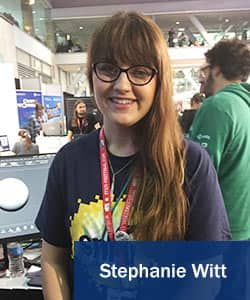 Stephanie Witt is one of three online students who traveled to the convention. The Alabama resident said while she plans to find a remote work opportunity once she completes her degree in graphic design with a concentration in 3D modeling and animation, there's a big difference between virtual and in-person networking. Strolling the convention floor was a new world for her.
"I'm loving the networking. It's not impossible to do it, but it's hard to do it online," she said. "This is definitely helping me ... ."
Clair Todd, also an online student studying for a bachelor's in IT with a concentration in software development, said the experience was particularly valuable to her because she's interested in the gaming industry but studying for an IT degree.
"Even though I'm not a game design student, I can learn from this and gather networking experience and meeting people in the field that maybe I will be able to get into in the future," she said. "This was a good opportunity to meet people who are into indie games and maybe a greater chance of something working out."
In addition to the networking opportunities, the SNHU booth functions as a way to showcase students' work and talents.
A set of four monitors fronted the booth. The middle two monitors featured video games made by students that visitors were invited to try. Meanwhile, students were working on a new game they began at the start of the conference. Their work, coding and animating the game, was shown in real-time on the other two monitors facing the convention floor. There was also a third game created by an SNHU alum that visitors could play on a HTC Vive virtual reality system.
"The real reason why we get a booth as SNHU is to show off student work," Carrigg said. "Students are producing all this really cool work, and we want to give students just another outlet to show that stuff. PAX is the biggest and best event to do that."
The students are in charge of operating the booth, from design and construction of the booth itself to interacting with the hundreds of visitors who stop by. It is, after all, something they might be taking part in once they launch their careers. The experience of interacting with convention guests, talking about their games and what went into developing them will be a valuable skill in their careers.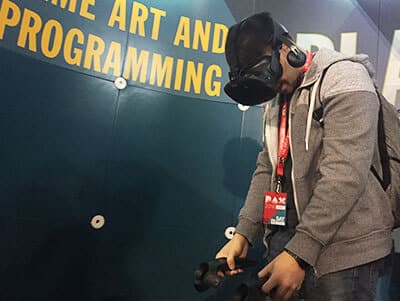 "That's part of being a game developer - pitching and showing off your stuff," Carrigg said.
St. Angelo said the sheer number of people who stop by the booth helps him get a wide variety of input to consider for his next project.
"Running the booth has been really fun. Everyone's super friendly. I'm learning a lot about how to manage a booth," he said. "It's great to have this experience. You get a lot of great feedback. So it definitely helps with the development process."
Angie Foss, the associate dean of operations and innovation at SNHU's College of Engineering, Technology, and Aeronautics, said students also had the opportunity to attend seminars and panel discussions on a variety of topics, as well as meet with representatives from nonprofit organizations focused on fostering inclusive gaming communities.
"I think those kinds of organizations are really important," she said. "As a student, it's a great experience because you get exposure to all that is gaming - on the development side, on the art side, the e-sports side, the business side. You also have the opportunity to network and really fine-tune and hone in on some of those skills."
Joe Cote is a staff writer at Southern New Hampshire University. Follow him on Twitter @JoeCo2323.
Explore more content like this article
August 19, 2021
If you're wondering how to become a computer programmer, the field requires academic knowledge, a passion for math and engineering, adaptability and hands-on experience.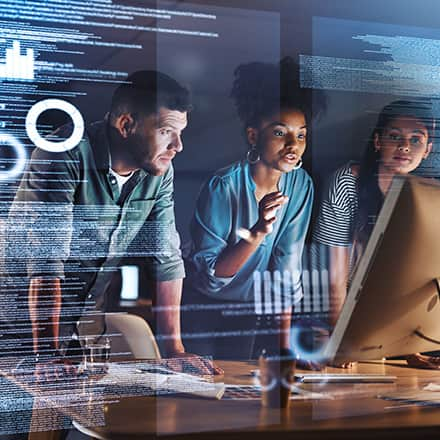 August 11, 2021
With a computer science degree, you can embark on a career with dozens of potential job roles suited to your interests. You can use the knowledge you develop earning your degree to work in technology, manufacturing and more.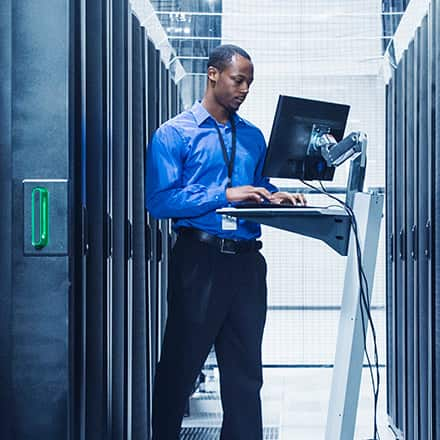 July 20, 2021
The field of cyber security is about leveraging top-notch problem-solving skills with technical aptitude to keep people and data safe. Despite being relatively new, the field of cyber security is here to stay.