Join more than 20K students and graduates from Florida who chose Southern New Hampshire University to earn their degrees and positively transform their lives.
25+ Years of Excellence in Online Education
Southern New Hampshire University has been helping students like you reach their goals online since 1995. And with some of the lowest online tuition rates in the nation, you can get the skills you need at a more affordable price.
Accredited
SNHU is accredited by NECHE—which means we meet certain standards of academic quality and are set up to help students succeed.
Affordable Tuition
Enjoy some of the lowest online tuition rates in the nation – plus discounts for eligible military students.
200+ Programs
Explore associate's, bachelor's or master's degree programs—or level up with a career-focused certificate.
Popular Programs for Students in Florida
Save Even More With Florida Partnership Discounts
SNHU has partnered with employers, military organizations and community colleges throughout Florida with the goal of providing even more affordable online degrees to students like you.
What SNHU Students Are Saying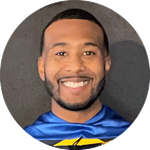 Matthew Byrd '22, Florida
"Since being at SNHU, I have been promoted to a higher grade in the military. My self-confidence has gone up knowing that I can accomplish anything if I put my mind to it."
Chrismel Graham '18, Florida
"Since graduating SNHU… I have changed my career to something that I really, really enjoy," said Chrismel Graham '18, a BA in English & Creative Writing graduate from Florida. "I am so grateful that I decided to finish my degree."
Frequently Asked Questions
Can you get an online degree in Florida?
Yes! There's actually over 20K students and alumni from Florida who chose to earn their degrees online from Southern New Hampshire University.
You can earn an online degree from wherever you have internet access. And SNHU has been offering education online since 1995, meaning more than 2 decades of creating a flexible, affordable and supportive approach to online learning.
What's more, SNHU offers 200+ career-focused, accredited, online programs that can help you reach your goals.
Is SNHU accredited in Florida?
In short, yes. If you're looking for an online college in Florida, you can ensure SNHU is recognized.
Southern New Hampshire University is accredited by the regional accreditor the New England Commission of Higher Education (NECHE). Regional accreditors are typically considered the most prestigious.
This means when you graduate, your degree will be more widely recognized, whether you live in New Hampshire, Florida or somewhere in between.
SNHU also carries specialized accreditations for particular programs.
Can I get a degree online only?
Absolutely! Pursuing a degree online only has become a popular option for many students due to flexibility and affordability.
At SNHU, we know life can be busy, and online programs allow you to balance your education with other commitments. With 24/7 access to coursework and no set class times, you can earn your degree when and where it works for you. Whether that's at home or on the go.
Is an online degree taken seriously?
Yes, online degrees are taken seriously! Employers recognize the convenience and effectiveness of online education, and reputable institutions like SNHU have invested in high-quality online platforms, ensuring that the academic experience is on par with in-person programs.
When you find an accredited school like SNHU, you can be sure your online degree will be recognized.
How do I start an online degree?
Starting an online degree starts with finding the right school. From there, you need to apply!
At SNHU, getting started is easy. The application is free and takes about 5 minutes to complete online.
Once accepted, decide how you'd like to pay for college. SNHU can help with this.
Next, your personal academic advisor will work with you to map out a degree plan and register you for courses. There are 5 graduate terms and 6 undergraduate terms in a year, so you never have to wait to get started.
And, if you have college credit from other schools, SNHU will request your transcripts to see what might transfer.
This means graduation might be sooner than you think!
Is an online university degree worth it?
It can be! Whether any degree is worth it is going to depend on your individual goals.
If you're looking to learn skills to advance your career, a passion, a personal goal or all the above, an online degree can be a great way to do that in a flexible and affordable way.
By earning a degree at an online university like SNHU, you'll be learning from instructors with real-world experience and have the opportunity to connect with a network of thousands of students and alumni that span the globe. So, is an online university degree really worth it? We think so!