Stand out in a competitive environment by earning a business degree from SNHU. Our innovative business administration programs – featuring 10+ undergraduate concentrations and 17 specialized MBAs blend theory and hands-on practice to give you a well-rounded and topical business education. Our 10-course online MBA can be completed in about 1 year for full-time students, even if you don't have a background in business.
Popular Business Programs
Benefits of an SNHU Business Degree
Specialized programs. Business programs at SNHU give you the opportunity to pursue an in-depth study of business while concentrating on a specialized area of interest.
Expert instruction. Learn from experienced faculty who bring relevant and actionable insights into the classroom.
Transfer-friendly programs. We accept up to 90 undergraduate credits for bachelor's degrees, up to 12 for most master's programs and up to 45 toward associate degrees – saving you time and money.
Networking opportunities. As an SNHU business student, you'll have access to our nationwide network of successful alumni for tips and career opportunities.
Student support. From the day you enroll in one of our business programs, you'll have the full support of academic and career advisors dedicated to your success.
Founded in 1932 as the New Hampshire School of Accounting and Secretarial Science, SNHU has a long history as a leader in business education. We continue to lead in business education, providing degrees that are affordable, achievable and designed to help you strengthen your marketability.
Frequently Asked Questions
What kind of jobs can you get with a degree in business?
There are so many possibilities. With a business degree, you can work in a multitude of positions with varying levels of expertise.
A business degree is applicable to so many careers. For instance, the U.S. Bureau of Labor Statistics lists accountant, budget analyst, human resources specialist, event planner, personal financial advisor, and tax examiner and collector as jobs that benefit from or require a business degree.1
You can choose a concentration in your business degree to work in a specific field. There are careers in sport management as an athletic director, a marketing coordinator or fitness manager. In healthcare administration, you could become a CFO for a hospital or medical office manager. In marketing, you could become a copywriter, media planner or promotions manager. Some of these positions may require a more advanced degree but furthering your education could be the first step in reaching those goals.
Which is the best major in business?
The best major in business is the one that you will both personally and professionally find interesting, can thrive in and could see yourself making a difference with. Anyone can use a business degree. From finance to retail, there is likely an area of business for you.
Southern New Hampshire University has over 100 business degrees. If you love sports and have a knack for leadership, you may find a degree in sport management to be the best fit for you. If you're a great problem-solver and team player, take a look at a degree in operations management. Or if you love seeing a product or service gain momentum with your audience, check out one of our marketing programs.
SNHU has degrees for business-oriented minds for online and on campus learners. And for a business administration degree, SNHU also has a variety of concentrations — a way to give you a widely applicable tool while also giving you an edge in your favorite area.
What is the best online business school?
The best school is the one that fits your needs. Learning styles, cost, support resources and convenience offered can vary by schools.
Southern New Hampshire University has many options to choose from, with over 100 business programs — featuring more than 10 undergraduate and over 20 graduate concentrations just for business administration. With a concentration, you can customize your degree to fit your goals.
Those dreams can be reached by low tuition rates. Tuition can be a significant barrier to education for many people, so we have worked to make it possible with an affordable online tuition rates, as well as experienced financial aid specialists ready to help you make a plan that works for you. We're also able to accept up to 90 credits toward a bachelor's and up to 12 for a master's.
Another highlight of online business school is the support you can receive, should you need it. You'll have access to tutors, the Shapiro Library database and academic advisors to help you earn your degree.
You can be sure your hard work is worth it. Each course and program is designed to prepare you for work in your field up to the modern industry standard. SNHU's instructors have real-world experience in their fields and are trained to help students reach success.
SNHU also has extensive career services with teams of advisors dedicated to helping make your next step possible: You could find internships and job opportunities through connections made while still in school.
Southern New Hampshire University was founded as a business school in 1932. Since then, over 160,000 alumni around the world have chosen SNHU for their degrees.
Can you do business school online?
Yes, business classes can definitely be taken online. Just as you would read textbooks and discuss topics in class, the same can be done through an online platform. The added benefit is the additional flexibility to complete your degree on your schedule.
To take your business classes online at Southern New Hampshire University, you would need access to a desktop, laptop or other device you're able to work on, as well as access to the internet. Both are necessary, since assignments, discussions and grades are all located in our online environment. Plus, since so much business today is done through the use of technology, the use of the online platform can help you get more familiar with what's happening in the workplace.
With SNHU's online programs, you'll still have contact with instructors and advisors without the challenge of commuting. Classes have no set meeting time, so you can make your own schedule. You'll also have access to tutors, the writing center and technology assistance to help your experience work best for you.
Do you need a BS in business to get an MBA?
No, anyone can pursue a business graduate degree in college – as long as you have a conferred bachelor's degree from any discipline.
But without taking business major classes during your undergraduate program, you may be required to take foundation courses to prepare you for one of Southern New Hampshire University's master's programs.
Students who take these courses may choose to complete their business program with elective courses rather than a concentration and use the foundation courses to fill some of the elective requirements.
How much does an online business degree cost?
Cost depends on the program and the student. Scholarships, grants, transfer credits and work or life experience can lower the cost significantly.
Earning an undergraduate degree online costs $330 per credit, or you could earn a graduate degree at $637 per credit. In total, tuition for an undergraduate degree earned online at SNHU may only come to $39,600, a 36-credit master's $22,932 – and that's before financial aid is applied.
With all the sources for financial aid, it's possible to reduce the amount of your tuition even more. You can also talk with the Student Financial Services team to develop a plan to find the best way to make your education affordable.
Transferring in your previously earned credits can also help save you money, and SNHU accepts up to 90 credits for bachelor's degrees and 12 credits for master's degrees from schools to help you keep moving forward. If you transfer in the maximum number of credits, your tuition could be reduced to $9,900 for an undergraduate degree, or $15,288 for a 36-credit graduate degree.
Do employers care if your MBA is online?
Online degrees from accredited institutions are just as credible as those from a brick-and-mortar location. Employers care that you learned the proper skills and can do your job well. Earning a master's degree online or on a campus is a respectable accomplishment.
Many employers won't even ask the format of your education, and you don't have to clarify if they don't. If the school's online program is accredited, you've followed the same curriculum that campus students would and learned the same skills.
Collaboration and group projects can still be done online, and the foundation of many online courses is discussion boards. These are opportunities to practice and improve your communication skills.
Southern New Hampshire University has offered quality online education since 1996 and is accredited by the New England Commission of Higher Education (NECHE). Additionally, many of SNHU's business programs are accredited by the Accreditation Council for Business Schools and Programs (ACBSP).
The convenience of an online degree can make starting or improving your career more possible.
How difficult is an online MBA?
The challenge of completing a degree in an online business school will vary by student. Online classes may not necessarily be harder or easier than classes held in person, they're just different.
An online business school can be a great fit for students who learn best through visuals or reading. Classes are a combination of discussions, written assignments and quizzes/assessments.
An online program also requires self-motivation – you need to create your own schedule and stick to it. Dedicating certain times in your week to schoolwork is recommended. An academic advisor can help with this and any other challenges you may face on the path to your degree.
The flexibility of online courses can make earning your business degree easier. The format can be the right choice for busy lives: Many people who are married and/or with children, or already have a full-time career, choose to earn their degree online.
How fast can you get a degree online?
You can create your own timeline when you pursue an online degree. From traditional 4-year degrees to pacing yourself as a part-time student, or getting it done quicker with transfer credits or an accelerated program, there is an option to fit your needs.
At Southern New Hampshire University, you can opt to pursue your degree online either part time, by taking 1 class per term, or full time, by taking 2 classes per term. This allows you to earn your degree at your own pace and is a great option for those already in the workforce.
Students transferring credits from other schools may also complete their business program faster. SNHU accepts up to 90 credits toward your on campus or online bachelor's degree and up to 12 for your master's degree, keeping the value of the hard work you've already put in. You may also be able to receive college credit for work or life experience.
Additionally, you can apply for an accelerated degree program. There, you can take graduate-level courses earlier and you could continue on to complete a master's degree in as fast as one year.
Every student's experience is unique, and SNHU offers different ways to customize your experience to get your business degree in the timeframe that works for you.
Is it worth it to major in business?
A business degree can open doors to many careers and, according to the U.S. Bureau of Labor Statistics, business and financial occupations are expected to grow 7% by 2028. The median annual salary for these positions in 2021 was $76,570 – much higher than the median wage for all occupations across industries.1
With the wide variety and importance of roles related to business majors, a business degree will allow you to be well positioned for career opportunities. The demand for data analysts and research is particularly high.1
Southern New Hampshire University's business and career-focused programs can prepare you for working in this diverse field. Our programs are among the least expensive in the nation, and our Student Financial Services team can help determine the most affordable option for you.
What classes do you take for a business major?
Most undergraduate business major programs share core classes to ensure students have standard interpersonal, professional, organizational skills for any area of business careers you may go into. These classes may include Microeconomics and Macroeconomics, Principles of Finance and Financial and Managerial Accounting.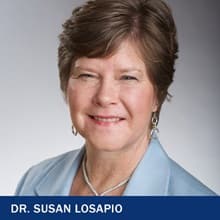 At Southern New Hampshire University, our programs are designed to prepare you for the workforce. Dr. Susan Losapio, a campus professor at SNHU, explains, "Everything is a business! Regardless of a person's career path, he or she always needs to understand how a business works." Whether you work on the creative team or on the front lines in retail, knowledge of how a business works is an invaluable skill.
Master's programs in business are entirely made of business classes, so there are no general education courses to take your attention off the skills you're polishing for your career.
What degree do you need to be a business owner?
While becoming a business owner does not require an advanced degree, the knowledge and skills you gain in a business program can be critical to successfully starting and growing your company. Expanding your network, enhancing your communication skills and developing your business acumen are just a few of many benefits receiving a formal education has to offer.
What do business majors do?
A business program is designed for students to grow their leadership skills, while preparing them to operate in a business environment of any scope. Business majors learn a variety of soft and hard skills that allow them to think creatively and make difficult decisions when faced with real-world problems. The "big six" areas of learning for business programs are:
Accounting
Economics
Finance
Human Resources
Marketing
Operations
These areas immerse students in the language and culture of the business world. Business majors are also expected to engage in scenario-based learning, where professors assign tasks involving actual situations that can occur in the workplace. This mix of business theory and hands-on experience ensures students can enter business settings after graduation feeling confident and well-prepared for a variety of situations.
References
1 U.S. Bureau of Labor Statistics, U.S. Department of Labor, Occupational Outlook Handbook, on the internet, at https://www.bls.gov/ooh/business-and-financial/home.htm (viewed Nov. 13, 2020). Cited projections may not reflect local and/or short-term economic or job conditions and do not guarantee actual job growth.