Paul LeBlanc has reimagined higher education, with a focus on the most fundamental of functions: student learning. In Students First, he advocates for an entire higher education ecosystem in which students have the flexibility to gain, assess, and certify their knowledge on their own terms and timelines.
"If you read only one book about American higher education, read this one."
Ted Mitchell, president, American Council on Education and former US Under Secretary of Education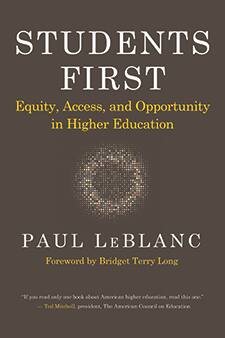 In a perceptive analysis, LeBlanc provides a clear-eyed view of how and why higher education is failing to reach and serve a great many potential students. He then deftly explores how reform can address systemic inequities, improve college affordability, and broaden accessibility. Through case studies, he highlights alternative delivery models such as online, distance, and just-in-time learning, and he envisions a learning environment that values competencies rather than credit hours. LeBlanc describes how these innovations and others will allow colleges and universities to help close the skills gap and respond to a rapidly evolving, technology-driven job market.
Although a college education remains one of the great drivers of socioeconomic mobility, today's higher education industry has built financial, logistical, and practical barriers that keep out the very students who are most in need of opportunity. Students First makes a persuasive case that realigning US educational priorities will enable larger populations of graduates to enjoy a return on investment in the form of good pay, meaningful work, and a stable future. As the book emphasizes, such change is imperative, for in better serving its students, higher education will better serve society.
Interviews with the Author and Students
Hear author Paul LeBlanc talk about his motivations for Students First, and watch the interviews with students that fueled the narrative, and helped bring his book and the ideas that drive his vision of higher education to life.
Key Themes
Student-centric learning
How the future of learning must meet learners where they are
Equity in higher education
Making education more accessible and affordable for everyone
Competency-based education
Rethinking the traditional credit hour as a way to measure learning
Praise for Students First
"If you read only one book about American higher education, read this one. Student's First is simply the clearest, best-reasoned, and most compelling analysis of the problems facing higher education today. It is also a warning that unless we address those problems, we threaten America's most cherished hopes for social justice, economic mobility, and a robust civil society. But Paul LeBlanc offers us more than just critique; he sets out a vision and a roadmap for change based not just on glittery promises but on his hard-won experience as one of America's most innovative university presidents. Paul LeBlanc is a national treasure, and his work, in this book and on the ground, is a beacon for all of us."
— Ted Mitchell, president, American Council on Education and former US Under Secretary of Education
---
"As the leading innovator in American higher education today, Paul LeBlanc paints a powerful, personal portrait of what's at stake in the urgent task of advancing social mobility through a radically redesigned system of higher education. LeBlanc makes a compelling and convincing case for a competency-based education model that will create the opportunity needed to quite literally make the world better for all of us."
— Jamie Merisotis, president and CEO, Lumina Foundation
---
"In this book, Paul LeBlanc combines two scarce ingredients.The first is a loving understanding of what college students from all backgrounds need to succeed in school—not just recent high school graduates but also first-generation attenders, immigrants, working students, students who otherwise can't afford college. The second is a realistic approach to solving higher education systems problems. The result, part tough critique of today's universities, part clear-eyed and practical understanding of how to transform college accessibility, affordability, and student success, is necessary reading for anyone who wants to change our nation's outmoded higher education system so they are improving educational and economic opportunities for all Americans."
— Michael F. Bennet, US senator and former superintendent, Denver Public Schools
---
"Colleges and universities must find ways to serve as engines of opportunity, particularly for first-generation college students, working adults, and others who can't afford to attend a residential campus for four or more years. LeBlanc's book offers a bold proposal for addressing access, equity, and quality of actual learning, while rethinking federal financial aid to better support low-income learners. A must-read for anyone interested in making higher education once again work for everyone, not just the privileged."
— Arne Duncan, former US Secretary of Education
---
"Paul LeBlanc breaks new ground with this compelling case for competency-based higher education. Leveraging deep expertise and lived experience, Students First is a critical contribution to the debate around the future of higher education, and it could not come at a more important time."
— Maria Flynn, president and CEO, Jobs for the Future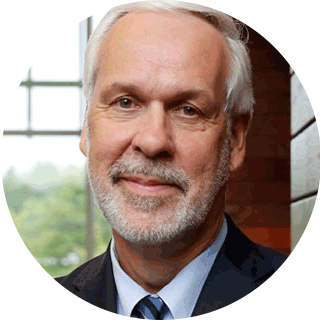 Paul LeBlanc is president of Southern New Hampshire University and has served on the board of the American Council of Education, the Association of Governing Boards President's Council, and the Academy of Sciences Board on Workforce and Higher Education. In 2018, he was honored with the Hesburgh Award for Leadership Excellence in Higher Education.