2016 MLS Soccer Championship Game - A "First-Time" Fan's Perception
As the Official Education Partner of Major League Soccer (MLS), Southern New Hampshire University was able to send three of its online communication students to the 2016 MLS Cup in Toronto, Canada, in early December to cover the game. Undergraduate student Pasha Kozlov served as an event photographer, with Rahshek Ellis keeping the social world up-to-date via Twitter and Instagram throughout the event. I rounded out the trio, with a focus on writing about our experience.
Toronto FC hosted Seattle Sounders FC at BMO Field, in a match featuring two of Major League Soccer's biggest Clubs. Both Clubs had high hopes of raising the Philip F. Anschutz Trophy for the first time, as the 2016 MLS Cup Champions, but in the end, only one would have the honor.
We arrived three hours before the start of the match. The weather forecast put temperatures in the teens, with wind chill in minus teens, and a chance of 1-3 inches of lake-effect snow. Fans came well prepared for a frigid night of soccer, bundled up with Toronto or Seattle scarves wrapped around their faces, protecting them from the bitter cold and sub-zero wind chill. A fan located in the row above me said, "The wind is coming straight across Lake Ontario, and it is at least ten degrees colder." Near the main gate a band played, while the fans were buying their favorite team's merchandise in a nearby kiosk. The pre-game atmosphere grew intense, with fans chanting either "Go Sounders" or "Go TFC."
Pre-game activities included highlights of both teams on the video board that led them down the road to Toronto. A large version of the Philip F. Anschutz Trophy moved out onto the field, followed by roster introductions and the singing of the national anthems. Toronto native Jennifer Strype, who had performed at all of Toronto's playoffs games, sang "O Canada." R&B singer/songwriter and actress Keke Palmer performed "The Star- Spangled Banner" to the packed BMO Field audience, which set a new attendance record with more than 36,000 fans. The performances were followed by a flyover of Canadian jets. Opening pageantry ended with a great display of fireworks, with a brilliant finale in red and white.
As Seattle started moving the ball, the Club's on-field communication was drowned out by Toronto fans chanting, "TFC," while stomping their feet on the stands. Both Clubs and their supporters were fired up! As Toronto advanced the ball, fans waited, hoping their teams would score. But that opportunity never seemed to come. One Toronto fan said, "Toronto FC has not been this close to the Cup in 10 years." Toronto FC was counting on world-class players Michael Bradley, Jozy Altidore and Sebastian Giovinco to create some high-octane offense, while their goalie Clint Irwin would need to continue his high-stakes goalkeeping work. On the other side of the pitch, Seattle's Sounders FC players Jordan Morris, Tyrone Mears (an SNHU student) and Román Torres were planning some of their own unique high-octane offense. Goalie Stefan Frei provided the play of the match, a diving save following a Jozy Altidore header.
Toronto FC seemed to be more aggressive in their play than Seattle, but that changed after the first two periods ended in a tie. Seattle pushed hard, but the match went scoreless until the penalty kick shootout. Toronto scored first, igniting their fans but the Sounders, who didn't have a single shot on goal through the entire match, won the 2016 MLS Cup by scoring 5-4 on penalty kicks.
While the match itself was exciting, the opportunity to cover a major sporting event from the press box was an even greater thrill. Ellis, my fellow student, started Twitter conservations about the Cup while en-route to Toronto. I caught several on Twitter, as I too headed to the match. Ellis was articulate in communicating the progress of the match, his fan experience and viewpoints of other Twitter users. He shared links with SNHU's official Twitter account and re-tweeted many of SNHU's tweets to others in the conversations - and kept everyone up to date on what was happening throughout the day. This experience made a big impression on him. "I enjoyed the opportunity to receive real-world experience in the application of my coursework. The hands-on experience has given me more insight into the career path that I am working towards and it also has helped validate my academic journey," said Ellis. "In addition, this experience has shown me that SNHU is truly invested in the student's academic experience, by building valuable partnerships which enhance our classroom experience."
Kozlov shot over 600 photos at the game. From his sideline viewpoint, he captured many stunning close-ups of players' reactions, like Toronto's denied shot on goal by the Sounder's Stefan Frei. He captured the frustrations and celebrations of fans and players alike and the intensity of fans' reactions. "This was the best opportunity I've ever had," Koslov said.
The 2016 MLS Cup was an awesome opportunity for each of us. I experienced the game spectacle and fan emotions, both as a newcomer "fan" as well as a journalist, while watching Toronto FC and Seattle Sounders FC striving to reach the pinnacle of their sport. I had a blast, saw a great match, and had the educational opportunity to work alongside some talented fellow students.
Ray Hendrickson is a member of the Class of 2017, currently completing his MA in Communications with a concentration in Public Relations online at Southern New Hampshire University.
Explore more content like this article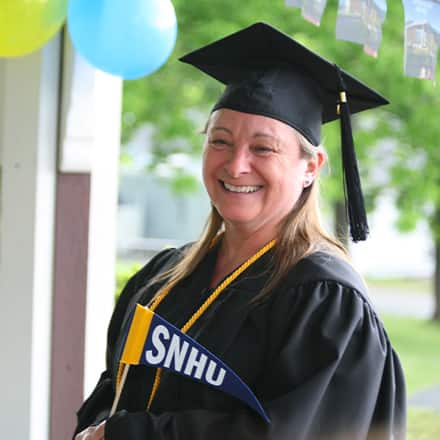 A Special Diploma Delivery for New Hampshire Grad
August 03, 2020
When SNHU's Commencement was postponed, Dr. Gwen Britton decided she would arrange a special ceremony for her longtime friend who had earned her bachelor's in information technology.