Veteran Presented with Paws of War Service Dog and SNHU Scholarship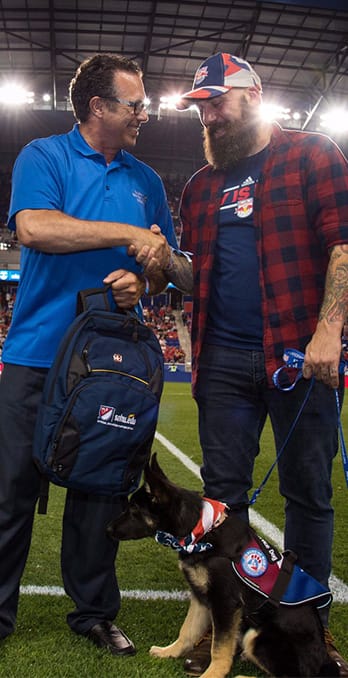 Matthew Mellina doesn't enjoy the limelight. He'd rather not be the center of attention. But when he found himself standing at midfield of the Red Bull Arena located in Harrison, NJ, he was overcome with emotion. The tears were because he was being given two things that have the potential to change his life.
Mellina, a U.S. Army veteran who served as an explosive disposal specialist in Iraq, was celebrated by the Red Bulls on the field during halftime of the May 27 game. During the brief ceremony, Paws of War co-founder Dori Scofield handed Mellina the leash attached to his new service dog, a German Shepherd named Star. An aspiring writer, Mellina was also awarded scholarship funds for classes at Southern New Hampshire University. "I enjoyed it. It's a good experience," Mellina said later in a luxury box where he watched the home team defeat the New England Revolution 2-1. "I can't deny it. I'm appreciative of everyone." After the game, Red Bulls starting goalkeeper Luis Robles visited with Mellina and posed for pictures with him.
Mellina suffers from post-traumatic stress disorder following his service in the Iraq war, as well as chronic back problems that have necessitated two cervical surgeries. Despite those surgeries and another one scheduled in the near future, Mellina said he's slowly losing the use of his legs. The hope is that Star will be able to help Mellina with his entire range of challenges.
Practically speaking, Star will be strong enough to stabilize Mellina as his struggle to walk increases. She will also be able to help pull him up from chairs and out of bed. She's also being trained to do things like pick up items on the floor and turn lights on and off. Mellina said Star already helps his mood, as well. Being responsible for Star's care and being on a schedule for taking her for walks and feeding her is also helpful, he said.
"You can't really be a jerk when there's a dog around," Mellina said. "I get caught in my own head and she has the ability to snap me out of it."
Mellina said he's interested in writing courses at SNHU to help him improve his writing. Since participating in New York University's Veteran Writers Workshop, he's had pieces published in the New York Times, Newsweek.com and Slate.com. "I'm mostly looking for just direction," he said. "I need patterns ... and school helps."
Paws of War is an organization on Long Island that rescues dogs, trains them and donates them to veterans suffering physical or emotional impacts following their service. Scofield said it's always a "big deal" when two organizations - the Red Bulls and SNHU - sponsor the training of a service dog simply because of the expense, usually between $5,000-$10,000. Training can take more than three years. Since being founded in 2013, the organization has given more than 70 service dogs, all of which were rescued, to veterans.
Scofield said the hope is that Star gives Mellina "the comfort he needs, the stability he needs and that the two of them become one."
Steve Thiel, director of partnership marketing at SNHU, said most people may not understand what veterans go through overseas but everyone can help make their lives easier once they return.
"Matthew made a tremendous sacrifice to this country, one that those of us haven't who haven't served cannot truly comprehend. What we can do is talk to our veterans and understand their needs for a smooth transition back to civilian life. In this case, a service dog should provide companionship and comfort," Thiel said. "In providing Matthew a scholarship as well, SNHU aims to assist in Matthew's writing career. He has already been successful, but we know the confidence our students have when they're able to develop their craft with other enthusiastic students."
Joe Cote is a staff writer at Southern New Hampshire University. Follow him on Twitter @JoeCo2323.
Explore more content like this article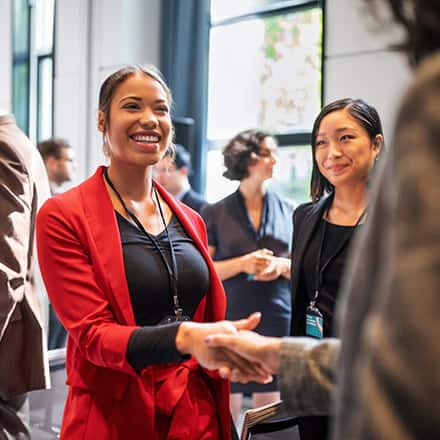 June 04, 2021
The day you receive your diploma from your university is a proud one, marking the culmination of your degree. But, your relationship with the university doesn't have to end there. Alumni are an integral part of a university community and are true advocates for student success.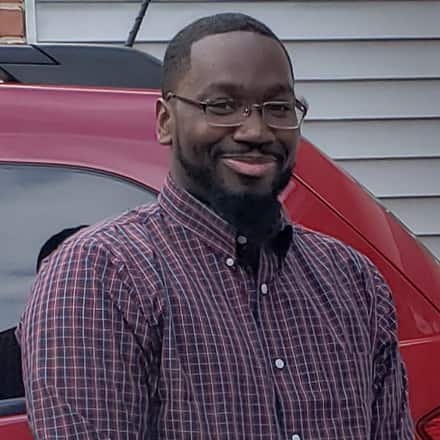 May 27, 2021
Steven Moore is approaching a decade as a human resources assistant, and while he loves his job, he is stuck in his pay grade. Now he's the 31st military spouse to receive a full-tuition scholarship to SNHU through Operation Homefront and is ready to take the next step toward career advancement.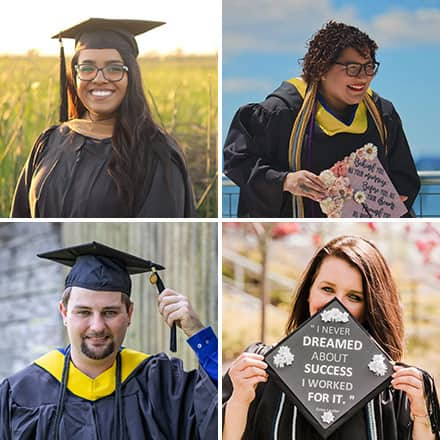 May 10, 2021
Determination has always been a key characteristic of SNHU graduates but never more so than within the 43,000 students who persisted throughout the pandemic in completing their degree programs.