SNHU, MLS Celebrate Partnership at All-Star Week in Chicago
The 2017 Major League Soccer All-Star Team came up just shy of a victory against Real Madrid, losing on penalty kicks. But the league's All-Star festivities spanned the week surrounding the Aug. 2 game at Chicago's Soldier Field and included several appearances by members of the Southern New Hampshire University community highlighting its partnership with MLS.
The MLS All-Star Week is the league's "biggest showcase of the year," according to Steve Thiel, senior director of strategic partnerships at SNHU. This year it also served as a way for Thiel and others to demonstrate some of the benefits of the collaboration.
"This week represented our two-year anniversary of the MLS partnership. We felt it was important to showcase the impact it's had, not only for those looking to go back to school but for our students as well," Thiel said.
Two days before the 2017 All-Star Game presented by Target, SNHU and MLS officials unveiled two mini-pitches at Carson Elementary School in Gage Park, a south Chicago neighborhood. Thiel and Scott Durand, senior vice president and executive director of workforce partnerships at SNHU, were joined by Chicago Mayor Rahm Emanuel and MLS Commissioner Don Garber, along with a number of officials representing the city, police and the U.S. Soccer Foundation. MLS All-Star and SNHU student Tim Howard was also on hand, as well as Carson Elementary janitor Robert Medina. School officials nominated Medina to receive a full scholarship to SNHU, where he will pursue a bachelor's in psychology with a concentration in child and adolescent development. His goal, Thiel said, is to become a physical education teacher.
The following day, Durand joined officials from Wells Fargo, the U.S. Soccer Foundation and ESPN on a panel to discuss how companies and sports teams are partnering to impact their communities. Durand spoke specifically about the MLS WORKS 20 for 20 Mini-Pitch Initiative; a commitment SNHU and other partners made to build 20 of the fields to serve as safe places for schools and community organizations to offer after-school enrichment programs.
Jennifer Kidwell, assistant director of online engagement at SNHU, also traveled to Chicago and met several Chicago-area SNHU students at a tailgate mixer ahead of the 2017 MLS Homegrown Game presented by Energizer, which took place the day before the main event. The game, held at Toyota Park in Bridgeview, Ill., where the MLS' Chicago Fire play, featured some of the MLS' youngest stars taking on an Under-20 team from Chivas de Guadalajara, Mexico. (The Homegrown Game was a tie, finishing knotted at 2-2.) Outside the arena ahead of the game, Kidwell, Thiel and Director of Online Engagement Tiff Fifer met with about 100 SNHU students, alumni and guests to hand out SNHU swag and free tickets to the game. She said it was rewarding to meet the students as well as some of the family members and friends they brought along.
"You could tell how proud the supporting family members were. You know, this is about them, too, that they're able to do something fun with SNHU," Kidwell said. "And it made us more real. We were able to really connect. Our whole goal is to connect and create community."
Kimberly Cavitt, who is pursuing an MBA, brought her sons to the game and said she was excited they got to see a side of SNHU that didn't involve her doing homework. "This really gives me that campus feeling," she said. "I like that camaraderie you get with students and just being part of a community, so you guys coming to the Midwest and Illinois makes me feel so much more connected."
Outside Soldier Field, Thiel and the rest of the SNHU contingent set up a sort of physical infographic highlighting the results, so far, of the university's partnership with MLS. In addition to the now 160 MLS players and staff taking online classes, two recipients of the scholarships awarded at mini-pitch openings have earned their degree, and 16 more are taking classes. More than $1 million in resources have been dedicated to the mini-pitch initiative across all involved organizations, including 18 SNHU scholarships. The pitches have opened free after-school, soccer-based enrichment time to more than 13,000 children in underserved communities.
Thiel said overall the week served as an ideal way to mark two years of collaboration with MLS and to meet with SNHU students and alumni face-to-face.
"We love to go to our students and show that even though you're going to school online, you're doing it at a tangible university with real people who want to help you achieve your goals," he said.
Explore more content like this article
SNHU in the Southeast: Celebrating Students, Building Community
June 17, 2019
Not a single fish tale was told when Southern New Hampshire University celebrated more than 200 students and alumni on Saturday at Atlanta's Georgia Aquarium. Yet the Oceans Ballroom was awash in personal stories of incredible feats by those special guests.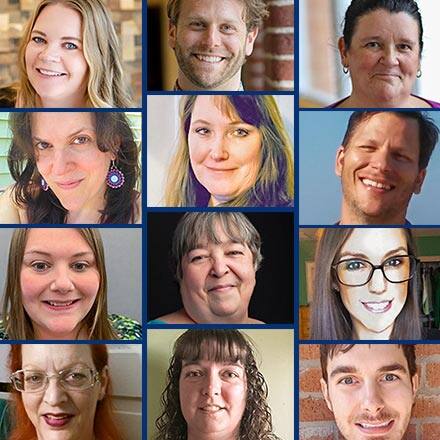 8 Benefits of Being a Student Advisory Board Member
June 13, 2019
Hailing from states near and far, including Massachusetts, Arizona and Colorado, eight Student Advisory Board members spent a long weekend in New Hampshire for their 2019 retreat. During their busy weekend, they reflected on the benefits of being involved in the SAB.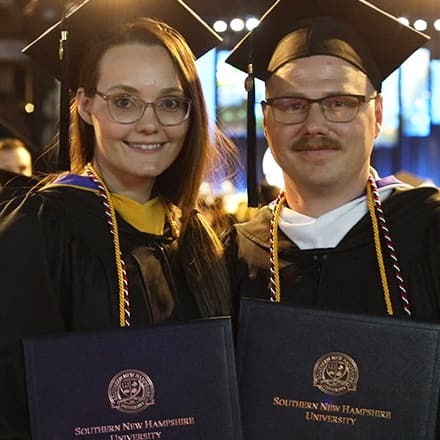 Military Couple Earns Degrees Despite Deployment, Graduates Together
June 11, 2019
Parker and Jessica Bryant had only just enrolled at Southern New Hampshire University when they learned about Parker's deployment. Though the military couple was about to undergo a significant transition, they were determined to continue their degrees together.