Students Find Connections at 4th SNHU LEADS Conference
Deborah Abbey said she knew coming to SNHU LEADS would be valuable because she was there last year and used what she learned all year long.
"What I came here for, I left with," she said. "I used things that I learned ... almost every day," she said.
Abbey, a 911 dispatcher earning her master's in clinical mental health counseling, participated in the leadership and development conference, along with dozens of fellow online students. SNHU LEADS (Lead, Engage, Achieve, Discover, Succeed) was first held four years ago to give online students another option to connect with one another on the Southern New Hampshire University campus in Manchester, N.H.
"We're really trying to bring students together so they can meet each other, build their network of peers and also make the school feel like home for them," said Tiff Fifer, SNHU's director of online engagement.
Erin Connors, an IT student from Burlington, Vt., said coming to the conference helped bring her out of her shell and get to know some of the people she had been talking to via online forums in her courses.
"It kind of breaks me out of my comfort zone," she said. "It's a good connection. I actually like being able to associate a real person with that online profile."
That was a common refrain among many of the students at the Saturday conference. Barbara Deveau, a Lexington, Mass. resident, now three years into her MBA program, said it was her first time on campus.
"It's really been nice to know that everyone here is doing something online, slightly different but in the same learning environment," she said. "It can get isolating, so it's nice to be with people. I wish I would have come other times."
The conference schedule included a series of educational workshops such as "Bridging the Gap: Connecting and Networking," "Effective and Efficient Leadership Development" and "Changing Careers: How to Overcome the Obstacles." Another workshop called "Somehow I Manage" used Michael Scott's character in the "The Office" to demonstrate effective leadership qualities. There was also a student panel to kick off the day and John Congdon '82, now a customer experience specialist at Tesla Motors, gave a keynote speech to cap the conference.
In addition to the series of workshops and speaker panels, students had a chance to have a professional headshot taken by members of SNHU's marketing and communications team. Some were also able to share their stories with the university's video team.
Fifer said her team's work, including SNHU LEADS, is designed to offer online students some of the added benefits a traditional campus student would have. SNHU students can become part of an online community on SNHUconnect, join a variety of clubs and attend events like Saturday's conference.
"I think it's powerful for them because they're able to really call this home. We heard some students report at the end of the day that this is a feeling of community for them, which is exactly what we want," Fifer said. "It's really building this full college experience. You don't have to choose. You can have it all as an online student."
Laura Corddry, assistant vice president of student success at SNHU, reiterated the importance of forging connections both online and in person and spoke of her hope for students to meet others in the community and return home with new information to benefit them moving forward.
"We want all our students to feel a strong connection to SNHU, and visiting campus and being surrounded by their peers and SNHU staff and alums really helps to deepen that connection," Corddry said. "My hope is that students will walk away with at least one new connection at SNHU, at least one new member of their network and at least one new piece of knowledge."
The conference's popularity is one illustration that students are eager for those connections. Attendees came from 17 states and from as far away as Puerto Rico. Gina DeRosa, an MBA student, said that should be evidence enough for anyone considering attending next year.
"Just get in the car and come, or get on an airplane and come," she said. "If that doesn't tell you how phenomenal this experience is for people, I don't know what would."
Joe Cote is a staff writer at Southern New Hampshire University. Follow him on Twitter @JoeCo2323.
Explore more content like this article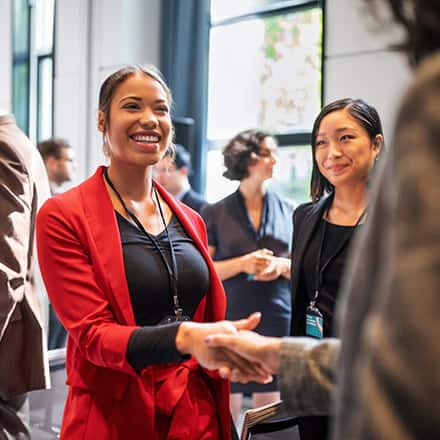 June 04, 2021
The day you receive your diploma from your university is a proud one, marking the culmination of your degree. But, your relationship with the university doesn't have to end there. Alumni are an integral part of a university community and are true advocates for student success.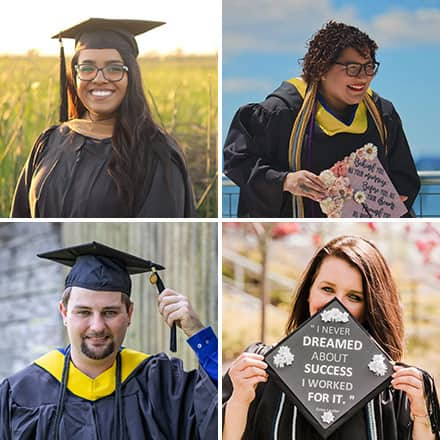 May 10, 2021
Determination has always been a key characteristic of SNHU graduates but never more so than within the 43,000 students who persisted throughout the pandemic in completing their degree programs.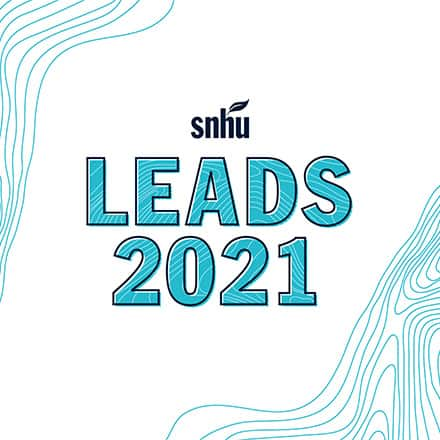 April 22, 2021
SNHU students, staff and alumni worldwide dropped by the 7th annual LEADS Conference earlier this month for personal and professional development that focused on academic achievement, leadership and career advancement.