Former MLS All-Star Finds Success on Air and in the (Online) Classroom
Heath Pearce was not a typical soccer player. His career included 35 appearances with the U.S. Men's National Team and three Major League Soccer All-Star Team selections in five seasons following seasons spent overseas. But even with that level of success, Pearce found himself staring down a choice between soccer and the rest of his life.
Pearce was a 31-year-old free agent and considering his next move in MLS or on a European team when Copa90, a soccer digital media company, called to gauge his interest in a position. Ultimately, Pearce chose to launch his second career and also began online courses at Southern New Hampshire University to earn a degree he had long postponed.
After his sophomore year at the University of Portland, Pearce chose to play professional soccer in Europe, thereby giving up his athletic scholarship. The second time he was faced with a similar choice, he decided to finish what he had started.
"I set a goal for myself when I went to college to graduate. I had an opportunity to do something that I couldn't turn down, which is to play professional soccer," he said. "But I made a promise then that if I moved to Europe, that I would learn the languages of the countries I lived in and that I would finish college someday."
Now Pearce has earned his bachelor's in operations management and works as the lead creative talent and on-air host for Copa90. Pearce came to realize that as much success as he found on the pitch, he still had to think about his post-soccer life and competing in a job market against more experienced professionals.
"I had to step into a new world," he said. "Father Time comes for us all. You're not going to play when you're 50 and, as cliche as it sounds, (if) you get tackled and get an injury, it's done ... So you can wait for that day, or you can prepare yourself for that day."
The choice to leave school was a difficult one because Pearce knew he was giving up his scholarship. Had the MLS partnership with SNHU existed then, he said, "that to me would have changed my entire perspective as a player." He encouraged current players not to let the opportunity pass.
"Don't wait. You now have an opportunity that I didn't have as a player," he said. "Take the opportunities that are presented to you. It's foolish to think you're too good to continue your education ... that's literally been handed to you ...."
Pearce had recently gotten married when he retired in 2015. Since then he's moved cities, began a new career and had two children, now 2 years and 2 months old. He would have had more time to study online as a player than he did as a full-time professional, husband and father. He said he had far more time on his hands that could have been spent studying online as a player.
"If I can do it with changing careers and having two kids and moving to a new place and leaving behind the only world that I knew, which is playing soccer and fit that into a day's work, then other people can do it, too," he said."
Now Pearce is looking forward to continuing his work with Copa90 with his degree in hand. He had missed the sense of accomplishment from soccer - each match was a win, loss or draw. Such clear delineations aren't often so clear now.
"You don't always feel those wins. Now I've been working on something for two and a half years and I can feel it's so close to what I ultimately feel is the big win," he said. "It's a sense of pride.
Joe Cote is a staff writer at Southern New Hampshire University. Follow him on Twitter @JoeCo2323.
Explore more content like this article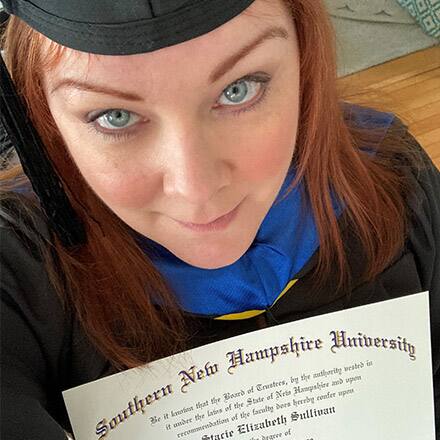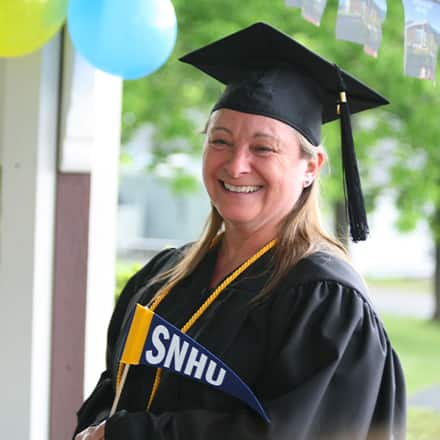 A Special Diploma Delivery for New Hampshire Grad
August 03, 2020
When SNHU's Commencement was postponed, Dr. Gwen Britton decided she would arrange a special ceremony for her longtime friend who had earned her bachelor's in information technology.