Red Bulls, SNHU, After-School Group Open New Makerspace at N.J. School
Once the grownups had finished talking and the elementary students got a look at their new space, they didn't waste any time. Almost immediately they were using the whiteboard tables to sketch out designs for T-shirts and hats, and brainstorming ideas for items they could make on a new 3D printer.
The roughly two dozen students were the first from Camden Elementary in Newark, New Jersey, to get a look at the new "makerspace," built at the school through a partnership between the New York Red Bulls, Southern New Hampshire University and After-School All-Stars, a national after-school programming nonprofit organization founded by Arnold Schwarzenegger.
Organizers designed the makerspace to give students the ability to produce "tangible items out of ideas" in as many mediums as possible, said Steve Thiel, senior director of strategic partnerships at SNHU. In addition to the 3D printer, the lab features a hydroponic garden, a mobile kitchen, sound engineering capabilities and photography equipment.
"Really it's meant to be a space for collaboration and ultimately turning ideas into action," Thiel said. "That gives an incredible opportunity to equip the kids with technology that allows these kids to realize their dreams and realize that their ideas matter."
A makerspace was chosen for Camden Elementary because while the school struggles to meet state standards, students have shown strong skills in STEM subjects - science, technology, education and mathematics.
After-School All-Stars was founded in 1992 and engaged 40,000 Los Angeles students in sports and academic competitions. It now runs programs at 326 schools serving more than 70,000 students across the country, according to the group's website.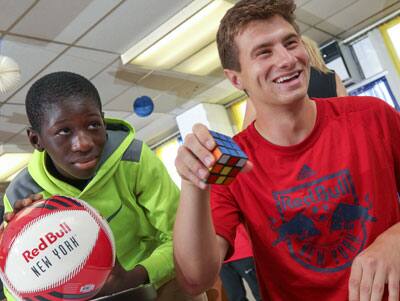 Red Bulls General Manager Marc de Grandpre '96, MBA '00 said access to the technology and tools in the new space are vital to kids growing up in a tough neighborhood, but also in a world where the next great album could be recorded on a laptop, or the next great movie filmed on an iPhone.
"It's basically ... a space that will provide the opportunity for these kids to come in and be themselves, for them to just create," he said. "It's really a space where they can be creative in their own way."
Red Bulls, SNHU and After-School All-Stars - which has an after-school center in Newark - officials each spoke to the students before a tour of the space. Students also got to meet Red Bulls players Tyler Adams and Keven Politz, who are studying psychology and software development, respectively.
"They were really excited. You could see the wheels already turning," Thiel said. "It was just kind of fun to see them initially start to brainstorm. There was a lot of group play and group collaboration, which is exactly what you hope to see."
De Grandpre said being able to open spaces like the one in Camden Elementary helps cement the Red Bulls role in the community beyond the soccer pitch and its responsibility to area youth.
"They're in our backyard, and we have to be there for these kids. It's part of our DNA. It's what we need to do. We're here, and we want to make an impact on the community outside of soccer," he said. "I think for us, it's part of our mission to let the community be part of us and us be part of the community."
Joe Cote is a staff writer at Southern New Hampshire University. Follow him on Twitter @JoeCo2323.
Explore more content like this article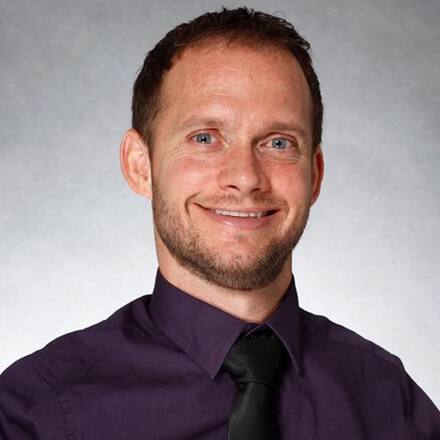 Clinical Mental Health Instructor Dr. Damion Cummins: A Faculty Q&A
December 06, 2019
Dr. Damion Cummins found his passion for counseling during his recovery from a life-altering sports injury. Now he teaches students in Southern New Hampshire University's master's in clinical mental health counseling so they can begin careers counseling others.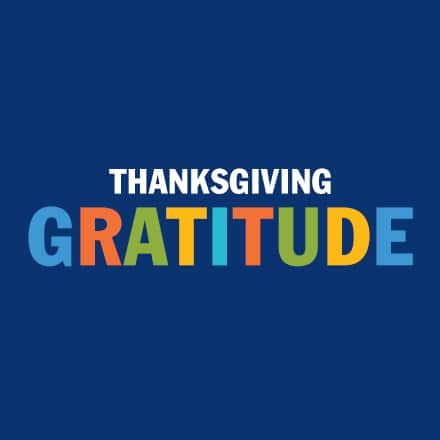 Dear Past Me: Thanksgiving Gratitude to My Past Self
November 27, 2019
The core of Thanksgiving is gratitude - to our loved ones, to ourselves, to the beauty of life and new experiences. SNHU faculty and staff were asked this question: If you had a chance to thank your younger self for something you did, what would it be and why? Here's what some had to say.