MLS All-Star Game Provides Opportunity for Greater Community Impact
The construction of a new computer lab at the Clarkston (Georgia) Community Center was just one part of Southern New Hampshire University's impact in Greater Atlanta last week as part of the Major League Soccer All-Star Game presented by Target.
The new computers, 3D printers and furniture installed at the community center are going to go a long way. Seniors will learn how to safely navigate the internet and email. Working adults will learn Microsoft Suite products and how to apply for jobs online. Refugees will be able to see and talk to family back home, where applicable. The community center served 57,000 residents last year and offers a huge variety of services ranging from educational and arts programs for kids, and meeting space for community groups. It also offers English classes, which are vital in a city where nearly half the population is foreign-born.
"What most people don't realize is these people have been in tent camps for 10 to 20 years before they get to the United States," said Cindy Bowden, Clarkston Community Center executive director. She said even for those refugees who may have a marketable skill, finding a job to put that skill to use is impossible if they don't speak English.
Brian Williams, chairman of the Center's board of directors, said the technology lab is a vital asset for a large portion of the community that otherwise may not have access to computers at home.
"So what that means is the Clarkston Community Center is going to be a space for people to come and get access to things that can change their lives and potentially their futures," he said.
Steve Thiel, senior director of strategic partnerships for SNHU, said the new tech lab includes 10 laptops, three iMac computers, photography equipment and three 3D printers, along with new furniture. "We're hoping it really enables them to use technology on a better and more efficient level," he said. "I think it's going to be a really long lasting and impactful space for them."
Thiel, along with SNHU's Office of Alumni Engagement and Office of Online Engagement, also hosted 104 alumni and current students from the area at Topgolf, a sports and entertainment venue. Guests heard from current MLS Senior Vice President of Competition and U.S. Soccer Hall of Fame member Jeff Agoos '18MBA, before teeing off at the driving range and getting tips from a golf pro.
Outside the stadium on game day, SNHU connected with MLS fans at a large booth featuring a mural representing the SNHU and MLS partnership, a life-size Jenga game and a trivia prize game, Thiel said.
By the time the MLS All-Stars fell to Juventus in penalty kicks Wednesday night, Thiel said he and the rest of the SNHU staff had been able to meet and connect with dozens of students and alumni, as well as impact other parts of the Atlanta community.
"It's a fun week in that we can do a lot of things in a short amount of time in a place that is far from our home," he said. "It's a great platform for us to do so many different things and expand access to education in these communities."
Joe Cote is a staff writer at Southern New Hampshire University. Follow him on Twitter @JoeCo2323.
Explore more content like this article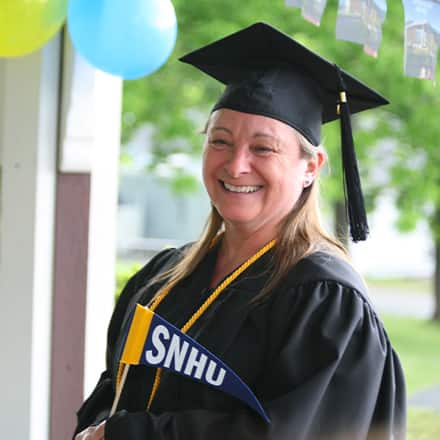 A Special Diploma Delivery for New Hampshire Grad
August 03, 2020
When SNHU's Commencement was postponed, Dr. Gwen Britton decided she would arrange a special ceremony for her longtime friend who had earned her bachelor's in information technology.