"Live with Hope": How Gabi Zolla Leads the Global Education Movement
Co-Authored by Dr. Jennifer Varney and Dr. Michelle Caron
Did you know September 22 is "American Business Women's Day"? This is a day set aside to honor and appreciate businesswomen from diverse occupations. This special day provides opportunities for women to grow personally and professionally through leadership, education, and networking through social media using the tag #AmericanBusinessWomensDay.

As part of our celebration at Southern New Hampshire University (SNHU), it seemed fitting to highlight the work that Gabi Zolla, the Chief Operating Officer (COO) of the Global Education Movement (GEM), is orchestrating with women refugees through their pursuit of academic and leadership goals. We asked Gabi to share her experiences and advice for higher education in preparing all women for leadership roles. Her responses are inspiring and illustrate her passion and commitment to women and refugee learners around the world. It was our pleasure to share Gabi and her teams' transformative work.
We asked Gabi about GEM and its mission:
"GEM is the Global Education Movement of Southern New Hampshire University. Inspired by the success of our pilot program in Rwanda, we are demonstrating how we will be able to scale this work to transform the lives of refugee learners around the world. This spring, we launched the College for America (CfA) competency based degree program in Dzaleka Camp in Malawi; Kakuma Camp in Kenya; and Cape Town South Africa. We have continued our city and refugee camp sites in Rwanda as well. Currently, we have 499 students enrolled across all sites and 105 Associate of Arts graduates and 105 Bachelor of Arts graduates. In the fall, we will be launching our site in Lebanon. Our initiative relies heavily on our partners on the ground—in Kenya and Malawi that partner is Jesuit Worldwide Learning and in South Africa our partner is Scalabrini Centre. Our partner in Rwanda continues to be Kepler."

With over 65 million refugees around the world and only 1% having access to post-secondary education, Zolla noted, this initiative aims to change that access trajectory. This is directly aligned with SNHU's mission of making higher education accessible and affordable for those whom college was never a guarantee. As Leila Janah, the Founder of Samasource, a nonprofit business with the mission to reduce global poverty, so articulately said, "Talent is equally distributed but opportunity is not." We are creating opportunities for talented refugee learners through the Global Education Movement. "

We asked Gabi about these topics relevant to women leaders and the challenges that women refugees face in pursuing their academic goals.
What are some of the greatest challenges faced by women in camps who are pursuing academic goals?

"Young women, early on, have additional duties in refugee camps, including collecting water for the household, doing the majority of household chores and taking care of the younger children and elderly. As a result, fewer attend and graduate high school. In sub-Saharan Africa, it is estimated that over 90 million women are illiterate (World Bank, 2013). In GEM, we strive for 50/50 gender equity in our student cohorts."
How do leadership roles for women in refugee locations compare to those in the United States?

"The constitution in Rwanda has a decree that outlines that 30% of parliamentary seats must be reserved for women. Pretty progressive. This top down approach is a start, but the private struggles for women remain and women are still expected to be responsible for the majority of household work, which can hold them back in the first place. For example, they are still expected to set out their husbands' shoes in the morning. For a deeper understanding of Rwanda women in leadership and the feminist movement, listen to the NPR podcast. The same is true for household work in the US according to Jillian Berman in Market Watch, April 2018."
What advice do you have for higher education institutions in preparing women for business leadership roles?

"The talent is there. The pipeline is there. The notion that there is not a pipeline of strong, qualified women to fill business leader roles is a fallacy. People in positions of power need to make gender equity a priority and make a concerted effort to seek out the talent.

When my daughter was seven, she was a part of a group project. She came home and said, "I organized the group and gave out assignments and the boys called me bossy." I said to her, "There is no one better to lead that group than you." We call girls bossy. We call boys leaders.

We have to support one another, as moms, as friends and as colleagues, on the playground and in the board room. "

As one Rwandan SNHU student recently stated, "We never thought university would be a reality. But we have hope again. We are educated thinkers, we can earn a living, and most importantly, earn our dignity back after 17 years of living only relying on others because of residing in a refugee camp."

Gabi's tagline for serving students for whom education is not a guarantee, "Live with hope."

Chances are you know at least one American business woman who has made a positive impact for you personally and/or professionally through their inspiring leadership, unwavering commitment, compelling mentorship, and clear vision…just like Gabi Zolla. Be sure to thank them on September 22!
Explore more content like this article
May 26, 2021
The world is over a year into the COVID-19 pandemic and some people are growing tired of public health measures. What are some of the things that can be done to combat pandemic fatigue?
March 25, 2021
The importance of empathetic teaching in an online environment cannot be understated. Students appreciate when instructors show concern for what is happening in their lives, and having an instructor with a teaching approach that focuses on empathy helps them navigate anxiety or uncertainty.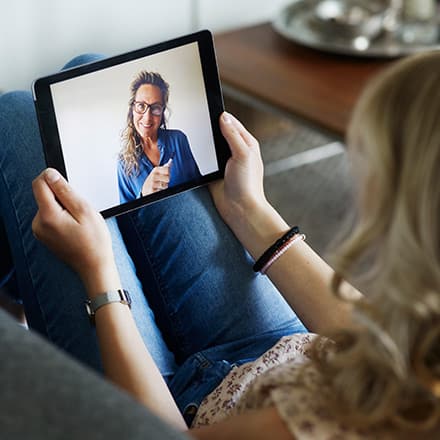 February 11, 2021
Consider what your role might be as a mental health advocate; someone who gives a voice to the problems and potential solutions related to mental health and mental health awareness. To advocate means more than just giving voice; it means to fight.