Local NH Teacher, Veteran, Surprised with SNHU Diploma in Front of Students

For New Hampshire native Ryan Manning, his training as a solider in the U.S. Army not only prepared him to be a leader, but it also gave him the foundation he needed to pursue higher learning, and eventually, become the kind of teacher any fifth grader would look forward to seeing every day.
"The military prepares you through grit, hard work and even just the ability to adapt and overcome various challenges," Manning said. "I'm dealing with a bunch of little people every day and you never know what you're going to get."
Manning, who teaches 5th grade history at The Founders Academy Charter School in Manchester, NH, certainly did not know what he was in for this week when he was suddenly called away from his class for an impromptu meeting. He returned to find his classroom had transformed into a surprise graduation party; his fifth graders shaking pompoms and cheering, all to celebrate his recent accomplishment of earning his master's in history online from Southern New Hampshire University (SNHU) after he was unable to attend Commencement in person.
"I came back, and I was thinking, 'alright we're a little behind schedule, but we're going to get the kids ready and get into our leadership values,' I open the door and much to my surprise, everybody was there, and they surprised me with my diploma which was very nice."
SNHU President Paul LeBlanc was on hand to surprise Manning and present him with his diploma. This was Manning's second SNHU degree, he previously earned an online history degree with a concentration in Military History.
---
---
"It's always special anytime we get to celebrate our graduates no matter where they are, but we're Manchester-based and there is something really powerful about being able to come to a local school serving local kids with an Army veteran," LeBlanc said. "For me, this is a reminder that there is no 'typical American college student'. Part of what SNHU does so well is that it offers models that fit people's lives and where they are at the right time, and that's Ryan's story."
"I was in the military when I started my undergrad and [because] SNHU is very military-friendly it worked out great; I was able to complete my undergrad while in the Army and so it just made sense when I was going for my grad degree that I focused on SNHU. They treated me well, [and] it was a great program and I just continued on."
When Manning knew he wouldn't be able to attend commencement, he reached out to SNHU to see if he could coordinate a celebration for his students and use it as a lesson in lifelong learning. SNHU leadership was so moved by Ryan's story, they decided to work with Manning's school administrators, including fellow SNHU alumnus Dean Cassie Hayes '15G who earned her online master's in education from SNHU, to plan the surprise and still include Manning's students.
"The Founders community is incredibly proud of Mr. Manning," Hayes said. "His dedication to History and lifelong education makes him a perfect addition to our staff. We were very excited to see what the future holds for him and his students."
In Manning's first year teaching at the school, the impact he's made on his students is clear whether it be through his daily lessons, or by sharing his own education journey with them.
"I really hope the fifth graders took something out of this today that no matter how old you are or where you are in life, you're always learning," Manning said. "Today's been awesome, a huge surprise. It's fun, it's great, now I've got to get these kids back on track."
"It's incredibly powerful for these students to see someone they look up to in this moment getting his diploma, because now they can start to imagine themselves in that role," LeBlanc said. "One of the last things I said to the kids was, 'And someday, you,' because someday it will be them if we do our job well and that's going to happen with Ryan. They have this amazing and dedicated teacher who is helping them on their path."
When the pompoms were put away and the sugar rush from the celebratory cupcakes had officially set in, Manning didn't skip a beat and jumped right back into his lesson plan; turning his full attention back on his students and answering all their wonderfully curious and complicated questions that only fifth graders can come up with.
"If you ask any of us who are the role models in our lives, who are our mentors? Who are the people who transformed us along the way? Almost always, we're going to name a teacher – usually more than one, and you just feel it in Ryan's classroom that he's that kind of teacher," said Paul LeBlanc, President, SNHU. "I remember my fifth-grade teacher, Mrs. Kiley, they're going to remember Mr. Manning because of the way he engages with them."
Siobhan Lopez is a former journalist, who is now the assistant director of media relations at Southern New Hampshire University.
About Southern New Hampshire University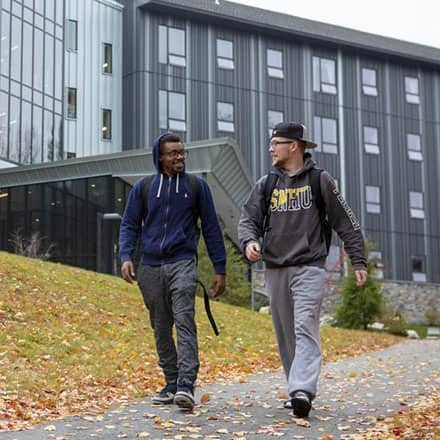 SNHU is a nonprofit, accredited university with a mission to make high-quality education more accessible and affordable for everyone.
Founded in 1932, and online since 1995, we've helped countless students reach their goals with flexible, career-focused programs. Our 300-acre campus in Manchester, NH is home to over 3,000 students, and we serve over 135,000 students online. Visit our about SNHU page to learn more about our mission, accreditations, leadership team, national recognitions and awards.