SNHU Spotlight: Christopher McGinnis, MS in Organizational Leadership Grad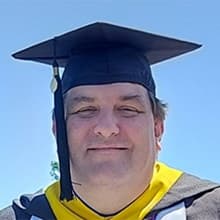 Despite applying for leadership positions, Christopher McGinnis '23G had yet to advance within his company. "While I could get to the final selection pool, I was always passed over for someone who had just 'that' much more experience," McGinnis said.
So, he decided to enroll in the master's in organizational leadership program at Southern New Hampshire University (SNHU) for a competitive edge. "Both my wife and I are SNHU graduates", McGinnis said. "Seeing her get her master's made me realize I could do so as well, especially after seeing how she was able to work and thrive personally while taking classes at the same time."
As someone with a busy life, he saw the advantages of an online master's in organizational leadership.
"I work from home and have a family of four with a very active schedule, and being able to study and earn my degree online made it possible," said McGinnis. He noted he could get support whenever he needed and never felt distanced while learning remotely.
McGinnis said the Master of Science (MS) in Organizational Leadership program at SNHU allowed him to analyze different styles of organizational leadership and prepare to implement them.
The degree taught him "effective leadership and communication skills — and most importantly — how to navigate and lead change management," he said.
Now, he uses his expertise in organizational leadership daily — and credits his MSOL with helping him finally get that promotion.
"I was only in my first couple of semesters when they opened more development coach roles and I applied, this time getting the position," McGinnis said. "Going after my master's helped me even before I had completed the program.
A degree can open doors. Choose your program from 200+ SNHU degrees that can take you where you want to go.
Mars Girolimon '21 '23G is a staff writer at Southern New Hampshire University where they earned their bachelor's and master's, both in English and creative writing. In addition to their work in higher education, Girolimon's short fiction is published in the North American Review, So It Goes by The Kurt Vonnegut Museum & Library, X-R-A-Y and more. They're currently writing their debut novel, which was Longlisted for The First Pages Prize. Connect with them on LinkedIn and X, formerly known as Twitter.
About Southern New Hampshire University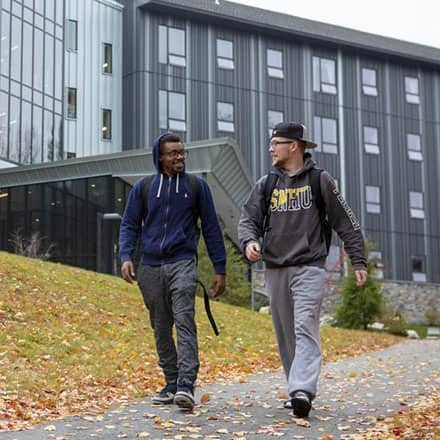 SNHU is a nonprofit, accredited university with a mission to make high-quality education more accessible and affordable for everyone.
Founded in 1932, and online since 1995, we've helped countless students reach their goals with flexible, career-focused programs. Our 300-acre campus in Manchester, NH is home to over 3,000 students, and we serve over 135,000 students online. Visit our about SNHU page to learn more about our mission, accreditations, leadership team, national recognitions and awards.