Advantages of an Online Master's in Organizational Leadership
A master's degree in organizational leadership will prepare you to take on high-level leadership positions in your organization, and earning your degree online offers additional flexibility.

Understanding the numbers
When reviewing job growth and salary information, it's important to remember that actual numbers can vary due to many different factors — like years of experience in the role, industry of employment, geographic location, worker skill and economic conditions. Cited projections do not guarantee actual salary or job growth.
As technology advances and society changes, organizations need to keep up to stay relevant. With the right approach, executives and high-level managers can navigate shifts in the workplace and turn potential obstacles into new opportunities.
"Leadership by the few is not going to help solve the problems ahead," said Dr. Michelle Caron, associate dean of business at Southern New Hampshire University (SNHU). Rather than emphasizing the perspectives of leaders, workplaces need to be harmonious to address future changes in the workplace, like implementing artificial intelligence and adapting to social change.
Organizational leadership is a management approach wherein leaders set goals for an organization and guide the group toward these common objectives in concert. As an organizational leader, you'll be the conductor of the orchestra, both setting the tone and ensuring all moving parts within the collective are working together to create harmony.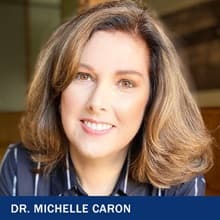 "We need to consider diverse perspectives towards achieving common goals," Caron said. "This requires leaders to know how to create a strong vision for the future, inspire others to reach their greatest potential and develop empowered, high-performing teams. Always leading in an ethical manner and promoting transparency in decision-making."
Effective leaders set a good example, build trust, inspire and generate a sense of purpose, according to Caron. She said earning a Master of Science in Organizational Leadership (MS OL) can help you develop these skills and prepare you to become an effective leader with the ability to foster a company culture, champion change and drive for excellence.
What Can You Do With a Master's in Organizational Leadership?
If you're seeking a role near the top of an institutional ladder, an MS OL can prepare you for various upper-level management positions. Some potential roles for graduates include:
If you want to become a manager at any level, you'll need the right background. According to BLS, all the above positions require at least a bachelor's degree plus several years of relevant work experience on the job, except operations managers who have more varied backgrounds. If you already have a bachelor's degree and a foundation of experience in your field, a master's degree could take your understanding of business concepts to the next level and further prepare you for a variety of management and leadership roles.
Although many organizational leaders are managers in high-level positions, anyone can benefit from improving their leadership skills, according to Caron. "You don't have to be in a supervisory role or have 'president' or 'director' in your title to be a leader within your organization," she said. "When employees realize they don't have to be the boss to inspire and influence others, they can make a positive difference in their company and truly enjoy their work."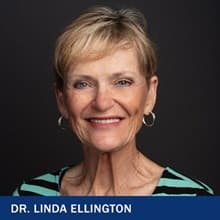 Dr. Linda Ellington, a business leadership faculty lead at SNHU, also emphasized the importance of collaboration through all levels of an organization. She said the MS OL program teaches leaders to define an organization's next horizon and seek out a variety of perspectives before making decisions.
"In your academic work and conversations, you will chart a course to innovation and competitive advantage," said Ellington. "We get greater ownership through the early involvement of people like stakeholders and customers, avoiding that classic show-and-tell, one-way conversation."
Is a Master's Degree in Organizational Leadership Worth It?
A master's degree can prove your advanced knowledge of management concepts and demonstrate your commitment to developing the qualities of a good leader. As hiring managers look to fill leadership positions, those with graduate degrees might stand out among applicants with similar skills and experience who only have an undergraduate education.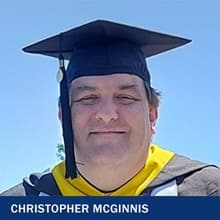 Christopher McGinnis '23G said earning his master's from SNHU helped him land a promotion before he even completed the program.
"I had applied for a development coach role previously and unfortunately, while I could get to the final selection pool, I was always passed over for someone who had just 'that' much more experience," he said. "I decided to get my master's in organizational leadership to help boost my resume and potential, which worked better than expected as I was only in my first couple of semesters when they opened more development coach roles and I applied, this time getting the position."
While earning an MS OL, you'll take courses related to both the practical side and the human side of leadership to fully prepare you to work in the field, developing both your technical knowledge and your soft skills like communication and critical thinking.
Some courses you might take include:
Human behavior in organizations
Leading change
Responsible corporate leadership
Strategic human resource management
"Being able to compare successful organizational leadership against both my current and previous organizations helped put the lessons in a real and connected manner for me," said McGinnis. "There were a great deal of real life and directly applicable lessons, the lessons focused on practical application as opposed to just theoretical."
What are the Benefits of Earning a Master's in Organizational Leadership Online?
Earning a master's online allows you to study anywhere with an internet connection. If you travel frequently, live in a rural area or have a busy schedule, an online degree could be the difference in allowing you to advance your education.
With an asynchronous learning model, there are no set class times, which promotes flexibility for students. Ten-week terms are designed to let you earn your degree at a pace that works best around your life and schedule.
In fact, many students in online graduate programs work full-time and take classes alongside their studies. That's what McGinnis did when he earned his master's in organizational leadership from SNHU.
"I work from home and have a family of four with a very active schedule, and being able to study and earn my degree online made it possible," he said. "I was able to get support from both professors and staff whenever it was needed or necessary, I never felt disconnected or distanced from everything which can be a concern with online or remote learning."
McGinnis said his academic advisor and professors supported him through his program and were there to answer questions whenever he needed.
---
---
Which is Better: an MBA or a Master's in Leadership?
There several degrees to consider if you're interested in becoming a leader, but your decision between earning an MBA vs MS will depend entirely on your interests and goals.
Here are a few graduate degree options you might consider if you're interested in leading:
No matter which degree you choose, advancing your education can introduce you to new ideas and opportunities to grow as a leader — and help others grow, too.
*Cited job growth projections may not reflect local and/or short-term economic or job conditions and do not guarantee actual job growth. Actual salaries and/or earning potential may be the result of a combination of factors including, but not limited to: years of experience, industry of employment, geographic location, and worker skill.
---
Mars Girolimon '21 '23G is a staff writer at Southern New Hampshire University where they earned their bachelor's and master's, both in English and creative writing. In addition to their work in higher education, Girolimon's short fiction is published in the North American Review, So It Goes by The Kurt Vonnegut Museum & Library, X-R-A-Y and more. They're currently writing their debut novel, which was Longlisted for The First Pages Prize. Connect with them on LinkedIn and X, formerly known as Twitter.
Explore more content like this article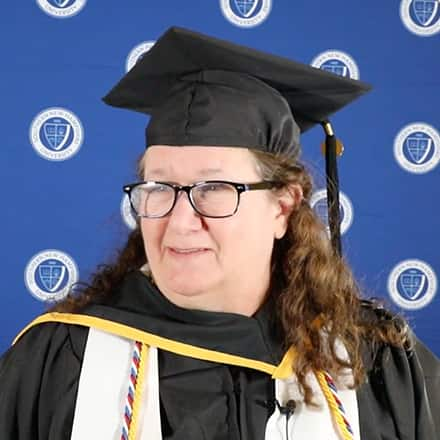 Pamela Judd earned an associate degree in business administration from SNHU while balancing work, kids — and 15 grandchildren. As the first person in her family to graduate with a college degree, she's hoping to serve as an inspiration to her family.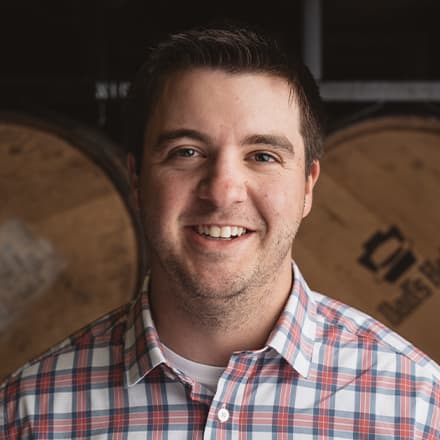 Stephen Hearn wanted more than his bachelor's degree. He wanted to become a Certified Public Accountant, so he looked for a "reputable" business school and found SNHU's master's in accounting program.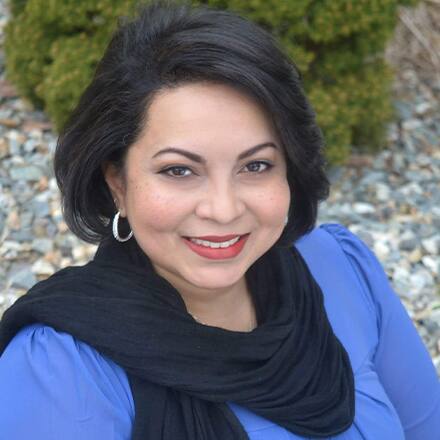 Katrina Jagroop-Gomes dropped out of school when she became a single mother at 23. She later earned her bachelor's degree, which she said, "opened a lot of doors for me." But she wasn't done. Now she has a Master of Business Administration from Southern New Hampshire University.
About Southern New Hampshire University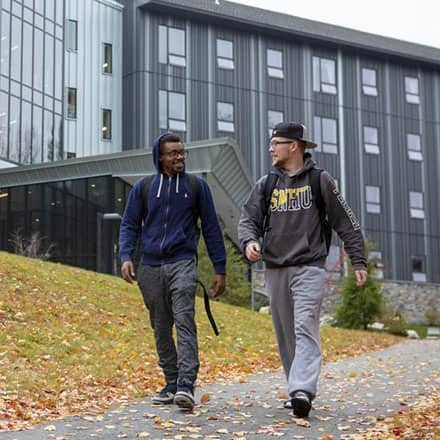 SNHU is a nonprofit, accredited university with a mission to make high-quality education more accessible and affordable for everyone.
Founded in 1932, and online since 1995, we've helped countless students reach their goals with flexible, career-focused programs. Our 300-acre campus in Manchester, NH is home to over 3,000 students, and we serve over 135,000 students online. Visit our about SNHU page to learn more about our mission, accreditations, leadership team, national recognitions and awards.