What Does a Market Research Analyst Do?

Understanding the numbers
When reviewing job growth and salary information, it's important to remember that actual numbers can vary due to many different factors — like years of experience in the role, industry of employment, geographic location, worker skill and economic conditions. Cited projections do not guarantee actual salary or job growth.
Big data is big business.
That's why there's a need for employees who can work with data. And there are plenty of job titles in the workforce for people who take on this work.
One of them? Market research analysts.
So who are these people?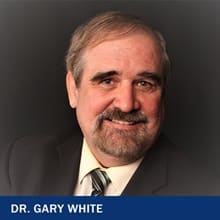 "Market research analysts are people who gather various pieces of data, and then conduct a thorough analysis of that data," said Dr. Gary White, an adjunct instructor at Southern New Hampshire University (SNHU). "The data generally consists of information regarding the competition as well as consumers."
White teaches at the graduate level at SNHU, guiding students through Advanced Marketing Research and Analytics as well as their capstone course. Before he made the shift to higher education, he was director of operations — which involved a considerable amount of market needs assessment research — for one of the largest fast-food restaurant chains in the country.
In studying the data, White says, you attempt to uncover customer needs and wants in an attempt to understand the products or services that the target market wants.
What Does a Market Research Analyst Do on a Daily Basis?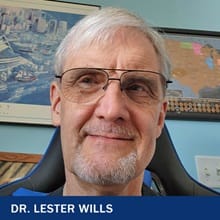 If you like having a variety of tasks, a market research analyst role may be a good fit for you.
"The market research analyst is responsible for monitoring and forecasting various trends in order to gauge the effectiveness of marketing campaigns," said Dr. Lester Wills, an SNHU adjunct instructor.
Wills previously managed the marketing divisions of several multinational corporations in Australia, where he and his teams conducted market research as an integral part of marketing programs. He also has led several research programs and headed up a task force for the main financial services industry body in Australia. Today, Wills teaches several graduate-level marketing courses at SNHU, including Market Research, Advanced Market Research and Analytics, and Ethical and Legal Issues in Marketing.
So what exactly can you expect in an analyst role?
Gather quantitative data (like gathering numbers from surveys) or qualitative (conducting interviews or focus groups).
Dig deep to find patterns and draw conclusions.
Determine what customers like and take into account what's changing in the industry.
Analyzing the competition.
Get information on products, services and costs.
Analyzing consumer behavior.
See what's driving purchasing decisions in the marketplace.
Separate your consumers into groups by characteristics, like demographics or behavior.
Use the info from your organization's past to help forecast its future.
Communicating and presenting your findings.
It's not just speaking in front of others at a meeting, but it's presenting the data through to-the-point words and easily digestible graphics that get your point across.
Work with the marketing department to make effective use of your insights.
Providing product development input.
Bring your research back into play by sharing gaps in the market or the latest needs of your customers.
Offering recommendations.
Be a go-to resource for company leadership.
Work to prevent errors throughout the process.
If you feel these tasks are up your alley, here's what the U.S. Bureau of Labor Statistics (BLS) says are 4 qualities that would be important to have:
Analytical skills, to evaluate the data
Communication skills, to present the data
Critical-thinking skills, to assess all information
Detail-oriented, to pay attention to all aspects involved
If those sound like a match for you, read on to learn more about what your paycheck could look like.
What is the Difference Between Market Research and Market Analysis?
In your job search, you may see "market research" and "market analysis" as separate functions. And that's because they are.
"Market research primarily focuses on data directly from the market and customers," Wills said. "It looks to utilize consumer behavior and economic trends to confirm business ideas. It is focused on primary research."
It can work hand in hand with the analysis tasks.
"Market analysis is a form of secondary research and tends to be focused on a particular sector or niche in the market to try and answer specific questions," Wills said. "The research can be used to gain an understanding of how particular products and services are likely to perform in a certain environment."
Is a Market Research Analyst a Good Job?
Choosing to become a market research analyst can be an exciting decision — and one that can allow you to have an impact in your company.
"You have the opportunity to interface directly with consumers in the marketplace, collect and analyze data," White said. "And you get to report the results of your data and recommendations to marketing decision-makers within an organization."
Wills shared this view.
"If you love trying to understand consumer behavior and/or predict trends in the market, it can be a great role, since an analyst will help companies make important decisions," he said.
A degree can change your life. Find the SNHU business program that can best help you meet your goals.
*Cited job growth projections may not reflect local and/or short-term economic or job conditions and do not guarantee actual job growth. Actual salaries and/or earning potential may be the result of a combination of factors including, but not limited to: years of experience, industry of employment, geographic location, and worker skill.
---
Deidre Ashe was 9 years old when she launched her professional writing career. While spending a day at work with her dad, she penned her first book, illustrated it and sent it off to a publishing company – after finding the address on the copyright page of one of her paperbacks. While the story never made it to the shelves of libraries, the editors wrote back, encouraging her to continue pursuing her writing passion. (Yes, she still has that letter.)
After earning a bachelor's in journalism, Ashe spent a decade working in the media industry. She then transitioned into marketing, later getting her MA in Communication from Southern New Hampshire University in 2018.
Ashe serves as senior copy director at SNHU. She and her family live in New Hampshire. Connect with Ashe on LinkedIn.
Explore more content like this article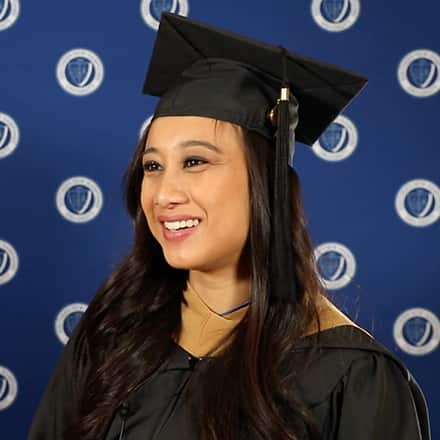 When Melanie Martinez '23MBA earned her Master's of Business Administration (MBA), she had a particular career path in mind. That's why she chose a concentration in music business. Thanks to her degree, now she's volunteering at a music company in Chicago and planning to move on up on the ranks.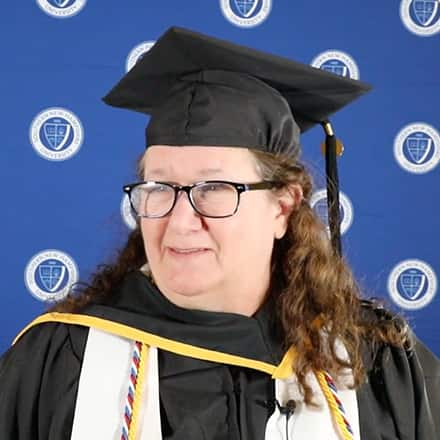 Pamela Judd earned an associate degree in business administration from SNHU while balancing work, kids — and 15 grandchildren. As the first person in her family to graduate with a college degree, she's hoping to serve as an inspiration to her family.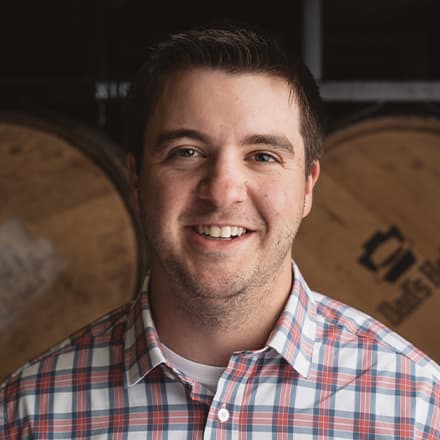 Stephen Hearn wanted more than his bachelor's degree. He wanted to become a Certified Public Accountant, so he looked for a "reputable" business school and found SNHU's master's in accounting program. 
About Southern New Hampshire University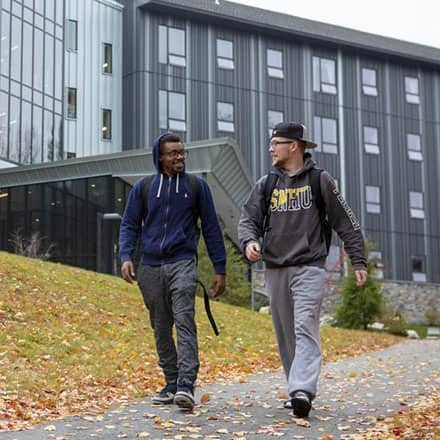 SNHU is a nonprofit, accredited university with a mission to make high-quality education more accessible and affordable for everyone.
Founded in 1932, and online since 1995, we've helped countless students reach their goals with flexible, career-focused programs. Our 300-acre campus in Manchester, NH is home to over 3,000 students, and we serve over 135,000 students online. Visit our about SNHU page to learn more about our mission, accreditations, leadership team, national recognitions and awards.