10 SNHU Faculty Members Share 17 Summer Reading Recommendations

With summer's arrival, there's no better time to curl up with a good book and enjoy the warmer weather. If you're looking for some books to add to your summer reading list, several members of Southern New Hampshire University's creative writing and literature faculty shared their recommendations.
Alongside being teachers and readers, these faculty members are also published writers themselves. These authors have written works in a variety of genres, and they have diverse reading tastes as well. This list includes historical fiction, fantasy, horror and more, so there's something here for everyone.
John Gist, MFA
English Adjunct Faculty
Recommendation: "Blood Meridian" by Cormac McCarthy
With McCarthy's recent passing, America has lost one of its iconic writers. "Blood Meridian," in many ways, is McCarthy's magnum opus. It is not for the faint-hearted. The novel is ultra-violent in order to encapsulate the soul of America as it unfolded in the Southwest. A 20th-century masterpiece.
Dan Gleason
Creative Writing Adjunct Faculty
Recommendation: "Ruby Red: A Novel" by William Price Fox
Fox was my mentor and teacher in the Iowa writer's program and a humorist that Kurt Vonnegut compared to Mark Twain.
"Ruby Red" is about two young women who take their singing skills in their church choir in Columbia, (South Carolina), and try to pursue their wild dream of being country stars in Nashville. What they find is not what they envisioned nor hoped for. Mostly, they end up singing at fast food grand openings and being womanized by country songwriters and agents, but they endure.
The writing is beautiful. It is an insider's view of the Nashville scene, and the humor is wonderful. This novel was the story Robert Altman used on which he based his film "Nashville."
Recommendation: "Sweet Thursday" by John Steinbeck
"Sweet Thursday" is Steinbeck's sequel to "Cannery Row" and may be even a better novel. It is Steinbeck at his funniest, most compassionate best.
David LeGault
English Adjunct Faculty
Recommendation: "Stephen Florida" by Gabe Habash
This book is unlike any other novel I've read in the past five years. It is written from the perspective of a college wrestler who seems to be going increasingly insane over the course of his final year of school.
The character's voice goes from deeply funny to terrifying and back again on a page-by-page basis. It was fun to read and also helped me to become an even better writer by thinking about how it all fits together. Even if you don't care about sports, I could not recommend this book highly enough!
Cynthea Liu
Creative Writing Adjunct Faculty
Recommendation: "The Writer's Journey" by Christopher Vogler
This one does a great job of laying out the mythic structure of stories that often informs many of the movies we see today. I think it's an excellent way to think about a novel's beginning, middle and end when we think of the heroes of any book we are writing.
I use Vogler's fundamental ideas of storytelling and structure often in my teaching and my own writing. This book was recommended by my own MFA professor, and I wished I had run into it far earlier in my writing career.
J. Lloyd Morgan
Creative Writing Adjunct Faculty
Recommendation: "The Briar King" by Greg Keyes
"The Briar King" by Greg Keyes is an excellent example of world-building and character development in speculative fiction. The epic story shows how to tell a larger tale using multiple characters while still using third-person limited point of view. Each section and chapter builds on the overall narrative arc while still developing characters and the setting.
Generally, each chapter ends on a mini-cliffhanger of sorts that keeps the reader engaged and turning the pages.
"The Briar King" is also the first of a four-book series. It demonstrates how to write a complete, fulfilling novel while still opening the door for future books.
I highly recommend this book for those who write in the speculative fiction genre and plan on writing a series of books.
Robin A. Morris
English Adjunct Faculty
Recommendation: "The Book of the New Sun" by Gene Wolfe
If you are looking for a good science-fiction/fantasy series that is complete, so you are not left waiting for the writer to get around to finishing it, then Gene Wolfe's "The Book of the New Sun" is for you.
The work is complete in four novels (though there are some additional books). The series is set in a far distant future, where the sun is dying, and remnants of the civilization we know are put to strange uses.
In addition, there have been some extraterrestrial interventions. Written in the 1980s, the author died in 2019. I've read it twice and plan to read it again, since it is deeply complex and puzzling.
Jacob Powers
Associate Dean of Creative Writing Programs
Recommendation: "Night of the Living Rez" by Morgan Talty
"Night of the Living Rez" is an exceptional collection that centers on the Penobscot community in Maine. Talty's 12 interconnected stories are unblinking as they present the pains and joys of living as Penobscot boys, men and family in the 21st century. It's a meaningful summer read by Talty, whose debut novel, "Fire, Exit," is due to be released the summer of 2024.
Dr. David Swain
Professor of English
Recommendation: "The Mirror and the Light" by Hilary Mantel
In progress since winter; the last in her "Wolf Hall" trilogy and I can't bear to finish it.
Recommendation: "Pride and Prejudice" by Jane Austen
I read it every couple of years.
Recommendation: "Manhattan Beach" by Jennifer Egan
Part of an ocean theme I am on. Cool noir historical fiction with a great heroine.
Recommendation: "Kafka on the Shore" by Haruki Murakami
Part of my ocean theme. I am very intrigued by this one.
Recommendation: "The White Tiger" by Aravind Adiga
A murderer's confession.
Recommendation: "The Sea" by John Banville
Classic literary fiction by a master of the form.

Paul Witcover
Associate Dean, Online MFA
Recommendations: "The Passenger" and "Stella Maris" by Cormac McCarthy
This diptych of novels appeared in 2022, but I have set them aside for summer reading, and I recommend them to every writer and lover of literature. At an age when most writers are resting on their laurels, McCarthy (wrote) at the highest level of ambition and craft.
These audacious novels about a brother and sister, who are perhaps a bit too close for their own and everyone else's comfort, feature extended passages of hallucinatory comic inventiveness, dark weirdness and paranoid logic that match or transcend anything in his previous work.
Lisa Wood, PhD, MFA
Team Lead and Graduate English and Literature Adjunct Faculty
Recommendation: "Hell Hath No Sorrow Like a Woman Haunted" by RJ Joseph
"Hell Hath No Sorrow Like a Woman Haunted" by RJ Joseph is an excellent one. Extreme horror from the viewpoint of Black female characters, excellent writing, chilling stories. It shows the breadth of the genre and reminds readers that women write visceral work too.
She is also an SNHU (undergraduate) instructor.
Online. On campus. Choose your program from 200+ SNHU degrees that can take you where you want to go.
Ashleigh Worley '22 is a writer and student at Southern New Hampshire University, currently pursuing a Master of Fine Arts in Creative Writing. Connect with her on LinkedIn.
About Southern New Hampshire University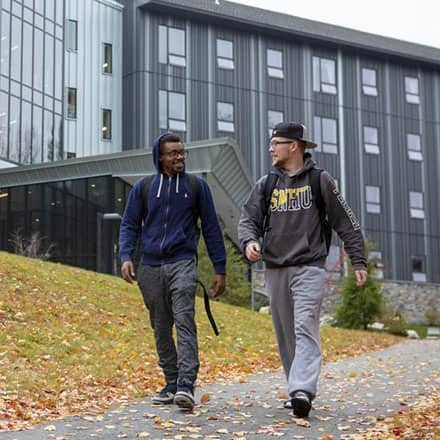 SNHU is a nonprofit, accredited university with a mission to make high-quality education more accessible and affordable for everyone.
Founded in 1932, and online since 1995, we've helped countless students reach their goals with flexible, career-focused programs. Our 300-acre campus in Manchester, NH is home to over 3,000 students, and we serve over 135,000 students online. Visit our about SNHU page to learn more about our mission, accreditations, leadership team, national recognitions and awards.