How to Choose a College: Increased Options for the Modern Student
In an information age where most queries can be answered with a simple internet search, there's no one-size-fits-all solution when deciding how to choose a college. In reality, there are many considerations when exploring options and finding the "right fit" for your education goals including cost, financial aid, work options, school rankings and more.
What to Look for When Choosing a College
Some of the important factors to consider when choosing a college include:
Cost – The College Board indicates the average in-state cost for public universities in 2018 was $25,890, including tuition, fees and room and board charges, and $41,950 for out-of-state students. The average cost for private nonprofit universities was $52,500. Those seeking to avoid years of student loan repayments should carefully consider their options.
Financial aid – According to the same report from The College Board, most student budgets are constructed by institutional financial aid offices, which determine the amount of eligible financial aid for students. Students are advised to determine their financial aid eligibility before committing to a tuition they may not be able to afford.
Work options – Students should consider on campus job availability and campus location if they plan to work while receiving their education. Depending on the college, on campus employment opportunities may be limited. Colleges in remote locations may further limit a student's ability to find a job off campus.
School rankings –There are a variety of online reviews from well-known sources including The Princeton Review, Forbes, The Wall Street Journal, U.S. News and World Reports and Niche, among others.
Graduation data –The National Center for Education Statistics provides an easy-to-navigate search tool to help students obtain this information.
Campus size – Students should carefully consider whether they're more comfortable at a large campus or in a more intimate setting. College visits may be the most practical way to make this determination.
Student-teacher ratio – Depending on how much individual attention a student needs, this may be an important factor to consider. This information is also readily available through The National Center for Education Statistics.
On campus housing options – Most universities have unique offerings and regulations regarding housing including room size, number of individuals per unit, same sex vs. coed dormitories, and other factors that may impact your decision.
Major availability – Practically speaking, a student should select a college that either offers their desired major or, for those undecided, a variety of programs.
Southern New Hampshire University Assistant Vice President for Undergraduate Admission Melissa Morgan said her experience reveals the most important element for potential students to consider is what they need, personally, to be successful.
"They should think about what they hope to experience while in college," she said. "This is different for everyone. Some need additional support in the classroom, some need a writing center, some enjoy extracurricular activities, socializing and networking. Other students enjoy having go-to people at the university to help build their support system, encourage them, and give them confidence when they encounter challenges along the way. They want to find a college that will provide when they need it most and deliver a positive, memorable experience."
Morgan, who has overseen undergraduate admission at SNHU for the last two years and graduate admission the three years prior, said there are a number of online tools available, such as bigfuture.collegeboard.org, that are designed to help students gain specific information on campus housing, programs, environment, cost, support services, and diversity.
Still, Morgan, who has spoken with hundreds of potential students and academic advisors over the years, said choosing the right college, like most other major decisions in life, often comes down to time and price.
"Students value their time and they recognize education as an investment," she said. "They want to make sure they can stay motivated to complete their program and that they have a plan to pay for their education so that does not become a cause for them to give up on their dreams. Students should feel confident in working with the financial services team at the college to get their questions answered, gain a clear understanding of how much college costs, and be supported with a plan to repay loans when applicable."
Online College vs. Campus
Another pertinent decision, one relatively new to this generation, is the choice between an online and on campus education.
"From my perspective I think students that are seeking the coming-of-age experience and want to gain independence and life experience are naturally drawn toward campus," said Morgan. "They recognize the time commitment and expect to put their education as their top priority. They may also be interested in the opportunities provided by the various clubs, organizations, and athletic groups."
Online college education, on the other hand, often attracts students with additional commitments while they pursue their degrees. Similar to those who seek brick-and-mortar institutions, students desiring an online learning environment have a number of questions to consider, most notably, according to U.S. News and World Reports:
Is the course asynchronous or synchronous?
Is content delivered via text or video?
What kind of coursework does the professor assign?
Are the professors experts in the field?
How does the instructor guide my online learning experience?
Can I receive credit for previous courses or life experience?
"We tend to see more students that are employed part time or full time and balancing families," said Morgan. "We will also see students that are changing careers or seeking advancement. They require programs and support with gaining the skills and knowledge needed for the positions they have in mind."
According to a 2017 report from Babson Survey Research Group, the number of distance education students, or students enrolled in at least one course outside a traditional classroom environment, increased 5.6% from 2015 to 2016, while the number of on campus students decreased by nearly 1.2 million students, a 6.4% drop during that same period.
"I believe the value lies in the education and the instructional method should match the student's needs," said Morgan. "Understanding the needs of the student, their goals, their experience with education, as well as their current commitments, is crucial when advising them on which avenue to pursue. The student should choose what works in their life, will help them reach their goals, and provide them support to keep going; in some cases that may even be a combination of both online and on campus."
Customize Your Experience
A hybrid education method is a popular compromise among modern students, with 16.7% of 2016 students enrolled in both distance and traditional classroom courses, according to data from the Babson report, which also noted that 52.8% of students who took at least one online course also enrolled in an on campus course.
Though 56.1% of online students are still enrolled within their home state, being able to enroll in schools anywhere in the country is a natural convenience allowed by the online college boom. Morgan said that's a positive for students because it expands their options when choosing where they'll obtain their post-secondary degree.
"We have students from all over the country. I would imagine the same holds true for other colleges that offer an online component," she said. "I think part of the reason we see that is because our tuition doesn't change for our online out-of-state students. Online education allows for students to explore colleges they may otherwise not have looked at simply because they are out of state."
Ryan O'Connor works in higher education marketing at Southern New Hampshire University. Follow him on Twitter @NHRyGuy or connect on LinkedIn.
Explore more content like this article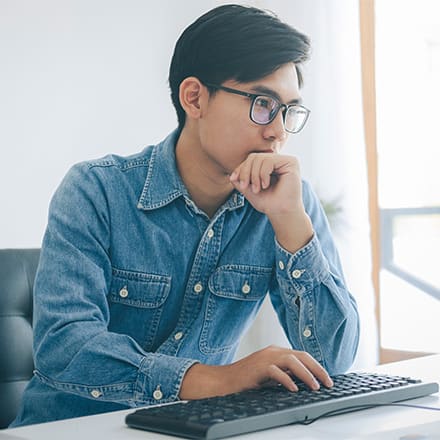 October 15, 2021
Generally taking only two years to complete, an associate degree provides foundational academic knowledge and technical expertise for a variety of career fields without the time and financial investment of a four-year degree.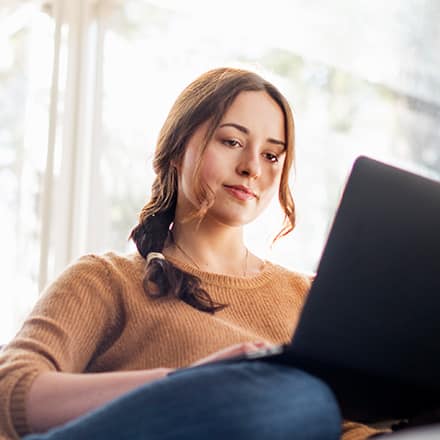 October 13, 2021
Choosing the right MA degree is a matter of your current accomplishments – academic and professional – and your goals for the future. Which MA degree is right for you will depend on your current career and where you want to go from here.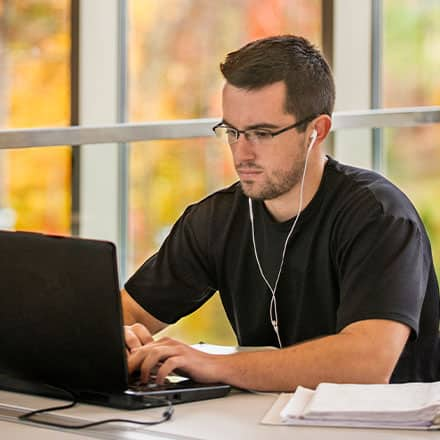 October 12, 2021
There's a clear benefit to getting an associate degree. Workers with an associate degree had median weekly earnings of $862, $132 more than people with a high school diploma alone, according to BLS.