What is a Master's Degree?
A master's degree, or graduate degree, is typically a 2-year academic program following a bachelor's degree that allows you to specialize in a subject area.
Understanding the Numbers
When reviewing job growth and salary information, it's important to remember that actual numbers can vary due to many different factors — like years of experience in the role, industry of employment, geographic location, worker skill and economic conditions. Cited projections do not guarantee actual salary or job growth.
A bachelor's degree is a significant academic achievement, but your learning doesn't have to stop there. If you have a desire to advance your career or expand your knowledge, the next logical step would likely be to pursue a master's degree.
A master's is a type of graduate degree that allows you to specialize in a subject area — mastering it, if you will. This means that courses often dive deep into the subject matter and usually involve scholarly research, according to the National Center for Education Statistics (NCES).
Some master's degrees require you to complete a thesis or capstone project to demonstrate your proficiency in the material.
NCES reported that of all the master's degrees conferred in the 2020-21 school year, around 57% were in:
What's the Difference Between a Bachelor's Degree and a Master's Degree?
The main difference between a bachelor's and a master's is that they are different degree levels. A master's degree comes after a bachelor's degree and often requires significantly fewer credits.
Bachelor's degrees are referred to as "four-year degrees," as it typically takes that amount of time to finish 120 credits worth of classes. Master's degrees, on the other hand, range from 30-60 credits, meaning they can be completed within two years or less.
Whether you decide to get a Bachelor of Arts (BA) or a Bachelor of Science (BS), a bachelor's degree encapsulates general education courses in addition to foundational classes related to a chosen field. Master's degrees focus primarily on advancing your knowledge of the selected discipline.
Types of Master's Degrees
There are dozens of specialized master's degrees in areas ranging from a master's in accounting to a master's in sports management. Whatever your professional interest, a corresponding master's degree program is likely available.
Whether you see your master's degree as a continuation of your field of study or an opportunity to change careers, it's important to consider your options and find one that aligns with your personal and professional goals.
The Difference Between a Master of Science and a Master of Arts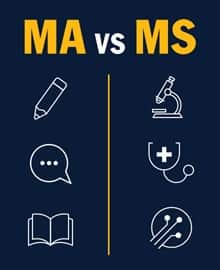 Two of the most common types of master's degrees are the Master of Science (MS) and Master of Arts (MA). People often question the admission team at Southern New Hampshire University about the differences between an MS and an MA — and whether one is better than the other to pursue. Admission counselors are quick to point out that the choice isn't a case of which is better as a degree but rather which is better suited to the student's interests and goals.
An MA degree is humanities-based and designed to provide a balanced liberal arts education and general knowledge in a recognized discipline, interdisciplinary field or area of professional study. Some examples of MA degrees include:
An MS degree is science-based and designed to provide more scientific, technical or professional competence. Some examples of MS degrees include:
MBA, MEd and More
A research-based graduate degree is often a step toward obtaining a PhD (or doctoral degree); however, professional master's degrees prepare you for a specific occupation.
Some examples of professional master's degrees include:
Some professionally-oriented master's degrees are considered terminal degrees — the highest academic credential someone can earn in a specific field. A Master of Fine Arts (MFA) in Creative Writing, for example, is still widely recognized as a terminal degree, said Benjamin Nugent, the director of SNHU's Mountainview Low-Residency MFA program.
---
---
Is a Master's Degree Worth It?
A master's degree can broaden your career opportunities and command, perhaps, a higher salary. A bachelor's degree is often required for many professional entry- to mid-level jobs, so a master's degree is sometimes the preferred credential for senior leadership roles.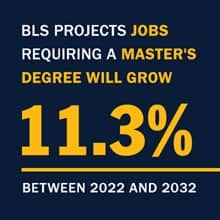 In some industries, master's degrees are the standard prerequisite for many positions. The U.S. Bureau of Labor Statistics (BLS) reports that, from 2022 to 2032, employment in master's-level occupations is projected to grow by 11.3%, the fastest of any education level.*
Perhaps because of the growing demand from employers, graduate programs are seeing a spike in enrollment. A report from the Council of Graduate Schools (CGS) showed a 6.5% increase in first-time master's degree seekers between 2020 and 2021 (CGS PDF source).
According to the CGS report, first-time enrollment for master's programs and graduate certificates was highest in the following fields:
Business
Education
Health sciences
Mathematics and computer sciences
Engineering
You may also have a higher earning potential with a master's degree. BLS reports that the median weekly wage for full-time workers over the age of 25, whose highest level of education was a master's degree, was $1,661 compared to $1,432 for those holding a bachelor's degree, around a $12,000 per year wage premium.*
The pay difference between degree levels often depends upon the industry and position.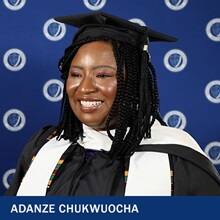 While earning a master's degree can expand your career and salary opportunities, it can also help you grow as a person.
"After the years that I've been (at SNHU), completing my master's degree, I'm much more confident in myself, I love what I do, I'm much better (at) writing, (and) I'm much better at speaking," said Adanze Chukwuocha '23G, after completing an MA in English and Creative Writing at SNHU. "With the experience that I've gained, I'm just a better person, and I'm very, very thankful for that."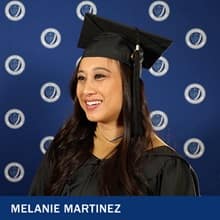 Melanie Martinez '23G, who earned an MBA in Music Business at SNHU, agrees.
"Not only have I learned how to manage my time better and prioritize life as an adult, but also, I feel a lot more confident in my ability and what I'm capable of," she said.
Martinez said that even after earning her MBA, she knows that there are many more opportunities for learning and growth in her future.
A master's degree is not only helpful in advancing your career. It can help you find more passion and confidence in the things you do in both your personal and professional life.
How to Earn a Master's Degree
The prerequisite for most graduate degrees is a bachelor's-level education from an accredited institution. Depending on the school and master's program you choose to pursue, there may be other requirements, too; for example, you must have an unencumbered registered nurse license to earn your master's in nursing online at SNHU. While you can earn some MBAs without standardized testing, others require the scores for entrance.
To determine exactly how you can get a master's degree, don't be afraid to contact the admission team at the graduate school you're interested in for specific program qualifications and expectations.
Today, your options for earning a master's degree are broader and more varied than they were in the past. For example, many who wished to pursue graduate school for a specific area of interest may have been limited by geography. Or perhaps family or work obligations prevented additional schooling because the scheduled class times conflicted with those commitments.
Flexible, online programs now allow easier access to MA, MS, MBA, MSN and other master's degrees, and coursework is more convenient to complete. The evolution of some industries — and the introduction of new ones — have led to exciting new areas of study at the graduate level. Dozens of accredited master's degrees are available exclusively online.
How Many Years is a Master's Degree?
The time it takes to get a master's degree depends on the number of credits in your selected program and how many classes you take each term.
Since the number of required credits varies greatly by master's degree, you'll have a better idea of a timeline once you've selected your program. An online MBA from SNHU, for example, is 30 credits in length if you have an undergraduate degree in business. It can take you just over one year to complete, should you take two classes per 10-week term. On the other hand, if you get your master's in clinical mental health counseling at SNHU, you can expect a 60-credit curriculum and two years of study with the same weekly time commitment.
While many traditional campus-based master's degrees can operate on a semester schedule, some online schools are term-based instead. At SNHU, for example, master's classes are 10-weeks long, and you can choose to take one or two courses per term. Your chosen graduate school can help you understand how long your program will take to complete and help you create a timeline that fits your schedule.
A degree can change your life. Find the SNHU master's degree that can best help you meet your goals.
*Cited job growth projections may not reflect local and/or short-term economic or job conditions and do not guarantee actual job growth. Actual salaries and/or earning potential may be the result of a combination of factors including, but not limited to: years of experience, industry of employment, geographic location, and worker skill.
---
Rebecca LeBoeuf Blanchette '18 '22G is a writer at Southern New Hampshire University. Connect with her on LinkedIn.
Explore more content like this article
Frederico Curty '23G was already a firm believer in the importance of education when he earned his Master of Science (MS) in Higher Education Administration in 2023. But he said he learned how valuable it is to be supported while earning your degree – especially as a dad.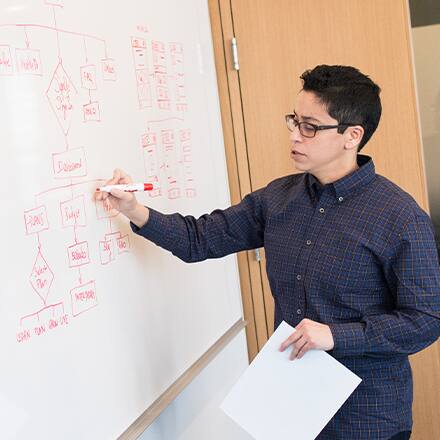 Everyone has a different style of learning. Through understanding the styles of study and note-taking that suit you best and knowing about different strategies for activating your learning, you can maximize your learning experience with formal education, and in all areas of life.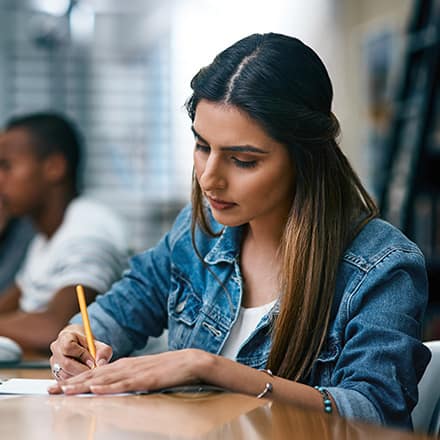 If you're thinking about earning a degree, you'll need to consider how to pay for college. For many, that can involve student loans. A student loan is money you can borrow from the U.S. Department of Education or a private organization to pay for college and repay later with interest.
About Southern New Hampshire University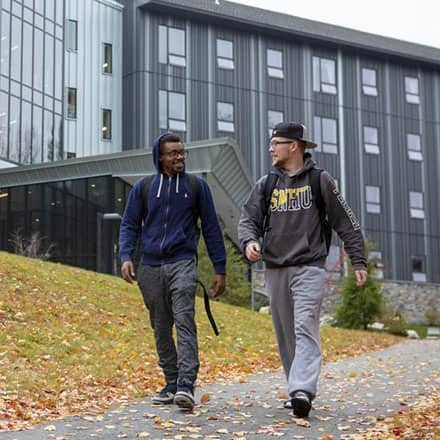 SNHU is a nonprofit, accredited university with a mission to make high-quality education more accessible and affordable for everyone.
Founded in 1932, and online since 1995, we've helped countless students reach their goals with flexible, career-focused programs. Our 300-acre campus in Manchester, NH is home to over 3,000 students, and we serve over 135,000 students online. Visit our about SNHU page to learn more about our mission, accreditations, leadership team, national recognitions and awards.