50 Best Personal Growth Quotes for Your Next Chapter
Looking for some inspiration to kick off your next chapter a positive way? Regardless of your goals, these words – from some of the most notable authors, scientists, philosophers, politicians, business professionals and athletes – are sure to resonate.
Bookmark these 50 best personal growth quotes to draw upon in the months ahead:
1. "What you do makes a difference, and you have to decide what kind of difference you want to make." - Jane Goodall
2. "Strive not to be a success, but rather to be of value." - Albert Einstein
3. "Stay afraid, but do it anyway. What's important is the action. You don't have to wait to be confident. Just do it and eventually the confidence will follow." - Carrie Fisher
4. "One can choose to go back toward safety or forward toward growth. Growth must be chosen again and again; fear must be overcome again and again." - Abraham Maslow
5. "The swiftest way to triple your success is to double your investment in personal development." - Robin Sharma
6. "Don't go through life, grow through life." - Eric Butterworth
7. "We can't become what we need to be by remaining what we are." - Oprah Winfrey
8. "Life's challenges are not supposed to paralyze you, they're supposed to help you discover who you are." - Bernice Johnson Reagon
9. "The most difficult thing is the decision to act, the rest is merely tenacity." - Amelia Earhart
10. "People who are crazy enough to think they can change the world are the ones who do." - Rob Siltanen
11. "If there is no struggle, there is no progress." - Frederick Douglass
12. "I would like to think that all of my successes in life are really just the fruit of my failures." - Yvie Oddly
13. "Do the best you can until you know better. Then when you know better, do better." - Maya Angelou
14. "I've got a theory that if you give 100% all the time, somehow things will work out in the end." - Larry Bird
15. "Twenty years from now you will be more disappointed by the things that you didn't do than by the ones you did do. So throw off the bowlines. Sail away from the safe harbor. Catch the trade winds in your sails. Explore. Dream. Discover." - Mark Twain
16. "There are two ways of spreading light: to be the candle or the mirror that reflects it." - Edith Wharton
17. "By doing the work to love ourselves more, I believe we will love each other better." - Laverne Cox
18. "We should not judge people by their peak of excellence; but by the distance they have traveled from the point where they started." - Henry Ward Beecher
19. "Just don't give up trying to do what you really want to do. Where there is love and inspiration, I don't think you can go wrong." - Ella Fitzgerald
20. "Take criticism seriously, but not personally. If there is truth or merit in the criticism, try to learn from it. Otherwise, let it roll right off you." - Hillary Clinton
21. "You can waste your lives drawing lines. Or you can live your life crossing them." - Shonda Rhimes
22. "Sometimes in life we take a leap of faith. Remember, the leap is not about getting from one side to the other. It's simply about taking the leap…and trusting the air, the universal breath, will support your wings so that you may soar." - Kristi Bowman
23. "Recognizing that you are not where you want to be is a starting point to begin changing your life." - Deborah Day
24. "Incredible change happens in your life when you decide to take control of what you have power over instead of craving control over what you don't." - Steve Maraboli
25. "Be patient with yourself. You are growing stronger every day. The weight of the world will become lighter…and you will begin to shine brighter. Don't give up." - Robert Tew
26. "Permit yourself to change your mind when something is no longer working for you." - Nedra Glover Tawwab
27. "When you get into a tight place and everything goes against you…never give up then, for that is just the place and time that the tide will turn." - Harriet Beecher Stowe
28. "Every strike brings me closer to the next home run." - Babe Ruth
29. "I'm a great believer in luck, and I find the harder I work the more I have of it." - Thomas Jefferson
30. "Pain, pleasure and death are no more than a process for existence. The revolutionary struggle in this process is a doorway open to intelligence." - Frida Kahlo
31. "Be not afraid of growing slowly; be afraid only of standing still." - Chinese Proverb
32. "You are the one that possesses the keys to your being. You carry the passport to your own happiness." - Diane von Furstenberg
33. "What we fear doing most is usually what we most need to do." - Ralph Waldo Emerson
34. "Though no one can go back and make a brand new start, anyone can start from now and make a brand new ending." - Carl Bard
35. "It is never too late to be who you might have been." - George Eliot
36. "When the whole world is silent, even one voice becomes powerful." - Malala Yousafzai
37. "Once we believe in ourselves, we can risk curiosity, wonder, spontaneous delight, or any experiences that reveals the human spirit." - e.e. cummings
38. "'First things first' might be a cliche, but it's a useful one that means prioritizing what matters most to you and believing there is no wrong answer." - Stacey Abrams
39. "The will to win, the desire to succeed, the urge to reach your full potential…these are the keys that will unlock the door to personal excellence." - Confucius
40. "We are products of our past, but we don't have to be prisoners of it." - Rick Warren
41. "If you don't make the time to work on creating the life you want, you're eventually going to be forced to spend a lot of time dealing with a life you don't want." - Kevin Ngo
42. "The tragedy in life doesn't lie in not reaching your goal. The tragedy lies in having no goal to reach." - Benjamin Mays
43. "When we're growing up there are all sorts of people telling us what to do when really what we need is space to work out who to be." - Elliot Page
44. "Be patient with yourself. Self-growth is tender; it's holy ground. There's no greater investment." - Stephen Covey
45. "There is nothing noble in being superior to your fellow man; true nobility is being superior to your former self." - Ernest Hemingway
46. "The power of imagination makes us infinite." - John Muir
47. "When someone tells me 'no,' it doesn't mean I can't do it, it simply means I can't do it with them." - Karen E. Quinones Miller
48. "Accept responsibility for your life. Know that it is you who will get you where you want to go, no one else." - Les Brown
49. "Someone is sitting in the shade today because someone planted a tree a long time ago." - Warren Buffett
50. "With self-discipline most anything is possible." - Theodore Roosevelt
Roosevelt's words may well be the key to your success in your journey ahead. Whether you're pursuing a new dream, working hard toward ongoing goals or making a plan to transform your life in some way, self-discipline will be a major component in seeing it through.
If you find any of these quotes particularly inspirational for your personal growth consider printing them out and posting them in the places you view often throughout the day. Sometimes a simple quote can impact your day in the most positive of ways.
Know someone who needs a bit of motivation? Share these quotes and help them on their personal growth journey.
A degree can change your life. Find the SNHU online college degree that can best help you meet your goals.
Rebecca LeBoeuf '18 is a writer at Southern New Hampshire University. Connect with her on LinkedIn.
Explore more content like this article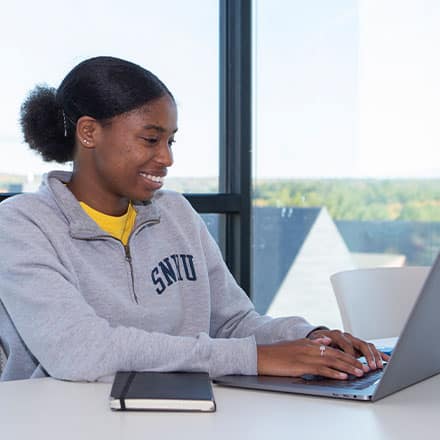 While looking over a course list, you may have wondered why certain courses are required when they're seemingly unrelated to the degree program. These general education requirements can reshape your outlook on learning, teach you soft skills and introduce you to a variety of disciplines and people.
It's important to understand some of the basics of an undergraduate program when choosing a degree to pursue, like why or how a Bachelor of Arts may differ from a Bachelor of Science degree. Typically, each undergraduate program falls under one of these two categories.
A master's degree allows you to gain specialized knowledge and can make you more competitive in the job market. Both a Master of Arts (MA) and Master of Science (MS) are graduate degrees that help you gain expertise in your field by providing in-depth learning beyond the bachelor's degree.
About Southern New Hampshire University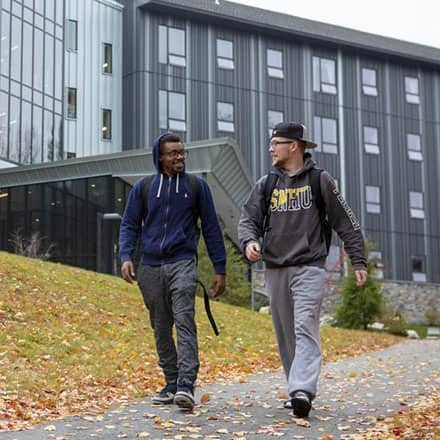 SNHU is a nonprofit, accredited university with a mission to make high-quality education more accessible and affordable for everyone.
Founded in 1932, and online since 1995, we've helped countless students reach their goals with flexible, career-focused programs. Our 300-acre campus in Manchester, NH is home to over 3,000 students, and we serve over 135,000 students online. Visit our about SNHU page to learn more about our mission, accreditations, leadership team, national recognitions and awards.