Ali Lamoureux: Taking Her Career in Healthcare to the Next Level
Like many high school graduates, Ali Lamoureux wasn't sure of her next steps and didn't feel like college made sense for her. She completed a semester at a local community college, but her heart wasn't in it.
"I just didn't give it my all – so I just decided to work full time instead," she said.
She kickstarted a career in healthcare, where she eventually found her passion in hospital administration. She came to realize that to advance in this field, she would need to go back to school.
"I had no desire to go back to school in my 20s," she said. "I had no plans of it until I started this new job and essentially met my wife." Lamoureux said her wife really helped reinforce the idea that if she wanted to advance in her career, this is the best path to go.
Finding The Right Fit
Lamoureux knew if she wanted to go back to school successfully, she needed an online program flexible enough to fit her busy schedule and align with her career goals.
Living in Boston and having grown up in New Hampshire, she was familiar with Southern New Hampshire University (SNHU). "My wife and I looked at the different programs and found one that would be a great fit for my career and decided to apply," she said.
Lamoureux has now been working in the healthcare field for the past 11 years, making her choice to major in healthcare administration easy.
"The healthcare administration [bachelor's] program was definitely the best fit for what I do and what would help me advance in the specific job that I'm in," she said.
At SNHU, all undergraduate programs run on an 8-week term structure. "The 8 weeks does feel manageable… It kind of keeps your mind fresh with moving on to the next course and gaining more information," said Lamoureux. She added that having the option to take one or two courses per term helped to keep her on track, and "having two due dates through the week helps break it up."
Lamoureux said that it required a level of self-discipline and time management, which she tackled by designating specific time for school and planning it out in advance.
Finishing Faster and For Less
Lamoureux was able to transfer in prior college credits. "I was surprised at how many transferred over," she said. "I was able to knock about a year off from my total time."
This made a huge difference for her timeline – and her bank account. "Being able to transfer the credits over definitely helped save me money – I didn't have to duplicate credits," she said.
She was also surprised at how affordable finishing her degree could be. "Looking at finances and working the numbers, the cost of each term was something we could afford," Lamoureux said. "Finally figuring out I could afford to go back to college was a relief. I didn't think I could afford school, but I can with the affordable options at SNHU."
Making Her Mark
After getting a job at her current hospital, Lamoureux realized she really enjoys the operations and workflow side of the business. "So, after speaking with my advisor, we decided to add a minor on to my degree in operations management to help further that side of my career," she said.
Lamoureux's already been able to take experiences from her work and include them in her assignments and vice versa. Her Organizational Behavior course, for example, stood out as directly relevant to her role.
"[It] helped me better understand how to be a supervisor, how to treat my employees, how to talk to my employees — and the same with my patients," she said.
The impact her work has on her patients specifically is a key motivator.
"I learned that I love to work with patients," said Lamoureux. "I learned that I could make a difference in their lives even though I wasn't clinical in my position… there are still so many administrative pieces that make a huge difference in the patients' lives and knowing that I am still making that difference… it's rewarding."
Support To Make It – All The Way
Lamoureux will be the first to say she is earning this degree for herself. But she's also the first to recognize the incredible support she's received along the way to help make it possible – her parents and wife being at the top of the list.
"My wife had also gone back to college later in her 20s, so she knew exactly what I was going through," said Lamoureux. "She has been there to help make sure I get my assignments done, to help me when I need help with my assignments, to tell me when I need to take a breath — she's been there the entire way."
Lamoureux's academic advisor has been another huge contributor.
"I've had a lot of support throughout my time at SNHU, from the very beginning with my advisor, who has just been phenomenal," she said. "She's helped me pick classes, figure out the best career path and has helped answered all my questions."
Lamoureux was skeptical initially, knowing it was a big university, but was surprised to know everyone was at the ready to help at any moment. From her first phone call with admission to discussing tuition with the student finance team, "any questions I've had, they've been able to answer. Any help that I've needed, they've been able to provide," she said.
An Unexpected Transformation
Working on her degree has been one of the most rewarding things in her life.
"I feel very proud of myself for getting this far," said Lamoureux. "I didn't think I would complete [the program] when I first started… then after the first year to realize that I actually could do it… Looking back now, it's crazy that I ever even thought I wouldn't be able to."
Not only did she prove to herself that she could go back to school, but she also she did it exceptionally well.
"To see my GPA rising is one of my favorite things to do after each term," said Lamoureux. "It's just crazy to think that I never had thoughts of college, and now I can't imagine not going back and earning my degree."
Her feelings about college and her capabilities have shifted dramatically since starting with SNHU – finally enjoying her educational experience because she's doing it at a time that makes sense for her and building confidence every step of the way.
"I rave about it. I rave to anyone that wants to listen," Lamoureux said. "I just go on about my advisor, about the courses, about my experience, and hopefully can inspire others to think about going back to college or maybe earning another degree or just checking out SNHU."
Consider how a bachelor's degree can change your life.
Emily Connor '19G is a copywriter at Southern New Hampshire University. Connect with her on LinkedIn.
Explore more content like this article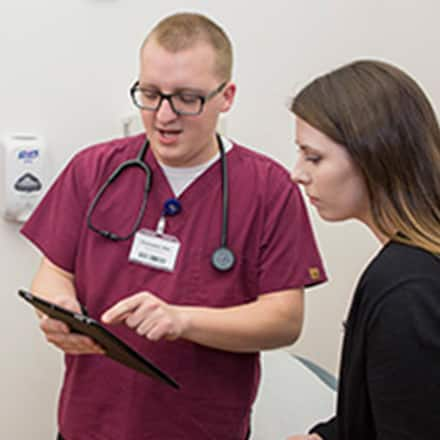 October 14, 2021
So many career paths can leave new and seasoned nurses alike wondering which specialty is right for them. To help, we've compiled a list of the 16 types of nurses employers are looking to hire, including information on salary, growth potential and required nursing degrees.
October 05, 2021
Both the nursing profession and some employers are calling on registered nurses (RNs) to obtain a Bachelor of Science in Nursing (BSN) to improve safety and help prepare for future healthcare challenges.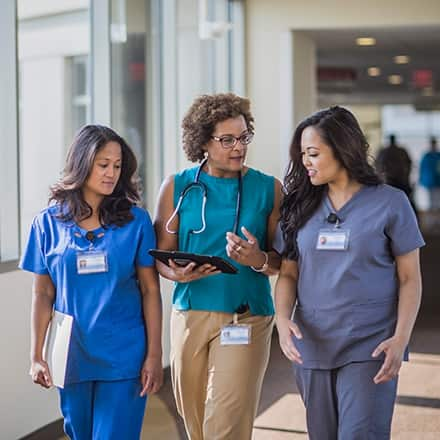 September 30, 2021
While nursing has always been a respected career, many people don't know that there are actually several different levels of nursing degrees and many different specialties available.