MBA Alumna Maureen Banks: From Nurse to COO/Chief Nursing Officer

Maureen Banks '93MBA didn't start out wanting to be a nurse. She'd been accepted to Boston College as a political science major, yet experienced an aspirational revelation when she began a summer job at a skilled nursing facility after graduating from high school.
"As soon as I started working there, I knew I wanted to be a nurse," Banks said.
Now the President of Spaulding Hospitals Cambridge and Cape Cod and Spaulding Rehab in Brighton and Chief Operating Officer & Chief Nursing Officer of Spaulding Rehabilitation Network, Banks never forgets her formative years, primarily as a nurse; everything she's accomplished since has built off that foundation.
Celebrating Nurses Week
During annual Nurses Week, May 7-11 in 2018, she said it's a time that she reflects on "how proud I am to be a nurse, how grateful I am -- and why it matters still so much." She sees it as an opportunity to refresh and remind herself why she gets up and does what she does and why it's the core of everything she does, even now.
At Spaulding, Banks said, "We honor and celebrate all nurses during Nurses Week because we aren't able to recognize every moment throughout the year -- for all the times we can't say 'thank you' on the spot." Special recognition is given at each of their four facilities, based on recognition of nursing achievements, and one overall recognition, too, along with a nurse leader award.
She remarked on the many changes the nursing profession has experienced through the years. "Once for women, there were two choices. You could be a nurse or a teacher," Banks said. "If we look at the academic piece, nursing becoming a profession in its own realm has evolved over the years. It's an incredibly impactful role in advancing evidence-based care."
Nursing: Never a Stagnant Profession
To be a nurse can mean a multitude of different careers, depending on which area became the focus, from school nurse to nurse researcher and so many choices in between. "The most exciting thing about nursing is that it's never been a stagnant profession," she said.
So much of what happens in a nurse's career, Banks said, begins with "what you learned at your mother's knee; the drive, the values, and then your education gives you validity and opens doors."
She spoke of the importance of mentors, both good and bad, and the effect each can have on the path you take and the goals you set for yourself, as well as the type of leadership you offer and relationships you create.
"Everyone needs a mentor and should be a mentor," she said. "To move forward in your career, there needs to be a person to look up to, to seek advice from and to act as a sounding board for you." She notes that it doesn't have to be a long-term relationship nor does it necessarily need to be one-on-one either. Currently, Banks role as a mentor includes working with people who are transitioning out of the military and want to work in healthcare.
Education is a critical element in healthcare, Banks said, due to "the changes in care delivery and sciences related to patient outcomes." Without continued education, she said, "You're not able to be all you can be in your role, giving your best care to your patients and their families."
Even as CEO, a role Banks feels lucky to assume, the nurse in her can still nurture those important relationships.
Encouraging Nurses to Go Back to School
"I've always been passionate about what a critical vocation nursing is, what a serious responsibility it is," Banks said. "You should always want to learn. I expect and ask every nurse at Spaulding to challenge themselves to go back to school.
This isn't a challenge she takes lightly and it's one she models herself. Banks is currently earning her doctorate and knows what it's like to work and go to school at the same time. Earlier in her career, as a clinical specialist in oncology with a master's degree, Banks still wanted to learn more about the business side of healthcare. She wasn't finding a lot out there in academic space related to this critical area. When Banks learned of Southern New Hampshire University's MBA in Healthcare Administration, she knew it was the program for her.
Her time as an oncology nurse, as well as in other nursing roles, provides Banks with valuable insights in her life and in the type of care the medical community can give to patients and their families. "The care part has made me a better person," she said. "It's shown me what's important and what's not in life."
Yet, perhaps the real lesson has been witnessing the difference it makes on others. "What the human spirit can accomplish when they have a great healthcare team is incredible," Banks said. "I am amazed by the strength of people."
Balancing Business with Patient Care
She attributes being a nurse with making her a better CEO and Chief Nurse Administrator. She's able to balance the business side of healthcare with is vital caring side. Banks focuses first on patients and second on staff. "My nursing experience added breadth and depth to my role," Banks said.
With a focus on people and relationships, along with the bottom line, Banks said, "I have a habit of finding a patient at Spaulding, someone who has been there a while and will be. I ask if I can check in regularly, see what I can do to make the person's stay better -- and tell me what we need to do better, too."
Throughout the years, Banks has seen much progress in the field of nursing, from the level of education requirements to the advocacy and influence of nurses, all of which have created significant changes in healthcare. "I think of Nurses Week as a time to celebrate that progress, to celebrate nurses as important healthcare team members," she said.
Pamme Boutselis is a writer and content director in higher education. Follow her on Twitter @pammeb or connect on LinkedIn.
Explore more content like this article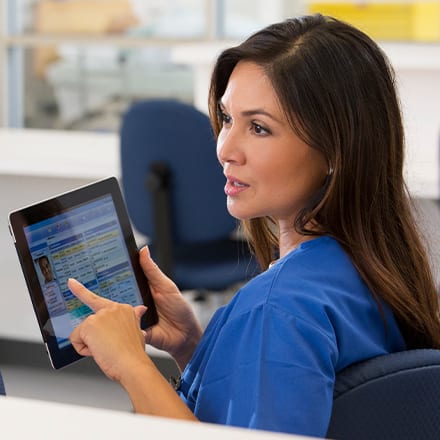 Health information management (HIM) is a critical field within healthcare that involves the secure and accurate documentation, management and analysis of patient health information. It encompasses areas such as coding and revenue cycle, informatics, data analytics and information governance.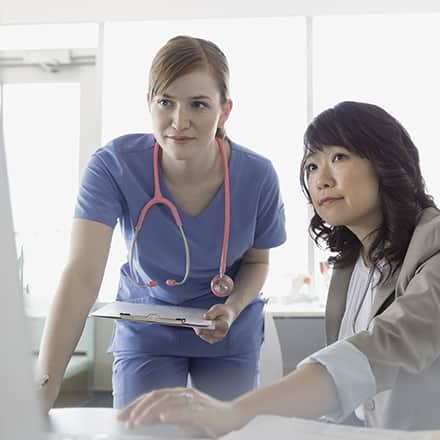 Licensed practical nurses, or LPNs, play a critical role in today's health care system. As an LPN, you can make a difference in patients' lives by attending to their care and comfort. While the time it takes to become an LPN may be shorter than other nursing roles, you need to take certain steps.
If you want a career helping others with opportunities for career growth, learning how to become a CNA could be right for you. Explore the steps you need to take to work as a certified nursing assistant, from education to certification and beyond.
About Southern New Hampshire University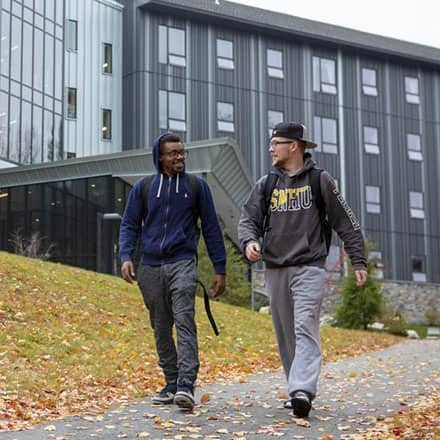 SNHU is a nonprofit, accredited university with a mission to make high-quality education more accessible and affordable for everyone.
Founded in 1932, and online since 1995, we've helped countless students reach their goals with flexible, career-focused programs. Our 300-acre campus in Manchester, NH is home to over 3,000 students, and we serve over 135,000 students online. Visit our about SNHU page to learn more about our mission, accreditations, leadership team, national recognitions and awards.