BSN Student Honored for Effective Communication in Nursing
Daniele Fenn said she always had it in her heart to one day work in the medical field, but it was taking care of her grandmother, who was in hospice care at home, that made her choose nursing. "I helped take care of her 24/7," she said. "After she passed away, I kept wondering what I could have done better, and I made a promise to myself that if a loved one ever needed to be cared for, I wanted to know what to do and how to do it right."
Little did she know, Fenn said, the next loved one who would need help would be her late husband.
Originally from Brazil, Fenn moved to Germany, where she met her husband Michael, who was visiting his sister overseas from the U.S. "We were both 21, and fell in love at first sight without even speaking each other's language," she said.
They soon were engaged and in a long-distance relationship for four months until they met again to get married. In 2004, she moved to the U.S. and started her career in the medical field as a phlebotomist at a medical center in Manchester, New Hampshire.
Fenn's Journey to a BSN
Fenn had her sights set on becoming a registered nurse (RN) and earning a bachelor's degree in nursing. "I know how important it is for me to have a bachelor's to continue to grow professionally and get a job anywhere," she said.
While earning her associate degree in nursing, Fenn's husband was diagnosed with cancer and began treatment. At the time, the couple had two young children. After he completed a year of chemotherapy, Fenn started working as an RN. Her husband encouraged her to go back to school to achieve her goal of a bachelor's in nursing.
"He was actually the one who encouraged me to go to SNHU," she said. "I remember him saying that it was a really good university." She started classes but put her courses at SNHU on hold when her late husband's brain tumor started to grow again.
In 2019, Fenn was ready to return to school: "I finally decided it was time to get back into it." She has found immediate value in her coursework and academic advisors provided guidance when she needed it.
Fenn incorporates what she's learning in each course into her day-to-day work as a nurse. "All the things I'm learning at SNHU are helping me become a better and more knowledgeable nurse," she said. "I'm able to apply everything I'm learning in class to my practice, and I'm improving my critical thinking, communication and leadership skills."
Fenn is also able to bring her experience as a nurse into the virtual classroom. "I'm able to relate what we are learning in school with my clinical experiences," she said. "I think it makes it easier to understand the course work having been already exposed to many things we talk about in class."
What Fenn said she loves most about nursing is being able to help people in need and care for them the same way she'd want to be cared for. "Being a nurse gives me the opportunity to make a positive impact in someone's life during one of their most difficult times," she said.
That mindset led to actions that brought Fenn national recognition in 2020.
Navigating Communication Barriers in Nursing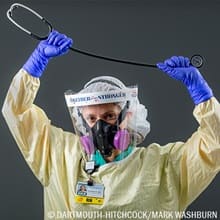 When COVID-19 struck, Fenn's unit at the medical center became the COVID unit for patients that didn't require ICU-level care. "We all got trained and prepared to care for COVID patients," she said. In the months ahead, Fenn's personal and professional experience, coupled with her formal education, made a positive difference in patient care.
During one shift, Fenn got a call from a friend and co-worker at the healthcare facility, telling her there was a COVID-19-positive patient from Brazil on their unit, who didn't speak English very well. "The nurses I work with were having trouble communicating with him," she said. "The only way to communicate with this patient was to put on personal protective equipment (PPE) – a gown, gloves, respirator and face shield – go into the patient's room, turn on remote video interpreter services and work with translators." The nurses had to do this, for any need the patient had, from adjusting his pillow to providing something to drink.
Fenn called the patient and told him in Portuguese that she was there to help if he needed anything. She walked him through questions that the nurses might ask and told him if he needed anything, he could call her, and she would call the nurses' station. "I would essentially be the 'bell' he would ring for help," she said.
She also wrote instructions for things that would prove helpful. While translators were still used for medical issues, her colleagues were able to work with the instructions she created to help him with his basic needs and make him feel more comfortable. "The patient was very grateful for my help and told me I made a big difference for him during a challenging and scary time," Fenn said.
Another COVID-19-positive patient came into their care a few weeks later. This patient experienced more communication barriers because he came from Argentina, didn't speak any English and was very confused. Fenn made several signs in Spanish and English for his room and for staff to use when they were outside of his room.
"They would hold the signs up to the glass in the door and the patient could indicate what he needed," she said. "It made his time at the hospital a lot easier and with the signs we could address his needs more promptly, instead of letting him wait several minutes while we would gear up to go in the room and turn on the interpreter services."
Her above-and-beyond care came to national attention when ABC News did a story on nurses who had done something special during the pandemic, who they honored during National Nurses Week. ABC interviewed Fenn and included her story as part of the show, "Pandemic, What You Need to Know." InStyle magazine invited her to be featured in their August 2020 edition of "50 BADASS Healthcare Women," representing the state of New Hampshire, and she received notice in other media, too.
But for Fenn, it was all about patient care and doing what she could to make a difficult situation a bit better. "I'm so humbled that one simple act got so much attention," she said.
Pamme Boutselis is a writer and senior content director in higher education. Follow her on Twitter @pammeb or connect on LinkedIn.
Explore more content like this article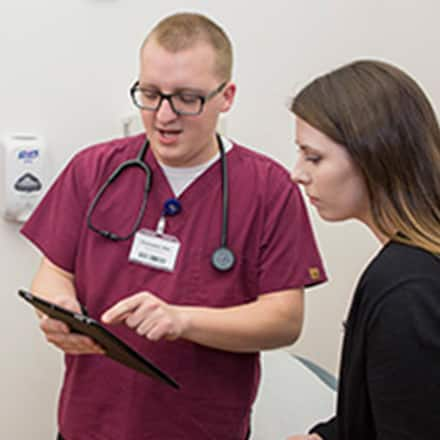 October 14, 2021
So many career paths can leave new and seasoned nurses alike wondering which specialty is right for them. To help, we've compiled a list of the 16 types of nurses employers are looking to hire, including information on salary, growth potential and required nursing degrees.
October 05, 2021
Both the nursing profession and some employers are calling on registered nurses (RNs) to obtain a Bachelor of Science in Nursing (BSN) to improve safety and help prepare for future healthcare challenges.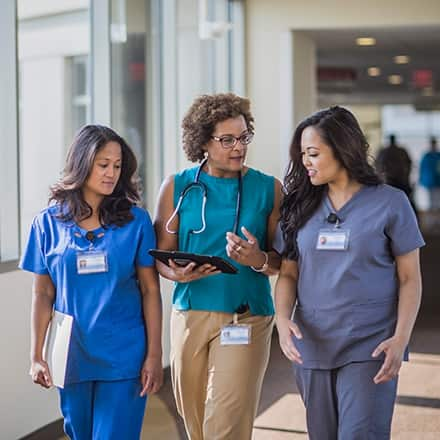 September 30, 2021
While nursing has always been a respected career, many people don't know that there are actually several different levels of nursing degrees and many different specialties available.