Basic Needs Insecurity in Higher Ed
Homelessness and basic needs insecurity doesn't discriminate. Jay Tifone, director of Student Support Resources at SNHU, explains how these issues impact college students and colleges and universities can help.
How common is this situation for students?
It's actually more common than we realize. Stats vary widely, but according to The Hope Center, in 2020, 43% of college students reported being affected by housing insecurity, while 14% say they were affected by homelessness.
Housing insecurity may encompass those who don't have a consistent roof over their head, lack a safe place to reside, live in an overcrowded dwelling, or face housing and utility costs that they cannot pay in full.
How can colleges support housing or food insecure students?
Higher education institutions can combat food insecurity through:
Developing campus food pantries.
Funding meal plan scholarships for students who cannot afford to eat or who exhaust their dining plan before term's end.
Promoting students' application for SNAP benefits.
Running food reclamation projects.
Colleges can address housing insecurity through:
Sponsoring an emergency fund, which can assist students facing one-time, non-tuition-based financial hardships (including covering off-campus rent and utilities).
Offering housing scholarships for students who must move to campus for unanticipated, and often safety-related, reasons.
Facilitating connections with community agencies and non-profits that aid students
How do students become housing insecure or homeless? Where do they live?
There are many reasons that students may be housing insecure:
Students' families lose their jobs and lose their housing as a result.
LGBTQ students who have been kicked out of their homes by families who don't accept their identities.
Veteran students who have struggled to afford their rent, either because of benefit difficulties or mental health-related challenges.
Students with experience in the foster care and/or justice systems also disproportionately experience basic needs insecurities.
Housing insecure students may live with their families in unsafe/over-crowded/costly residences, couch surf from one person's residence to another, reside in their vehicle, and/or find shelter in spaces that are accessible 24-hours a day (libraries, academic buildings, student unions, truck stops, etc.).
About Southern New Hampshire University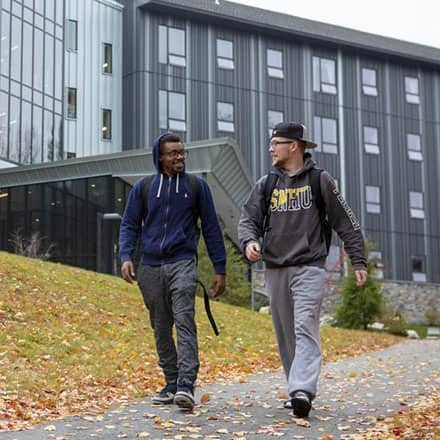 SNHU is a nonprofit, accredited university with a mission to make high-quality education more accessible and affordable for everyone.
Founded in 1932, and online since 1995, we've helped countless students reach their goals with flexible, career-focused programs. Our 300-acre campus in Manchester, NH is home to over 3,000 students, and we serve over 135,000 students online. Visit our about SNHU page to learn more about our mission, accreditations, leadership team, national recognitions and awards.