Effective Communication: A Q&A with Lead Faculty Karen Wilkinson
Karen Wilkinson is the communication lead faculty for Southern New Hampshire University Online. She is also an instructor in SNHU's online graduate communication program. Wilkinson previously taught communication courses at the undergraduate level online for SNHU. We recently had an opportunity to connect with her, to learn more about her background, SNHU's online communication degree program and the importance of effective messaging.
How long have you been at SNHU?
I began with SNHU in 2012. After more than 30 years of marketing, communications, PR, training and promotional fundraising activity via the government and corporate sectors, the transition to academia was a natural pathway and progression. This transition provided an opportunity to share what I have learned throughout my career. In turn, I continue to learn from my students each and every day. They enlighten me!
Why should someone consider a communication degree?
Communication touches every field, workplace and environment throughout contemporary society. To share information, one must be able to communicate in an effective manner. Oral, written and visual messages must be understandable and deliver an impact. The ability to express one's self, deliver information and communicate effectively is paramount for succeeding within all workplace environments.
Cutting-edge technology and new media add new, exciting and ever-evolving layers to the study of communication. Today, more than ever, individuals are inundated with digital technology and online social opportunities. The ability to create and deliver content via the correct context, channel and medium is essential to ensuring that communication efforts are strategic and successful.
Digital environments deliver vast opportunity to engage with global audiences. Social media offers an online conversation. Instead of speaking to audiences, contemporary communicators speak with them. Therefore, communicators must host the appropriate skill sets necessary to share information in an ethical, transparent and timely manner. In turn, communicators must be able to engage in a positive and informative manner. Lastly, contemporary communicators must have the capacity to weed through the plethora of online information and determine which content is valid and reliable.
Modern-day communications offer a unique mobile quality; technology travels with users who are constantly connected and online. Contemporary audience members seek to receive information in an immediate manner. For communicators, an awareness of cutting-edge tools and platforms is paramount to their ability to inform, educate, persuade, and defend their employers and their brand identities.
Today, audiences are global. One-size message does not fit all. Audience members are diverse, culturally unique, and host distinctive opinions and thought patterns based upon their past experiences. To connect with these audiences, communicators must learn to understand and appreciate their differences and unique qualities. They must develop a keen understanding for how their messages should be created, how they will be received and the impact that they will deliver to those who receive them. In creating an approach, communicators must learn to think critically and creatively in efforts to craft strong and effective messaging solutions. This attention to detail will support a planned and tactical approach and ensure that strategic communication efforts are provided.
Who does well in SNHU's online communication degree programs?
Students should host an excitement for cutting-edge technology and the ability to communicate in a strategic manner. SNHU's communication programs offer knowledge in oral, written and visual communication methods. The ability to think creatively while respecting industry standards is important. Students should be self-starters with a desire to learn the tools and techniques that will propel them into the realm of knowledgeable and well-respected contemporary communicators.
How will students be prepared to create effective messaging through the online communication master's degree program?
Students within the online master's program begin learning about effective messaging during the very first week of studies in COM 500, Communication, Media & Society. In this very early stage of learning, students are introduced to established communication models and theories. Through these early philosophies, students are able to grasp and begin to learn about the roles of sender and receiver in support of message delivery, noise interference and audience response.
Throughout the MA program, students utilize learning opportunities and hands-on experiences to shape messages that will deliver an impact via oral, written and visual means. Students respond to a myriad of real-world scenarios and craft messaging solutions that inform, educate and enlighten. An emphasis on digital technology and social media formats is offered. The capstone experience offers a culmination of knowledge obtained throughout the program as students create a well-researched and creative communications plan to deliver an effective message via a comprehensive and strategic approach.
Why is an effective message important?
For a message to be effective, it must resonate with an audience and deliver a desired impact. Effective messages are clear and concise. They allow audiences to receive complete and thorough information in a timely and efficient manner.
If messages are not crafted with care, concern and forethought, there can be great opportunity for miscommunication and confusion. In a digital environment, misinformation can be shared and distributed just as quickly as correct information. Therefore, it is essential that great care and consideration are utilized in crafting messaging solutions.
Why is it important for us to know our audience before we attempt to communicate with them?
An understanding of the target audience is an essential component of effective messaging. Quite often, an audience may offer many different sub-audiences. As shared above, contemporary audiences are quite diverse. They offer an array of cultural, demographic and generational differences, and they bring a host of unique qualities to any given situation. Their preconceived notions are based upon their own unique knowledge and experiences. Therefore, audience members are vastly different.
Communicators must consider and respect these differences in efforts to share information that informs without offending or confusing those who receive it, yet embody a different mindset. For example, conversation that is commonplace and understanding to national audiences may be easily misconstrued when shared with global audiences. As today's communication efforts and digital platforms offer a global reach, it is imperative that communicators seek to fully understand their audiences prior to sharing communications and messaging solutions.
Learn more about SNHU's online bachelor's and master's in communication.
George Devaney is a marketing and communications professional in higher education.
Explore more content like this article
October 20, 2021
Interested in starting a new job or advancing in your current field? An Associate of Arts (AA) degree can give you the broad-based education and in-demand career skills you need to reach your goals. Learn more about earning an AA degree and what you can do with one.
October 07, 2021
A communications major is a great way to prepare yourself for a career in fields ranging from media relations and journalism to marketing, corporate communications and many more.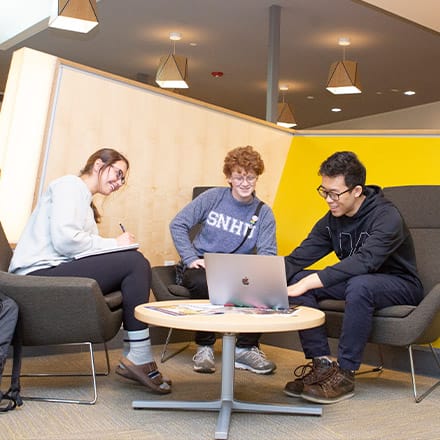 October 04, 2021
Liberal arts majors are strong communicators, who bring creativity and critical thinking to the table. If you're willing to be flexible in your search and smart about branding yourself, you can find there are many opportunities.