Creative Writing: MA vs. MFA
If you're the kind of person who loves the nuances of the English language, you know how the omission or addition of a single word can change the meaning of a phrase. As you're weighing which creative writing programs you want to apply to, your decision may come down to the difference of one word: Do you want to earn a Master of Arts or a Master of Fine Arts? At first glance, it seems as if these two creative writing degree paths would be the same, but each provides a different focus of study and opportunities for building your career.
Creative Writing Graduate Programs
Once you've reached the decision to move forward with your creative writing education, you need to choose which degree path is the right one for you. The specifics of what you want to learn, the skills you want to add to your toolbox and the expectations you have for your future are all factors you want to consider when determining whether an MA or MFA will best suit your needs.
Earning an MA In Creative Writing
The master's in creative writing differs from the creative writing MFA in several ways. First is the time consideration - the amount of credits required for an MA in creative writing is less than that of an MFA. Academically, courses in this program push beyond lessons in creative writing and include courses focused on studying literature and literary theory. Along with learning the craft of storytelling, you'll have the opportunity to develop your analytical skills while you study the various lenses through which you can view a work of literature. You'll also study how sentences are structured and how words in the English language have changed over time.
Earning an MFA In Creative Writing
The MFA degree path is for writers who are focused on honing their craft with the purpose of becoming a professional writer or novelist. By the end of your MFA program, you should have completed a polished manuscript. An MFA also "emphasizes the skills needed to build and sustain a full-time writing career in a modern gig-economy," Dr. Sharon Califano, associate dean of programs for creative writing and Literature at Southern New Hampshire University (SNHU), said. "Students develop a range of skills and strategies for maintaining a professional identity as a writer."
The coursework explores the different services and roles of writers entering the publishing field, including the business of writing and the role of digitization in publishing. To succeed in publishing in the digital age, MFA students must learn how to use social media and build a platform. With reference to SNHU's new online MFA, Califano said, "This MFA program is designed to give students the business skills that both help to develop an audience for their work and support career aspirations in areas such as marketing, publishing, content writing, teaching and freelancing."
Creative Writing Concentrations
Knowing what you want to write can help determine whether an MA or MFA in creative writing is the right path for you. MA and MFA degree paths offer a variety of form and genre concentrations to choose from, such as:
Fiction and Non-fiction - Many MFA programs have two form paths, fiction and creative non-fiction, while MA programs more frequently offer screenwriting and poetry.
Screenwriting - In some programs, the screenwriting concentration is still called playwrighting. If you intend to write for television, film or the stage, this concentration teaches the structure and flow of a script.
Poetry - A master's of creative writing in poetry will require you to learn structure, tone and rhythm and analyze the work of renowned poets. An MFA in poetry requires a student be able to appraise a poem's composition and larger meaning while also understanding the significance in their own art as they grow as a poet.
Genre Fiction - This category includes anything not included in literary fiction. MA or MFA programs may include concentrations in young adult, romance, mystery or speculative fiction. Speculative fiction includes science fiction, fantasy and writing focused on elements of the supernatural.
The Different MFA Programs
While an MA in Creative Writing follows the traditional and online avenues for earning your degree, there are three ways to earn your MFA.
Full-residency - As with traditional graduate programs, as a full-resident MFA student, you'll be going to school full-time on a campus. In full-residency programs, you may have the opportunity to become a teaching assistant and help instruct an undergraduate creative writing course.
Low-residency - In a low-residency MFA, such as the Mountainview MFA program, you'll spend around two weeks in-residence with faculty and students twice a year, and the rest of the time, you'll work from home.
Online - With some programs, you have the opportunity to earn your MFA entirely online. The expectations are the same, but you're able to continue working full-time if necessary while you complete your degree.
You may also have the option of earning a certification along with your MFA, such as a teaching certification for creative writing.
Careers In Creative Writing
Creative writing is a skill necessary in many fields. The career that best suits your skills and experience may not be in a line of work you expected. Your proficiencies in editing, crafting a narrative and expert language usage can be important in areas ranging from marketing to public relations.
The Bureau of Labor Statistics (BLS) report for 2017 showed the following expectations for creative writing careers:
Ashley Wallis is an Army veteran and writer with a BA in English Language and Literature from SNHU. She is currently living in the Denver area. Find her on twitter @AshDWallis.
Explore more content like this article
October 20, 2021
Interested in starting a new job or advancing in your current field? An Associate of Arts (AA) degree can give you the broad-based education and in-demand career skills you need to reach your goals. Learn more about earning an AA degree and what you can do with one.
October 07, 2021
A communications major is a great way to prepare yourself for a career in fields ranging from media relations and journalism to marketing, corporate communications and many more.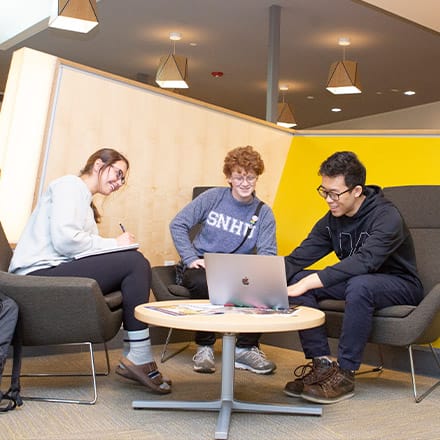 October 04, 2021
Liberal arts majors are strong communicators, who bring creativity and critical thinking to the table. If you're willing to be flexible in your search and smart about branding yourself, you can find there are many opportunities.