Winners of Fall Fiction Contest Awarded $6,000 in Writing Scholarships
The winners of Southern New Hampshire University's Fall Fiction Competition were awarded $6,000 in scholarships after being chosen by a panel of judges from among hundreds of entries.
Joe Skonie, a student in SNHU's online bachelor's in creative writing degree program with a concentration in fiction, won first place and will receive a $3,000 scholarship to continue his education. His entry, "As Good As Gone," is a first-person apocalyptic tale that envisions planets, and finally, the stars, moon, and sun, falling from the sky as a couple's relationship similarly falters. Skonie, who began writing for his high school paper but only began writing "seriously" two years ago, said metaphysical experimentation is a common theme in his writing. "I like to somehow bring into the question the nature of reality, space and time, and the meaning of things without necessarily straying too far from everyday experiences, or into the world of science fiction," he said. "Ultimately I'm still learning what it is I like to write about, and the best way to write about it."
One of the judges of the five finalist entries, SNHU alum and freelance writer Chance Joyner said Skonie's story was subtly built and had engaging dialogue. "And its structure is both rigid and fluid, following a set structure but playing with its own form in a way that feels ethereal and poetic," Joyner said.
Another judge, Joan Smith, who teaches creative writing and literature at SNHU, also likened Skonie's story to poetry. "'As Good As Gone' was tremendous for its structure," she said. "Overall, I was absorbed in reading until the end of the finalist's work, which is a good indication of its success as a creative work."
In addition to the $3,000 scholarship, Skonie received a prize package including a copy of "Novel & Short Story Writer's Market 2017" by Rachel Randall and an autographed copy of "The Neverland Wars" by SNHU alumna Audrey Greathouse. The Penmen Review, SNHU's online journal for creative writers, will also feature his story and that of the second- and third-place finishers.
Skonie said he read an email telling him he had won the contest while talking to his girlfriend and gave her a "wide-eyed, jaw-on-the-floor expression."
"She knew pretty quickly what that look meant," he said.
Skonie said the scholarship will be an "immense help" finishing his degree. He hopes to continue writing and may pursue a degree in social sciences.
Smith said a common genre was science fiction or fantasy and dystopian or end-of-the-world scenarios were popular. "There was a broad range of writing styles and subject matter, which was very exciting to witness as a judge," she said.
The winner of a $2,000 scholarship, online master's in English student Taylor Hicks, will also get a prize pack including a copy of "Novel & Short Story Writer's Market 2017" and "The Neverland Wars." Her story, "Machine," will also be featured in the Penmen Review. Hicks said she has written for most of her life, even telling her mother stories as a little girl and having her mother write them down for her. "It's great validation to know that people connect with your writing," she said, "and it feels even greater when you can earn something for it."
Third-place winner Megan Parker is earning her online masters in English and creative writing with a concentration in fiction from SNHU. Her story, "A Good Thing," will also be featured in the Penmen Review. She said the $1,000 scholarship will help her complete her degree and prove she's progressing as a writer. "So, being one of the top five finalists granted me both validation and encouragement. And then finding out that I placed third? The feeling was incredible. Total excitement and awe," Parker said. "It drove me straight to my keyboard to begin working on my next story."
Fourth-place finisher Amber Box, a student in SNHU's online master's in English and creative writing, and fifth-place finisher Don Noel, the only finalist who isn't attending SNHU, will also receive prize packages for being named finalists. "It is an honor to even be considered as a finalist out of such a talented group of writers," Box said.
Joe Cote is a staff writer at Southern New Hampshire University. Follow him on Twitter @JoeCo2323.
Explore more content like this article
October 20, 2021
Interested in starting a new job or advancing in your current field? An Associate of Arts (AA) degree can give you the broad-based education and in-demand career skills you need to reach your goals. Learn more about earning an AA degree and what you can do with one.
October 07, 2021
A communications major is a great way to prepare yourself for a career in fields ranging from media relations and journalism to marketing, corporate communications and many more.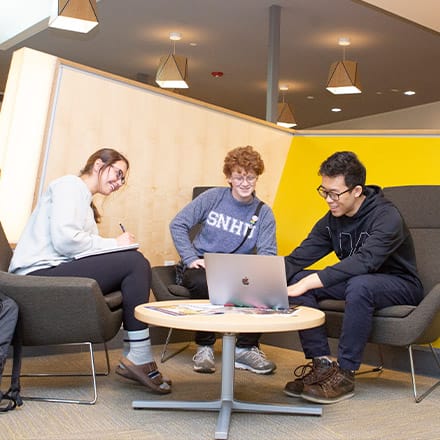 October 04, 2021
Liberal arts majors are strong communicators, who bring creativity and critical thinking to the table. If you're willing to be flexible in your search and smart about branding yourself, you can find there are many opportunities.