Faculty Form Advisory Board Focused on Diversity in Criminal Justice
When the death of George Floyd, at the hands of a white Minneapolis police officer, caused waves of social unrest across the country, criminal justice faculty at Southern New Hampshire University (SNHU) organized a panel of experts to discuss systemic and institutionalized racism.
But they weren't done there.
The dialogue inspired a group of adjunct instructors, led by associate dean Dr. Jeff Czarnec and career advisor Leonard Bell, to form SNHU's Criminal Justice Diversity, Equity and Inclusion (DEI) Advisory Board.
Focused on offering an education that addresses DEI issues, the board's mission is "to ensure that our Global Campus criminal justice programs cultivate equity, access, diversity, inclusion and foster a learning atmosphere anchored on a sense of belonging, academic efficacy and knowledge for learners, faculty and administration."
Although the official board is new, Czarnec said the criminal justice program has always pursued this mission. The very first event in the Contemporary Justice Series was a panel on advancing diversity in law enforcement, focused on processing the lessons that came out of the 2014 shooting of Michael Brown in Ferguson, Missouri. In 2017, Czarnec also co-authored an article with former Global Campus President Dr. Greg Fowler about the vital role of higher education in training and developing police officers.
"The formation of the board is almost a manifestation of the continuing dialogue we've always had with faculty," Czarnec said. A new sense of urgency sparked by protests and riots, as well as SNHU President Dr. Paul LeBlanc's commitment to communities of color, solidified the ongoing need for these practices, and led to establishing a board that's eager to inspire change in the criminal justice field.
"These are people that are highly accomplished," Czarnec said. "They're at the top of their game in the professions. The things that they've contributed are amazing. They love changing lives. They love impacting students."
Meet the Board
The inaugural advisory board consists of six criminal justice professionals hailing from various backgrounds and experiences.
María Daniel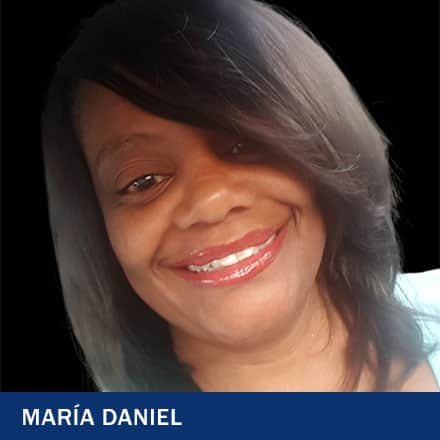 María Daniel practiced law for several years and is an expert in criminal and juvenile law as well as criminal procedure. For nearly 20 years, she has taught law and worked with countless organizations and committees focused on diversity and justice.
She came to this advisory board because she's passionate about criminal justice reform and found that its mission aligns with her approach to instruction.
"Participating on the CJ DEI (Advisory Board) provides me with an opportunity to promote equity, access, academic efficacy and diversity within the Global Campus Criminal Justice programs," Daniel said. "My teaching philosophy also mirrors the mission of the CJ DEI, which is to use a creative and innovative approach to providing a learning atmosphere that can impact the world."
Dr. Hector Garcia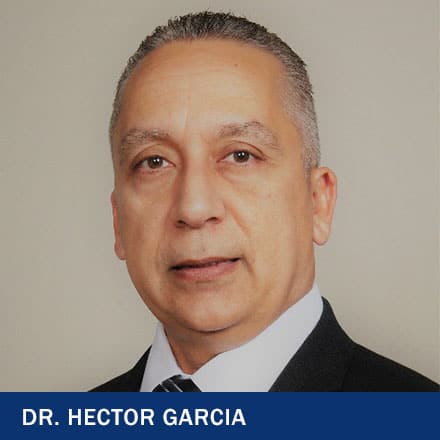 A faculty team lead in SNHU's criminal justice and social sciences programs, Dr. Hector Garcia has more than 30 years of law enforcement experience that's led him to diverse communities across the country and abroad. He's a firm believer in bettering the world through service, even if it's one person at a time.
"We always want to say, what can we do individually? What can I do to help?" Garcia said. After participating in the first "Justice Matters" panel discussion, he raised his hand to join the advisory board.
"My role is to make sure that we have something that is actionable, something that will impact this issue in a positive way," he said. This includes putting together the mission, vision and guiding principles. Now the board is developing SMART goals and objectives and brainstorming committees.
"These topics spread across all disciplines and the more that our students and learners know about these issues … the better off we are," Garcia said.
Ian Moffett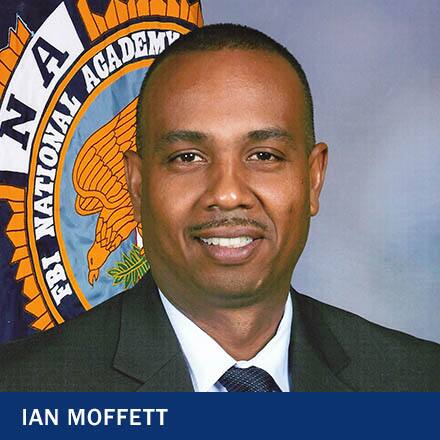 Ian Moffett, a retired chief of police, established his law enforcement career in Miami after immigrating to the U.S. from Canada (and from Guyana before that) in 1985. In that time, he made his way to chief of police at the Miami-Dade Schools, the fourth-largest school district in the U.S., and the same place where he got his start as an officer.
As a double minority – an immigrant and Black American – Moffett found it especially important to get involved with this advisory board to help shape the next wave of criminal justice professionals to better the system.
"Being part of SNHU and being able to touch so many lives in an educational setting while spending 29 years of public service, I know it is time to share with (the) country how the criminal justice system can be improved through best practices," he said. "... We live in a country that is one of the greatest democracies that is currently practicing, and, with this evolving process of humanity, there are always things that can be done better."
Dr. Melvin Richards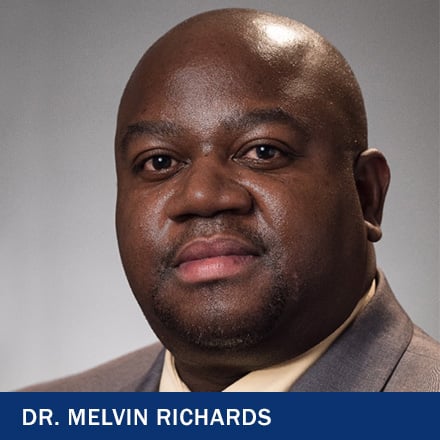 Versed in homeland security and emergency management strategies, among other topics, Dr. Melvin Richards has more than 15 years of working in law enforcement, corrections and security management.
Adaptable, his strengths are in creative problem-solving, leadership and relationship building, making him a strong addition to the advisory board. He believes having an advisory board that's focused on DEI initiatives as it relates to the criminal justice field is a necessary form of "checks and balances" for the institution.
He also knows the effects of mentoring from experience working with law enforcement officers and public safety professionals. "Engaging students from both an educational and career path perspective provides a reliable and comprehensive strategy students can use to remain (focused), positively engage others and excel in the career of their choosing," Richards said.
Charles Tucker, Jr.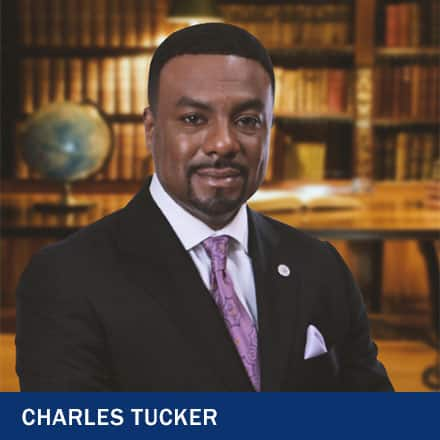 A skilled litigator, Charles Tucker, Jr., has been a practicing attorney for the last 21 years, currently specializing in civil rights and criminal defense. This year, he was named to the Top 100 Criminal Defense and Civil Defense attorneys by the National Trial Lawyers for the second time.
Tucker has been teaching criminal, constitutional and business law as well as criminal procedure at the college level for more than 20 years. Following this year's national upheaval, he was most impressed by SNHU's quick commitment to social justice "when social consciousness seemed to be at an all-time high."
After voicing his desire for the social sciences department to do something in support of this stance, he was overwhelmed by the responses – many from colleagues he's never even met. Tucker said forming an advisory board was important because its work will help prepare students to be effective in this new social justice era.
"This experience is probably going to be one of the most important things I believe I'll do in my career," he said. Not only is he working alongside other professionals to improve the field, but being a member has allowed him to look inward and consider how he can improve his own teaching.
This includes being transparent about how work was done in the past versus how it should be done now. "Now we know better," Tucker said. "Now we know that, no justice for some is not right. Justice for all is."
Dr. Sheryl Victorian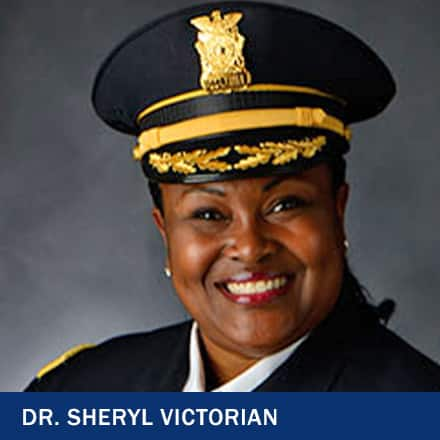 Dr. Sheryl Victorian is an assistant chief of the Houston Police Department, where she's climbed the ranks, worked in a number of units and divisions and earned many accolades for her service over the last 27 years.
A constant learner, she's involved with several associations and organizations geared toward policing leadership and frequents leadership training programs.
Victorian sees her role on the advisory board as an opportunity to affect change relating to DEI in the classroom and beyond. "I believe, as leaders in the field of criminal justice, we have an obligation to enhance learning and strengthen students' intercultural competency in DEI to prepare them to lead with the confidence and humanity needed in public service professions," she said.
Next Steps
This summer, the group is busy laying the foundation of the advisory board and creating measurable goals.
"They're going to create some great change," Czarnec said. "They're going to produce some real results."
Rebecca LeBoeuf '18 is a staff writer at Southern New Hampshire University. Connect with her on LinkedIn.
Explore more content like this article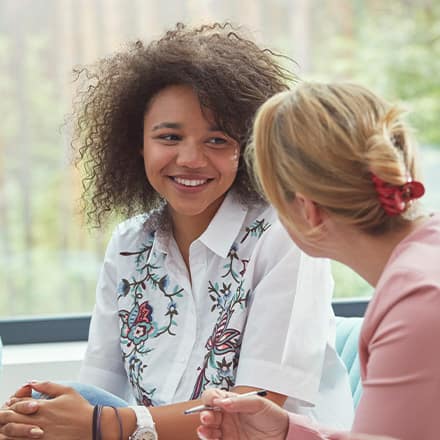 October 14, 2021
To become a licensed social worker, you need to get licensed in the state in which you intend to practice. While each state sets its own guidelines for licensing social workers, this generally means earning a social work degree from an accredited program.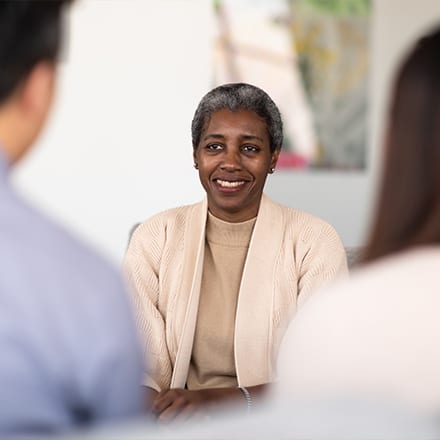 October 08, 2021
If you're fascinated by the mind and how an individual, a community or an organization thinks, earning a master's in psychology can lead you toward a career field that is engaging and growing.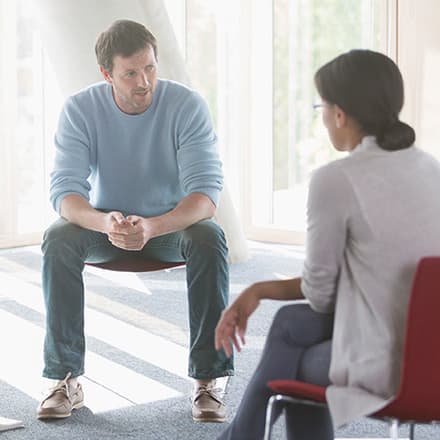 October 06, 2021
With a degree in psychology, you can use core skills such as research, decision-making and communication to work in a vast array of fields, including business, counseling, human resources and many more.