Launching the College of Engineering, Technology, and Aeronautics
In the fall of 2017, Southern New Hampshire University opened the doors to the new College of Engineering, Technology, and Aeronautics (CETA), established to expand affordable and accessible engineering degree programs in the New England region. Students can pursue a range of new programs at SNHU, including aeronautical engineering, aviation management, electrical and computer engineering, air traffic management and mechanical engineering.
The opportunity to launch a college of engineering at SNHU was accelerated by a unique set of circumstances set in motion in the fall of 2016. When the parent company of Daniel Webster College in Nashua, N.H., declared bankruptcy and announced the closing of all of its schools, SNHU stepped in and announced a 'teach-out' agreement, to help DWC students finish the year and continue pursuing their degrees.
At the end of the teach-out, students had the option to enroll at SNHU in one of the programs carried over from DWC to CETA, or in another SNHU degree program.
Jim Smith, executive vice president of the College of Engineering, Technology, and Aeronautics, has held senior executive positions in the military, education, diplomacy, and international business, and now brings his formidable experience in building winning teams to CETA.
Smith said that the school's goals align with the University's mission of transforming students' lives, with core tenants specific to addressing needs in STEM fields. "At CETA, we're actively pursuing diversity and addressing gaps in access to education. We're encouraging creativity in our students, responding to the needs of industry, and solving real-world problems," said Smith.
In fact, SNHU has modelled its engineering programs in accordance with the international CDIO initiative, an innovative educational framework for producing the next generation of engineers that stresses engineering fundamentals set in the context of Conceiving, Designing, Implementing, and Operating real-world systems and products.
CDIO achieves balance between project-based, hands-on learning and traditional, theory-based engineering education.
And CETA will focus on project-based learning, design thinking, and problem solving techniques. "A 'design curriculum' is one in which students learn by doing, not listening - from day one," explained Smith. "Angie Foss, our associate dean of Operations and Innovation, will be focused on design theory and ensuring that our curricula are creative, flexible, and able to meet real-time demands in the field of engineering."
To compliment the classroom experience, career preparation is built directly into the curricula, including résumé development, mock interviews, and career research training. The career team works with faculty and employers to connect students with pre-professional experiences, including internships, employment, job shadows, and real-world projects.
Beth Prieto, executive director of the Dorothy S. Rogers Career and Professional Development Center on campus, has added a new career counselor to her team to focus exclusively on CETA students. "In engineering and other STEM fields, internships and projects are particularly important," said Prieto. "Our employer partnerships - both in New Hampshire and nationally - are vital to the success of our students."
"In CETA, everyone is a teacher and mentor," said Smith. "There are no demarcations between staff and faculty, with everyone working to give students the skills they need to adjust and succeed throughout their entire professional careers. Today's graduates will need to retool a half dozen times over the course of a career. They'll need to manage change, for themselves and their companies."
CETA will also help to provide access to underrepresented populations in STEM fields. Nationwide, only 13% of all engineering degrees are awarded to women, and only 25% of engineering degrees are earned by minorities. Engineering jobs continue to be in high demand in both New Hampshire and across the United States. Currently, there are more than 1,180 open engineering positions in New Hampshire. However, only 502 New Hampshire students graduated with a bachelor's degree in engineering in 2014-2015, according to JobsEQ.
"The field of engineering has a problem with under representation by gender, ethnicity, and socio-economic status," said Smith. "We want to fix that."
He cites Associate Dean Foss as an example, who was not allowed to double major in Art and Engineering, even though both are creative fields. "But design course allows for that flexibility. Combined with the diverse, global representation in our faculty and interdisciplinary coursework, we hope to open our programs to students who might not have considered engineering an option."
This fall, many of the CETA classes will be held in the engineering annex on campus: a 20,000-square-foot facility with classrooms and computer labs, as well as a radar simulator, a tower simulator, an aeronautics lab, and a static tower lab. Engineering and technology students will also have access to a robotics lab, a mechanical lab, an electrical lab, and a fully stocked machine shop.
Over the course of the next two years, SNHU will invest $50 million to build an additional state-of-the-art engineering, technology, and aeronautics facility, slated to open in the fall of 2019. Within the planned CETA building, there will be CDIO hubs, where students can work on their design projects, as well as teaching labs, new classrooms and print labs, a computer lab, a welding lab, a wood shop, and additional machine shop space, as well as a café and meeting spaces.
SNHU also hopes to expand engineering education to local K-12 students, with the state's first Challenger Learning Center. Created by The Challenger Center for Space Education, Challenger Learning Centers use space themed simulated learning and role-playing strategies to help students bring their classroom studies to life and cultivate problem solving skills, critical thinking, communication, and teamwork.
"With everything we have in motion, we are creating a model for a better tomorrow. We're breaking the cycle for young people and giving them the opportunity to succeed in a new, global economy," said Smith. "This is revolutionary."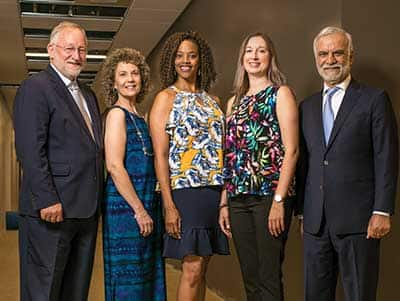 Leadership Team
Jim Smith is the executive vice president of the College of Engineering, Technology, and Aeronautics. A retired Brigadier General in the U.S. Air Force, Smith was also an F-15 fighter pilot during Operation Desert Storm and held several senior management positions at major multinational companies. He most recently served as U.S. Ambassador to the Kingdom of Saudi Arabia from 2009 to 2013.
Smith earned his B.S. at the U.S. Air Force Academy where he was a distinguished graduate. He earned an M.A. from Indiana University and is a graduate of the National War College, where he was appointed to the faculty as Air Force Chair and Professor of National Security Strategy.
In his new role at CETA, he will lead the college in building its academic programs and continue to develop strategy for future STEM programs at SNHU.
"I am honored to join SNHU in this new role to help develop and expand access to high-quality engineering and aeronautic programs to students in the region," said Smith. "SNHU is constantly challenging the status quo when it comes to innovation and education, and I look forward to working with everyone in the SNHU community to further that mission and help prepare leaders in the engineering field for decades to come."
Smith is passionate about ensuring his faculty and staff, as well as his student body, is as diverse, experienced, and well-rounded as possible, and he has assembled a leadership team to reflect the values of the University.
Angie Foss, associate dean of Operations and Innovation for CETA, migrated from SNHU Online, where she held a key role in managing the online STEM programs. Foss has a strong background in computer and electrical engineering and a vision for a more inclusive and diverse culture in the fields of engineering.
Gaynelle Swann joined the team in May as the associate dean of Academics for CETA. In this role, Swann will work to evolve the curriculum for CETA as well as develop outreach programs for the College. Swann brings more than 20 years of engineering experience working in the automotive and aerospace/defense industries for both Raytheon and Ford Motor Company.
Dr. Ghanim Aljumaily, department chair and engineering professor, has spent decades as a leader in various fields of engineering, including space exploration. He developed a process for making stable optical components for the Hubble Space Telescope and Cassini mission to Saturn and designed optical components used in the Mars-Pathfinder Mission and in countless other high-level projects. He pioneered the development of optical metrology for the data storage industry and holds three patents.
And heading up the academic team as Dean of CETA, Dr. Yan Xiang will join the university in September. She has a B.S. in Chemistry Education and an M.S. and Ph.D. degrees in Physical Chemistry. Her experience includes serving as a dean of the Research Division, Beijing University, and director of the Beijing Key Laboratory of Bioinspired Energy Materials and Devices since 2013. She is a Fellow of the Royal Chemistry Society, UK, and a board member of the International Academy of Electrochemical Energy Science (IAOEES).
Together, the CETA team plans to revolutionize engineering education and expand access to the highest quality educational experience.
Lauren Keane is the director of communications for the Office of External Affairs at Southern New Hampshire University. Connect with her on LinkedIn.
Audrey Bourque is the director of advancement communications at Southern New Hampshire University. Connect with her on LinkedIn.
Explore more content like this article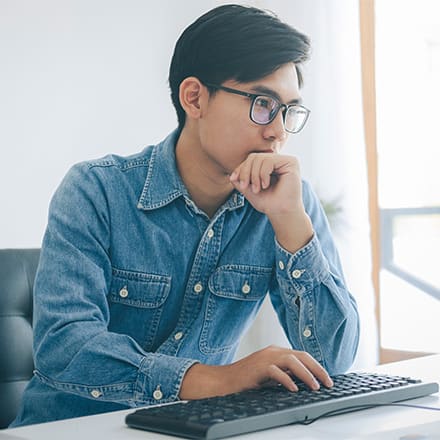 October 15, 2021
Generally taking only two years to complete, an associate degree provides foundational academic knowledge and technical expertise for a variety of career fields without the time and financial investment of a four-year degree.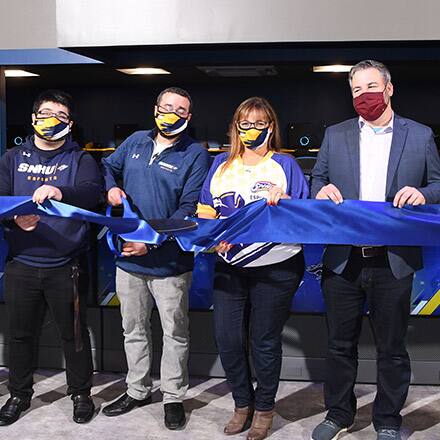 October 13, 2021
SNHU celebrated the grand opening of its esports arena on October 8th. A ribbon-cutting event marked the official opening to welcome the campus community and to see where esports players hone their gaming skills and compete against varsity-level opponents across the U.S. and Canada.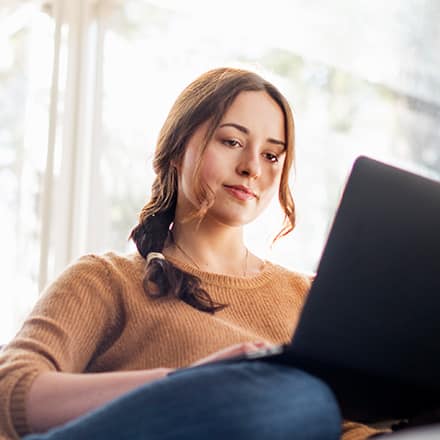 October 13, 2021
Choosing the right MA degree is a matter of your current accomplishments – academic and professional – and your goals for the future. Which MA degree is right for you will depend on your current career and where you want to go from here.