What is Database Administration and Is It the Career Path for You?

Understanding the numbers
When reviewing job growth and salary information, it's important to remember that actual numbers can vary due to many different factors — like years of experience in the role, industry of employment, geographic location, worker skill and economic conditions. Cited projections do not guarantee actual salary or job growth.
Databases are common to most modern businesses. There isn't anything on the Internet without a database; anything that requires e-commerce has a database. Technology is always growing and companies in all industries around the globe need database administrators (DBAs) to make sure all information stored on their computers is secure and only available to authorized users.
Armed with the knowledge and experience to write and install computer programs and debug software issues, database administrators are the people who help companies of any size set up, maintain, and secure large volumes of information.
Imagine what you can do by gaining real-world, hands-on experience in database administration. You can develop the skills and knowledge you'll need to create a fulfilling career in this growing high-tech field of developing and managing databases, with a special focus on the popular and top-rated Oracle database solutions.
What Is Database Administration?
Database administration enables you to help companies create new or update existing databases based on their internal data collection needs. A database administrator position offers you a chance to be creative and solve problems in database development and testing by writing software scripts, testing database functionality and keeping company data clean and secure.
In a TechRepublic article titled, "What does a DBA do all day?" Bob Watkins summarized the DBA responsibilities clearly. "It's been said that the database administrator (DBA) has three basic tasks. In decreasing order of importance, they are: protect the data, protect the data, and protect the data."
As a DBA, your first responsibility is always going to be to maintain the integrity of the company's data - because even if a database is fast and accessible, it's useless if the data being accessed is distorted.
In an entry-level role, you'll work closely with managers to learn about the type of data to collect, the form the data should be stored in, and how to make the data available for exporting into reports, for example. You'll learn the ways to verify that the database's integrity isn't compromised and how to keep the data secure. When starting out, you'll receive guidance on implementing data models and database designs by following policies and procedures and be able to grow your expertise through daily experience.
As a DBA, you'll also focus on monitoring and maintaining a high level of system performance. Database administrators are responsible for performing regular system backups so no data is lost during a power outage or other type of disaster. You'll also work to ensure that the data being captured is reliable, error-free and available at any time.
Online system security is important, particularly when it comes to companies that capture personal and financial customer information, which is almost every e-commerce business. In your position as a database administrator, you'll have a chance to develop applicable security measures when designing new, or helping to update existing, databases.
Is Database Administration Right for You?
When it comes to computer technology, do you love the idea of maintaining and being responsible for large amounts of data? Do you think it's fun to develop procedures for capturing data? Is it enticing to think about building a database to maintain various types of information for a company?
Have you already taken some programming classes? You may have already dabbled with data analytics and want to learn more about data manipulation through database administration.
This was true for Angelic Tofteroo '16. "(Database administration) was a small part of my previous position, but an area of implementation that I enjoyed the most. I excelled in this area and truly enjoyed the complex architecture of database structures."
The more Tofteroo learned through the online database administration program, the more she found to be intrigued about. "The more solutions I learned were available the more I was interested in exploring their usage," she said.
With her information technology degree with a concentration in database administration, Tofteroo found a job that uses her skills and is helping her to learn new ones. She said, "I have an amazing job as an application consultant with an innovative software company. The best part of my job is that I am able to perform various IT tasks including database management, coding, HTML, and project management."
If you love the idea of building or administering system databases for an organization, and have the desire to learn more about computer software, focusing on database administration will give you a chance discover what you enjoy most.
If you're already in a role that allows you to play with technology and learn about software programming and databases, obtaining advanced education and hands-on experience can give you the boost you need to help you seek advancement in your current company or help you transition into a new company.
It's sometimes true that the more you learn, the more you'll find you want to learn. Once you start learning more about databases, you can expand your horizons with additional classes that interest you. "Definitely explore all of the options available," Tofteroo said. "Take additional IT classes as electives. The deeper your understanding, the more enjoyable the classes will be."
As a DBA, your ever-expanding knowledge will help you troubleshoot issues as they arise by learning how to identify the problem and learning how to correct it without losing data. As a DBA, you won't be bored if you enjoy solving problems or puzzles particularly in regard to learning how data is collected, processed, reported and maintained.
What Does a Database Administrator Do?
Technological advancements and the ability to store mind-boggling amounts of data on drives and in the cloud to run e-commerce is driving the increased need for database administrators. Particular specialties that use database administration skills include System DBA and Application DBA.
System DBAs, also referred to as traditional or general-purpose DBAs, generally focus on any physical and technical aspects of database management that keep systems running smoothly, efficiently and error-free. The main responsibility is to make sure data is secure and to avoid data loss. Other tasks can include updating permissions and installing upgrades and patches to fix software program bugs. System DBAs can be responsible for various applications on different systems, merging old databases into new databases and making and testing modifications to the database structures when needed.
Application DBAs are experienced system DBAs with specialized skills for a particular application or set of applications, such as database design, functional expertise or particular server knowledge, such as Oracle, or a particular suite of Oracle applications.
An Oracle application DBA requires special skills in business administration as well as Oracle application server architectures. If this is your goal, you'll also need to understand the particular nuances of Oracle database design, the internal workings of the Oracle application server and how to tune applications. Then to specialize, you'll want to have the functional expertise pertaining to a particular industry or type of business.
Career Opportunities in Database Administration
Healthcare organizations require the storage and management of digital records, driven by federal regulations requiring secure storage of patient records and information. Health information analyst positions are expected to grow 13% by 2026, according to BLS. A health information management degree can prepare you to work as a database administrator, clinical information specialist or health information analyst in a variety of settings, including:
Hospitals
Physician offices
Long-term care facilities
Ambulatory care facilities
Insurance companies
Pharmaceutical companies
Medical manufacturers
Behavioral health organizations
Governmental healthcare agencies
Healthcare-related organizations
Other jobs that use database administration skills include IT Consultant, IT Project Manager, Application Consultant, and Network Administrator, to name a few.
Charles Fulgham's degree in database administration took him all the way to the FBI. Because of that he can't say much about what he does there beyond "database-related work on behalf of the Department of Justice." But he said studying online immediately paid dividends at work. He remembered one meeting at work focused on issues on the office's computer network. He'd learned in a course he was taking at the time about a tool called WireShark and suggested using it to read the network's data packets and was able to find and solve the networking problem.
"That more than anything is really valuable stuff," Fulgham said. "I know that i was able to take what I learned a pretty much apply it immediately on the job. I'm really glad I did it."
You may also choose to continue your education by pursuing an Oracle certification, advance through a master's degree in IT, or even transition into a related field, such as cybersecurity. You'll have options to choose from and new interests to pursue.
Dale Stokdyk is a marketer passionate about STEM higher education. Follow him on Twitter @dalestokdyk or connect on LinkedIn.
Explore more content like this article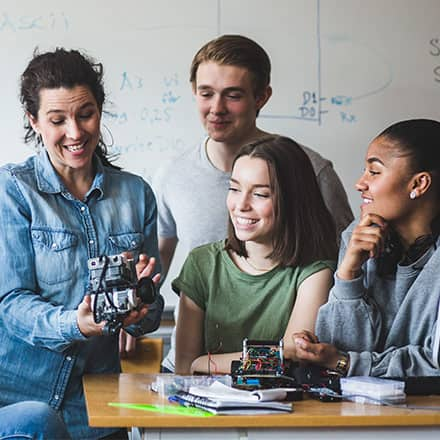 Let's start with a basic question: Exactly what does STEM mean? It's a term many are familiar with, but don't necessarily understand. STEM is a common abbreviation for four closely connected areas of study: science, technology, engineering and mathematics.
From Grace Hopper, an early pioneer in computer programming, to Katherine Johnson's contributions as a space scientist, women have been proving their value to the STEM fields for years and years. While there isn't one straight pathway into STEM, there are some general strategies that will help.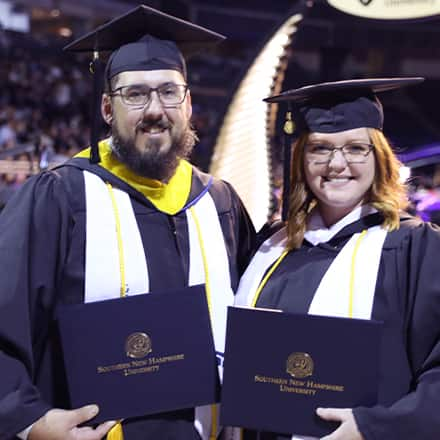 Michael and Taria Richards, both first-generation college graduates, earned their bachelor's degrees together from Southern New Hampshire University. Despite unconventional journeys, they've secured new jobs and are determined to set an example for their children.
About Southern New Hampshire University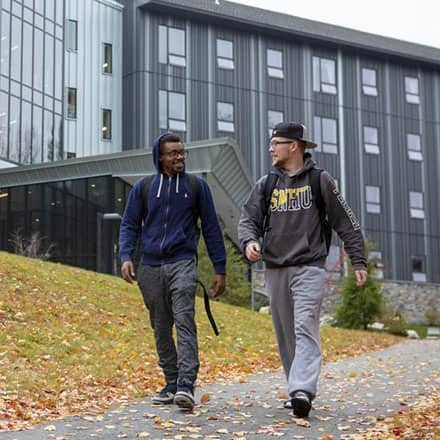 SNHU is a nonprofit, accredited university with a mission to make high-quality education more accessible and affordable for everyone.
Founded in 1932, and online since 1995, we've helped countless students reach their goals with flexible, career-focused programs. Our 300-acre campus in Manchester, NH is home to over 3,000 students, and we serve over 135,000 students online. Visit our about SNHU page to learn more about our mission, accreditations, leadership team, national recognitions and awards.