Boston Celtics
Southern New Hampshire University is proud to be the Official Education Partner of the Boston Celtics. We're both driven to strengthen our community, having spent decades working to provide more equitable opportunities to our students as well as residents across New England.
Together, SNHU and the Celtics have helped transform lives. In local schools, we've built innovative technology labs, giving children the ability to learn on state-of-the-art equipment and open more paths for their future. We're also proud to support youth literacy in Boston Public Schools by sponsoring the Celtics Read to Achieve program.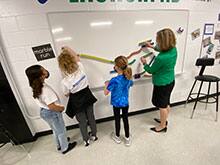 Most recently, the students of Webster Elementary of Manchester, NH gathered online and in-person, in accordance with local health guidelines, to celebrate the unveiling of their new tech lab, the "Wildcat Launchpad".
Our online and on campus bachelor's and master's degree programs in sport management benefit from our Celtics partnership. Past interactions have included student events and class projects for the team.
Another major connection: Shawn Sullivan '95, Chief Marketing Officer for the Celtics, who knows exactly how far an SNHU degree can take a student. "The professors want to see you succeed," said the sport management graduate. "It is almost like it is in the DNA of the school."
Who are the Celtics?
The Boston Celtics are the most successful franchise in NBA history.
Why we make great partners
We both have a history of community involvement in New England, especially in local schools and by supporting our veterans.
Technology Lab Recipients
Arlington Middle School, Lawrence, MA
Cheshire Elementary School, Cheshire, MA
Fairgrounds Elementary School, Nashua, NH
Green Acres Elementary School, Manchester, NH
Guilmette Middle School, Lawrence, MA
Henry J. McLaughlin School, Manchester, NH
Hillside Middle School, Manchester, NH
Madeline English School, Everett, MA
Mario Umana Academy, East Boston, MA
Parkside Middle School, Manchester, NH
Pickering Middle School, Lynn, MA
Rochester Middle School, Rochester, NH
Webster Elementary School, Manchester, NH