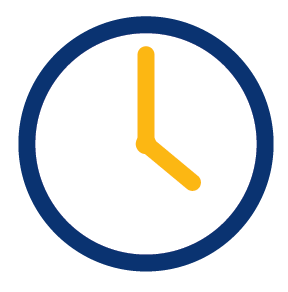 Register By:

January 06
Classes Start:

January 08
Gain skills and college credits in just 8 weeks
$990 course cost ($330/credit)
Upskill and earn college credits
100% online, no set class times
Course only 8 weeks long
No application fee
No SAT/ACT scores required
Course Overview
Whether you're looking to upskill for your career or get a jumpstart on your degree, SNHU's online cybersecurity course, CYB-200 - Cybersecurity Foundations, can help you gain the skills you need to move forward.
Cybersecurity is a top concern for most organizations. While the internet creates many opportunities for businesses to connect with both customers and suppliers, it also opens the door for cyber criminals to steal confidential data, commit financial crimes, influence political discourse and attack our modern digital society.
In this online cybersecurity course, you'll learn about basic cybersecurity concepts, objectives and design principles. You'll also explore common cyber threats and develop basic strategies to protect against them. Furthermore, the course will help you gain an understanding of how legal and human factors influence organizational security.
There are many benefits to taking a single online course at SNHU, including ease of enrollment, short eight-week terms and 100% online coursework you can access 24/7. Perhaps the most notable benefit is that taking a single online course can be the gateway to wherever you're looking to go next. Whether its transferring credits back to another institution, upskilling for your current role or a potential new one, or testing the waters of a degree program before entering as a student, the opportunities are endless.
For those looking to further their education in cybersecurity, SNHU offers degrees from associate to master's. CYB-200 - Cybersecurity Foundations is part of both our Associate of Science in Cybersecurity and Bachelor of Science in Cybersecurity programs, which means it can help bring you one step closer to reaching your educational and professional goals.
Expanding access to quality higher education means removing the barriers that may stand between you and your education. That's why we make signing up for individual courses simple.
Get started by talking to an admission counselor
Take up to 10 courses without enrolling in a degree program
High school diploma or GED required*
*If you are currently a high school student who hasn't graduated yet, you can still take individual courses at SNHU. Please reach out to an admission counselor for documents and forms that may be required.
If you choose to enroll in a degree program in the future, we're here to help with additional forms, transcripts and other materials that may be necessary. For degree programs, acceptance decisions are made on a rolling basis throughout the year for our 6 (8-week) undergraduate terms.
Curriculum
Throughout this eight-week course, you'll study various cybersecurity principles and practices, gain insight into legal and human factors and study common cyber threats. In addition, you'll explore how to apply proven security strategies to solve real-world cybersecurity problems.
This course uses projects, quizzes, readings and discussions to help students familiarize themselves with authentic cybersecurity tasks and problems.
You'll learn how to:
Use the CIA triad of confidentiality, integrity and availability to identify important security objectives
Differentiate between adversarial and environmental cyber threats
Apply fundamental security design principles to develop effective security controls
Increase organizational awareness of important cybersecurity concerns
Where Can a Single Course Take You?
There are lots of advantages to taking a single course. Whether you want to grow in your current career, prepare yourself for a new one, or get one step closer to a college degree, an individual course is a great way to get started.
Upskill for Your Career
SNHU courses focus on real-world, career-focused skills that you can use immediately in the workplace, or to help prepare you to advance in the field.
Earn College Credits
Course credits may be transferred to a degree program at SNHU or another university, depending on your university's transfer policy.
Finish in Just 8 Weeks
Not only is a single course low-commitment, but it's a fast way to gain skills, college credits, and explore what it's like to take courses at SNHU.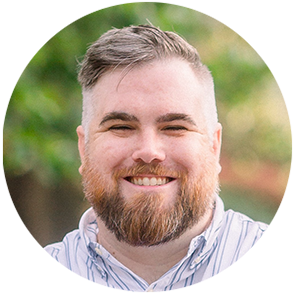 Set Yourself up for Career Success
Brendan Carey, Adjunct Faculty
"No matter how much technology and threats evolve, the foundations of cybersecurity remain the same. CYB-200 will help students build the foundational skills needed for success on a cybersecurity team."
Minimum Hardware Requirements
| Component Type | PC (Windows OS) | Apple (Mac OS) |
| --- | --- | --- |
| Operating System | Currently supported operating system from Microsoft. | Currently supported operating system from Apple. |
| Memory (RAM) | 8GB or higher | 8GB or higher |
| Hard Drive | 100GB or higher | 100GB or higher |
| Antivirus Software | Required for campus students. Strongly recommended for online students. | Required for campus students. Strongly recommended for online students. |
| SNHU Purchase Programs | | |
| Internet/ Bandwidth | 5 Mbps Download, 1 Mbps Upload and less than 100 ms Latency | 5 Mbps Download, 1 Mbps Upload and less than 100 ms Latency |
Notes:
Laptop or desktop?  Whichever you choose depends on your personal preference and work style, though laptops tend to offer more flexibility.
Note:  Chromebooks (Chrome OS) and iPads (iOS) do not meet the minimum requirements for coursework at SNHU. These offer limited functionality and do not work with some course technologies. They are not acceptable as the only device you use for coursework. While these devices are convenient and may be used for some course functions, they cannot be your primary device. SNHU does, however, have an affordable laptop option that it recommends: Dell Latitude 3301 with Windows 10.
Office 365 Pro Plus is available free of charge to all SNHU students and faculty. The Office suite will remain free while you are a student at SNHU. Upon graduation you may convert to a paid subscription if you wish. Terms subject to change at Microsoft's discretion. Review system requirements for Microsoft 365 plans for business, education and government.
Antivirus software: Check with your ISP as they may offer antivirus software free of charge to subscribers.
Tuition & Fees
Tuition rates for SNHU's online courses are among the lowest in the nation.
| Non-Degree Seeking Coursework Only | Course Cost | Credits Earned |
| --- | --- | --- |
| Online Undergraduate | $990 ($330/credit) | 3 |
Tuition Rates are subject to change and are reviewed annually.
Please note: Books and materials are not included in the above costs. Federal Financial Aid is not available, but you can use employer tuition benefits or tuition reimbursement if available to you. Contact your employer benefits manager to see if you have funds available, or talk to our admission team to learn about payment options.
Frequently Asked Questions
Which course is best for cybersecurity?
As a required course for both an Associate of Science in Cybersecurity and a Bachelor of Science in Cybersecurity, CYB-200 - Cybersecurity Foundations is a great class for anyone interested in the field. This online cybersecurity course will help you gain familiarity with foundational cybersecurity concepts and terms. It will also teach you the difference between adversarial and environmental threats and how to analyze a security practitioner's response. Furthermore, you'll explore legal and human factors and examine how they influence the development of organizational security strategies.
An Associate of Science in Cybersecurity and a Bachelor of Science in Cybersecurity require other classes beyond CYB-200 - Cybersecurity Foundations, including CYB-260 - Legal and Human Factors of Cybersecurity, CYB-300 - System and Communication Security and CYB-320 - Incident Response and Investigation.
In completing the full program requirements, you'll be prepared to compete in an exciting, challenging and increasingly in-demand field.
Can I learn cybersecurity online?
Of course. We offer online associate, bachelor's, and master's degrees in cybersecurity. That means you'll get the flexibility of learning on your time – all while getting the experience you need to take the next step of your career.
"Our classes are 100% online, but the program is packed with hands-on labs to help you learn how to use industry-standard tools and techniques," said Jonathan Kamyck, associate dean of cybersecurity at SNHU. "Some courses even include the main concepts on certification exams, helping you prepare for additional credentials while you earn your degree."
Are online cybersecurity courses worth it?
A degree in cybersecurity is the first step to a rewarding technology career and can prepare you for jobs with strong salaries and career growth potential.
According to the U.S. Bureau of Labor Statistics (BLS), the median annual wage for information security analysts was $102,600 in 2021, with the highest 10% earning more than $165,920.1
Demand for skilled cybersecurity workers is also expected to continue. The BLS predicts employment of information security analysts jobs will grow 35% by 2031 – much faster than the national average job growth for all occupations.1
Can you learn cybersecurity in three months?
CYB-200 - Cybersecurity Foundations is an eight-week course that serves as a generous introduction to the field. Students pursuing their bachelor's degree online at Southern New Hampshire University typically take one to two courses per eight-week term, which means you have the option to be enrolled in two classes focused on cybersecurity at the same time.
Lead by instructors with real-world expertise, these online cybersecurity courses are specifically designed to help you learn specific skills to help prove to your employers you have what it takes to make it in cybersecurity. And with no set class times and 24/7 online access to coursework, you have the flexibility to learn when and where you want. After just three short months, you'll have the knowledge — and college credits — to show for all your hard work.
Is cybersecurity a lot of math?
Getting started in cybersecurity does require a strong understanding of mathematics, as well as some knowledge of basic IT principles and tools.
But if you're new to the information technology world, a cybersecurity online bachelor's degree program can help provide much of this foundational knowledge and experience. You'll study the fundamentals of programming concepts, learn common scripting language and gain an introduction to computer programs with hands-on activities designed for beginners.
And while mathematics and coding are key to cybersecurity careers, soft skills like communication, critical thinking and problem-solving can be just as valuable.
"A lot of what you do in IT is building relationships," said SNHU adjunct instructor Gary Asp, a senior security and compliance analyst. "Good communication is 80% listening and 20% talking. That helps build those good relationships because the people that you're communicating with feel heard, which opens the pathways for good collaboration. And you absolutely need collaboration for good IT security."
Where do I start to learn cybersecurity?
We may be a bit biased, but we think SNHU is a great place to learn cybersecurity. We offer an Associate of Science in Cybersecurity, as well as a Bachelor of Science in Cybersecurity and Master of Science in Cybersecurity. This provides you with the opportunity to select whichever degree level suits your career goals best.
SNHU is also a good choice, because:
We offer one of the lowest online tuition rates in the nation
Our degrees are career-focused, so you can pick a program that turns your goals into reality
You'll learn from instructors with real-world experience
Classes can be taken 100% online and accessed 24/7
In fact, 93.6% of students surveyed across all programs would recommend SNHU to a friend.2
Which is better, IT or cybersecurity?
The fields of information technology and cybersecurity are inextricably connected. In fact, cybersecurity is offered as a specialized concentration under our Bachelor of Science in Information Technology. Students in this program learn the technical abilities and practice skills to have any organization innovate IT practices, products and processes. However, they also delve into the basics of defending networks and information systems against cyber attacks.
Related Articles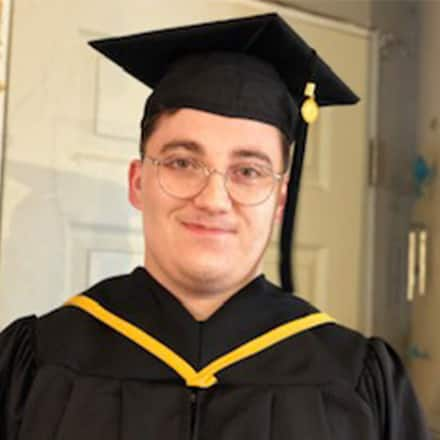 Jacob Kane-Conrad '21 was following a well-worn path to his college degree, but he also did it his own way.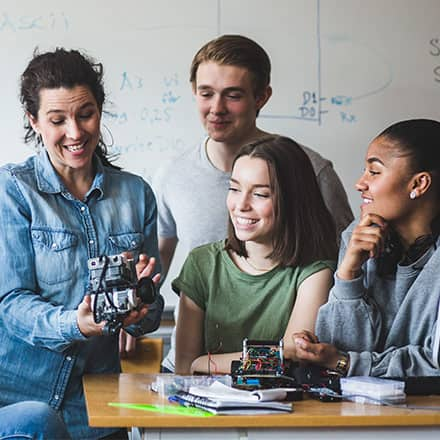 Let's start with a basic question: Exactly what does STEM mean? It's a term many are familiar with, but don't necessarily understand. STEM is a common abbreviation for four closely connected areas of study: science, technology, engineering and mathematics.
From Grace Hopper, an early pioneer in computer programming, to Katherine Johnson's contributions as a space scientist, women have been proving their value to the STEM fields for years and years. While there isn't one straight pathway into STEM, there are some general strategies that will help.
References
Sources & Citations (1, 2)
1Bureau of Labor Statistics, U.S. Department of Labor, Occupational Outlook Handbook, on the internet at https://www.bls.gov/ooh/computer-and-information-technology/information-security-analysts.htm (viewed November 16, 2022). Cited projections may not reflect local and/or short-term economic or job conditions and do not guarantee actual job growth.
22019 Annual Student Satisfaction Study. 9,206 students responded. October 2019.