Bridging Past, Present and Future: The Gustafson Center
Southern New Hampshire University proudly announces the construction of a new center on campus that will reflect the university's priority of creating a lifecycle of success and engagement. The Gustafson Center, named for President Emeritus Richard Gustafson, will house Undergraduate Admission, the Dorothy S. Rogers Career Development Center and the Office of Alumni Engagement.
President Paul LeBlanc says that the primary goal of the Gustafson Center is to bridge a student's first encounter at the university with the units that will prepare them for their life after college. "Since our conscious and strategic partnership of career services and alumni engagement, we've seen students build bonds with alumni that transcend the traditional definition of those roles."
And with the university's recent commitment to redefine giving - shifting emphasis from solely dollars raised to engagement built - the alumni population has been reinvigorated. Alumni from online and campus programs alike are hiring SNHU interns and graduates, sharing their time and expertise through mentoring and career coaching, and offering advice to new graduates for relocation or post-college life.
The Gustafson Welcome Center will be located at the corner of North River Road and East Side Drive, across the street from what is now the main entrance. To complement the new building, the university is also planning to enhance the entrance to campus.
Vice President of Facilities Management Pat Whitney says the building design was inspired by the New England tradition, with plenty of open and collaborative spaces as a nod to the intermingled functions of the teams there. "At the heart of the building are two major areas: a reception area to welcome guests and prospective students, and a large meeting space that can be easily divided or opened."
Don Brezinski, vice president of Institutional Advancement, oversees both the Dorothy S. Rogers Career Development Center and Alumni Engagement. Brezinski says that the moment a prospective student begins to consider Southern New Hampshire University, he or she will understand the power of the SNHU network. "The Gustafson Center houses our triumvirate of student success, and the synergy between these departments is something we want all students to be able to access and leverage."
President Emeritus Richard Gustafson
Dr. Richard A. Gustafson served as the institution's fourth president, from 1987 until 2003. During his presidency, Gustafson was charged by the Board of Trustees with improving academic rigor and building financial strength through prudent management of limited resources. What he accomplished was so much more.
Gustafson focused on improving the quality of students' educational experience after years of rapid enrollment growth and program proliferation. He listened to feedback from faculty, administration, staff and students and took steps to create a more productive, engaged community with centralized locations and resources. He helped the institution revise its mission statement to define itself as an academic community with an entrepreneurial spirit that embraced both traditional and nontraditional learners around the world - tenets that still hold true today.
Thanks to Gustafson's vision and guidance, academic quality became a top priority, the campus grew tremendously, and distance learning (the precursor to the College of Online and Continuing Education, now SNHU Online) was introduced. The institution was approved for university status and changed its name from New Hampshire College to Southern New Hampshire University.
Gustafson deepened the commitment to innovation that is still our longstanding hallmark and the goal of student success, which is our proudest tradition. The Gustafson Welcome Center will represent the sense of community and the strength of network he worked so tirelessly to foster at Southern New Hampshire University.
Explore more content like this article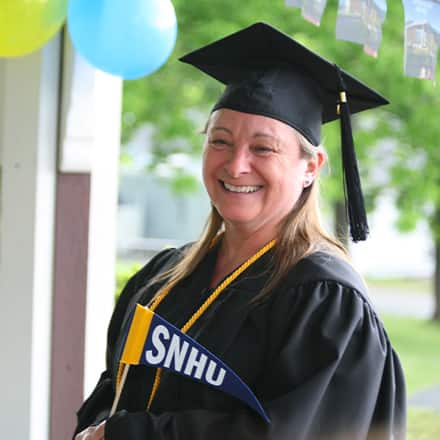 A Special Diploma Delivery for New Hampshire Grad
August 03, 2020
When SNHU's Commencement was postponed, Dr. Gwen Britton decided she would arrange a special ceremony for her longtime friend who had earned her bachelor's in information technology.