Texas Mom of 3 Earns Associate and Bachelor's in Record Time
Jasmine Zamora-Montero had plenty of motivation to work hard to earn her college degree. She wanted to advance her career and become a supervisor, and she wanted to be a good example for her 3 children.
In addition to caring for her kids, Zamora-Montero worked full-time as a quality associate at Grifols – a healthcare company that specializes in producing plasma-derived medicines. Grifols' partnership with Southern New Hampshire University allowed Zamora-Montero to earn her degree through the College for America program while maintaining a full-time job and supporting her family.
Zamora-Montero enrolled in SNHU's College for America program in October 2017. The program allowed her to complete a series of competency-based projects online and at her own pace. For Zamora-Montero, that pace was blisteringly fast. She earned both her associate and bachelor's degrees in healthcare management in just a year. She is already working on her MBA through SNHU's online courses.
"I wanted to make sure that I could prove to my kids that anything they wanted to do is possible," Zamora-Montero said.
A Dedicated Mom and Student
With such a busy schedule, making sure she was available to support her children wasn't always easy. Sometimes she found herself working on course projects late at night or early in the morning.
"It took a lot, let me tell you. A lot of dedication. A lot of time that I didn't get to rest," Zamora-Montero said. "Trying to make sure we had that family-life balance was very, very difficult," she said.
Zamora-Montero was motivated to quickly earn her degrees partly because more of the family's income depended on her.
"My husband has literally been my rock for my schooling," she said. "Everyone made so many adjustments for me so I could focus on working and going to school. I literally spent all my time focusing on my assignments and everything I needed to do. I just focused."
A Surprise at Work
Recently, a SNHU staff member traveled to Eagles Pass, Texas, to present Zamora-Montero with the bachelor's degree she worked so hard to achieve. At a small ceremony at Grifols, Zamora-Montero's co-workers joined in congratulating her.
"It made me proud. It made me feel like maybe I can encourage someone else to see that it's possible," she said. "They all know my story. They work with me. They know how hard I work for everything I have. I spend so much time at work it was like having my family there watching me walk across the stage getting my diploma."
Craig Kowalchuk was Zamora-Montero's academic advisor for the year she spent in the College for America program. He said she was so successful in the program because she excelled at managing her time – a vital task in a program in which all deadlines are self-imposed.
"Jasmine was also never shy about reaching out for help or clarification," he said. "She made sure she not only earned her competencies but walked away with the knowledge to apply them to her life and professional career as well."
Zamora-Montero said she only needed a bachelor's degree to be considered for the operations supervisor position but that, at times, even earning an associate seemed like a dream. Now she's setting her sights as high as she can.
"I never thought in a million years that I would get my associate. Now that I got that and my bachelor's, it's like the sky's the limit," she said. "To this day I look at my degree, and I'm shocked at how far I've come and how much I've changed in the past year."
Joe Cote is a staff writer at Southern New Hampshire University. Follow him on Twitter @JoeCo2323.
Explore more content like this article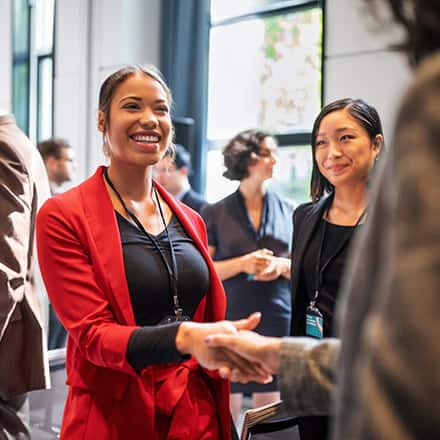 June 04, 2021
The day you receive your diploma from your university is a proud one, marking the culmination of your degree. But, your relationship with the university doesn't have to end there. Alumni are an integral part of a university community and are true advocates for student success.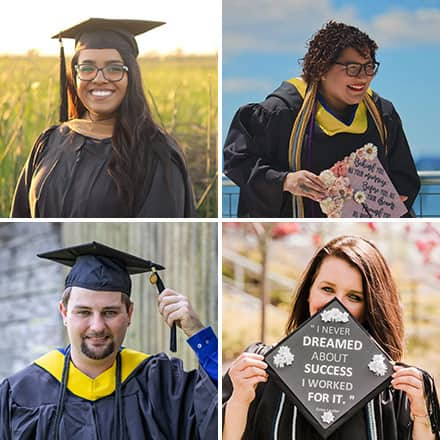 May 10, 2021
Determination has always been a key characteristic of SNHU graduates but never more so than within the 43,000 students who persisted throughout the pandemic in completing their degree programs.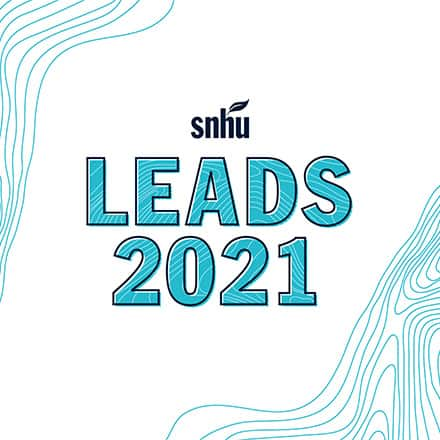 April 22, 2021
SNHU students, staff and alumni worldwide dropped by the 7th annual LEADS Conference earlier this month for personal and professional development that focused on academic achievement, leadership and career advancement.