People, Planet, Profit: Satisfying the Triple Bottom Line
People. Planet. Profit.
The so-called triple bottom line has become modus operandi for businesses large and small that want to do more than make the biggest possible profits. Instead, building ways to also benefit the people in their community and the planet overall has become the recognized way for businesses to become good citizens. The idea that germinated with the grassroots environmental movement and increase in government regulations of the 1960s came to known as corporate social responsibility.
As government regulators and social activists focused on the environmental impact corporations and factories were having, others began thinking about more ways large businesses impacted their communities. Businesses, they began to realize, should have more responsibility to the people who make their profits. "It's the idea that companies exist for more than just producing profits," said Bruce Stetar executive director of graduate online business programs at SNHU Online. "But it also has a responsibility to the community in which it exists - to provide jobs for people, to help drive the economy forward, to better the lives of people in the community. It's part of the fabric of the community in which it lives and it has a responsibility to that community."
The tenets of corporate social responsibility are also wide-ranging and can include the overarching company mission down to encouraging employees to volunteer their time, SNHU instructor Dr. Loretta Jenkins said. "The activities can include those that are directed toward improving the environmental effort, contributing to nonprofit organizations, ensuring that labor practices are ethical, volunteering in the community and many others that businesses may deem worthy as contributions to society," she said.
Irresponsible Business Hurts Everyone
Stetar described a fictional businessman who identifies a profitable product he can produce or service he can provide. He works with local officials and secures a loan from a bank to build a facility. He hires a handful of people to start and within a few years employs 300 people, some of whom have moved to the area when they were hired. But then the product or service becomes so profitable other, larger corporations are interested and eventually the businessman sells the company to one of those conglomerates who promptly shut down the local facility and absorb it into existing facilities in another part of the country or overseas. Now 300 or so people are unemployed or forced to pick up and move. Many leave the area to find work elsewhere and the money they contributed to the local economy goes with them. "Great for you. You made a ton of money. What did you do to the community?" Stetar said.
It's not an unusual circumstance. A large part of the financial collapse in 2007 that led to the Great Recession stemmed largely from a lack of corporate socially responsible principles. Profit became too large a portion of too many companies' formula and unscrupulous practices that increased those profits were overlooked. "They were so focused on making a profit that they began doing things that damaged the economy as a whole and damaged the communities in which they were a part of," Stetar said.
The discovery of oil deposits in North and South Dakota and parts of Colorado led to a massive boon to the economies in many parts of those states. In 2010, Williston, N.D., population was under 20,000 and spiked to more than 30,000 in 2014 as thousands of people flooded the area to work at the Bakken oil field and to found or work at businesses to serve those workers, according to a Reuters story that examined the region. Oil companies, Stetar said, willing to shell out money helped rents in the area skyrocket. "The problem was the ordinary people who lived there couldn't afford to live there anymore because the place they paid $500 (for) now cost $1,500 and their job at the cafe didn't pay any more," he said.
Then around 2013 the price of oil began dropping. Eventually it dropped precipitously and there wasn't nearly as much money to be made in Williston, N.D. There were other impacts as well as thousands who had moved to the region to drill for oil or sell products and services to those who did the drilling also left. Williston's population shrunk by more than 16,000 residents from last summer to May 2016, according to the Reuter's article. The article also reported:
The city's Walmart cut wages by 15%
Oil tax revenue dropped by 70%
North Dakota's economy shrank 3.4% in the third quarter of 2015
"And those towns in the Dakotas are now ghost towns because all the people who used to live and make a living there are gone - chased out," Stetar said. "The oil business did what it was supposed to do. It made a ton of money for a very small number of people. But from a corporate social responsibility point (of view), they destroyed the region."
The tenets of corporate social responsibility ask more of the oil companies that profited from North Dakota's oil reserves. "To be corporate socially responsible they should have been in there saying, 'How's this going to affect the local economy? What are we doing to better the lives of the people that are here?'" Stetar said. "'If we're making all this money, how much of this money are we putting back into the economy and helping these towns and putting them on their feet so when we do pull out eventually, we don't leave them ruined?'"
Corporate Social Responsibility is Everyone's Job
Many analyses of the 2007 financial crisis reflect an overall focus on corporate social responsibility even if the crisis itself reflected a lack of responsibility. Many experts and scholars talked not about how many of the mammoth banks that taxpayers bailed out failed but rather how they failed society. "Business should have had some inherent responsibility to take care of the economy and it didn't," Stetar said. "They not only failed as businesses and the people and shareholders that owned them, they failed society in general."
Corporate social responsibility has something of a misnomer, Stetar said. When experts began thinking about ways businesses should consider more angles than how much money they make, it was thought only giant corporations could impact the communities, states and regions they profited from. "We now realize that every company no matter how big or small they are has a responsibility to the socioeconomic environment in the society in which they exist," Stetar said. It's now often called simply social responsibility or responsible business and in the wake of the Great Recession more focus is being put on its principles.
While many colleges and universities previously offered degrees in corporate social responsibility, and some still do, the discipline is more and more integrated into all aspects of an overall business education. Some programs reflect that by writing their business curriculums so the principles of corporate social responsibility are an interwoven theme in all MBA courses because employers expect all of their employees to understand the foundations of philosophy and make decisions with the business's social responsibilities in mind. "Nothing stands alone," Stetar said. "Every decision you make as a business has an impact on society, the socioeconomic environment around it."
"The anticipated outcome is that graduates will not only understand the importance of (corporate social responsibility), but they will also understand how to develop and implement business practices that will make a major contribution to (corporate social responsibility,)" Jenkins said. "Students complete a project that requires them to develop a (Corporate Social Responsibility) Addendum for a business with consideration for ethics, decision making practices, community impact and ultimate outcomes."
Corporations Are Responsible for the Environment, Too
Much, but by no means all, of the considerations a corporate socially responsible business has to consider concern the environment. "A positive impact should be made to the elimination of waste, turning waste into usable resources, an adequate supply of clean water, energy efficiency, and generally contributing to a green market. In today's environment, business should align and balance their profit motive with contributions to the environment and society," Jenkins said. "People and planet are a priority in the profit equation for business. Business has to realize that profits are achievable in conjunction with preserving the planet and ethically serving people." Graduates of SNHU's online MBA will learn not only why corporate social responsibility is important but ways to build it into a business's practices.
Good Ice Cream, Good Corporate Citizens
It can be difficult to describe all the impacts a socially responsible businessman or woman has to consider because a business and its community are so intimately linked. One example of corporate social responsibility has long been Ben & Jerry's ice cream - including its sale to multinational conglomerate Unilever.
The company, founded by Ben Cohen and Jerry Greenfield in Burlington, Vermont, in 1978, became known as much for its socially conscious philosophy as whimsically named ice cream flavors. Many were shocked, not to mention angry and disappointed, when the company announced the sale in 2000 to the massive Dutch company for $326 million. But unlike some oil companies operating in North Dakota until 2014, Cohen and Greenfield tied caveats to the sale to buffer the impact on the company and Vermont community where the company's main factory was located. The pair stayed with the company to assume responsibility for its "social mission and brand integrity," according to a Wall Street Journal story about the sale. Terms of the sale included requirements the company would continue to buy milk from Vermont dairy farmers at above market prices and donate 7.5% of its pretax profits to charity and give $5 million to a venture capital firm founded by Cohen to benefit low-income communities. It even included a stipulation that the new owners would pay any legal fees of board of directors members who sued the company should it not live up to Ben & Jerry's social mission, according to the paper.
Finding the Responsible Balance
The Ben & Jerry's sale is a good example of some of the ways a business owner can attempt to balance the scales between social responsibility and profit. But that balance isn't just one side versus the other. It's like sliding a dimmer switch as opposed to an on-off switch. Rather than a playground seesaw that can be balanced along one axis, the balance of the triple bottom line is like an enormous conglomeration of seesaws on an infinity of axes and touching one can have consequences in far flung regions of the business and community. Walmart has been criticized for undercutting small, locally-owned shops, forcing them to close because they can't compete. Walmart can counter that while that's true, it also employs hundreds of people in those communities. Critics argue that's true, but that company employs many part-time workers at low wages. The company can argue that part-time work is better than none at all. Ad nauseam.
There are thousands of examples, many of them judgments made within a business rather than by critics. A business has to decide how to price its services, for example. A lower price may enable more people access, but perhaps lessens the quality of the service provided. If the price is raised, fewer people will have access but the quality may increase and more money is made, enabling the company to hire more employees. "It's what decision do you make that balances those to the best of your abilities - not hurting either one to an extreme amount," Stetar said. "How do you sit in the middle as a businessperson and try to balance all that and not be upside down. It's that constant back and forth."
Encouraging Employees to Think Socially
Jenkins began her own career in financial services with an organization that happened to be very engaged in the community. As a manager there she encouraged and supported employees to volunteer at local charities and philanthropic organizations. That mission inspired her and ignited an interest in corporate social responsibility. Now she serves on the board of directors of a mental health organization in Greater Detroit and volunteers as a mentor to children. "Active community contributions are my passion and I strongly believe that individuals can make a difference, one individual at a time," Jenkins said. "Imagine what we could accomplish if each individual did their part as a member of a business or as an individual."
Explore more content like this article
November 24, 2021
How do you become an accountant? And what exactly does an accountant do? That's changed a lot over the years. The bean counters of the past now use cutting-edge technology and data to tell stories with numbers.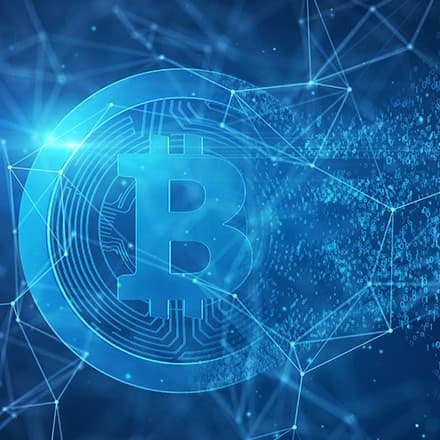 November 22, 2021
While initially thought to be a passing fad, cryptocurrency has stuck around and even evolved into a major player in the world of finance and investing. A finance degree can help you leverage your expertise into a lucrative career in this exciting and evolving field.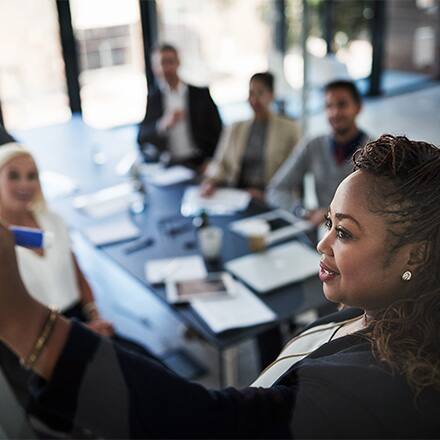 November 12, 2021
The online MBA/no GMAT format at SNHU allows applicants to begin their program faster, especially since there are five terms in which you can start each year.