Breaking Through: Female MBA Alumnae Talk Leadership
It might not come as a surprise that three successful MBA alumnae from Southern New Hampshire University (SNHU) would make sure their younger selves truly understood the importance of education.
At "Breaking Through: An Evening with Women Leaders," a panel event held Sept. 20 at SNHU's Gustafson Center, the women urged the audience of about 65 to get education wherever they can.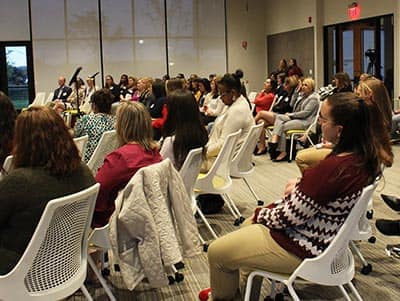 "Always keep learning," said Susan Martore-Baker '90MBA, president of Cambridge Trust Co. of New Hampshire. "Education is so critical. Don't ever stop reading. Don't ever stop taking classes. Continue to learn, continue to get those degrees. It's hard work, and it's a lot of balancing."
Katrina Jagroop-Gomes '15MBA, chief information officer of the Massachusetts Gaming Commission, agreed. "Don't put your education on hold," she said. "It takes a lot longer the other way."
Education happens even beyond schooling, said Patsy Aprile '00MBA, senior vice president and chief operating officer of Southern Maine Health Care. "Join associations, get credentials," she said. "Don't miss that opportunity because you can study on your own - beyond the bachelor's and master's. You can get credentials that set yourself apart from others."
The Value of Their MBAs
The event, presented by the Office of Alumni Engagement and SNHU Business Programs, provided an overview of how these women got to where they are and how they lead others in an often male-dominated workplace.
The panel was introduced by Elizabeth Hayward, SNHU digital experiences manager and an MBA student, and moderated by Pamme Boutselis '15 '17G, SNHU senior content director, who asked questions about the women's rise to successful leadership positions.
The skills they learned from their MBA programs helped them advance - no matter at what point they started their degree in their career.
"I've used things from every single course," Aprile said. "No matter what you do in any field, you need to know how to do finance. And going through those accounting classes was vital. I didn't know I needed it till I got there."
Martore-Baker felt the same, but pointed to one area that impacted her career tremendously. "I valued all classes, but especially marketing," she said. "Had I not had that foundation, I don't think I would have gone into sales. I was able to bring business into the bank that I work for, and that's how I elevated my position."
Uncharted Territory
The trio, who all said they regularly work longer than 8-hour days, have often found themselves in uncharted territory as they navigated careers with few women around them.
"When I started (in banking), my career was very male oriented," Martore-Baker said. "We need to do more to encourage women to pursue careers in investment management, finance management, wealth in general. It certainly is an opportunity for us because when you can develop deep relationships, you can be very successful."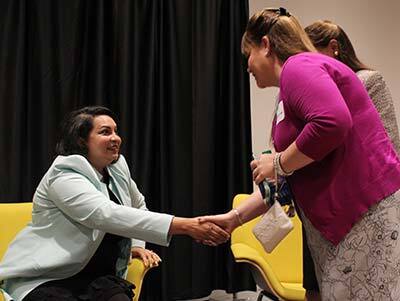 As Jagroop-Gomes progressed in her career, she said she was managing more men than women. "It is different managing a male-dominated team," she said. "The way you deliver information is exceptionally different. It's about knowing your audience, maybe even taking classes that hone in on interpersonal dynamics to find your voice in that type of environment."
Develop Soft Skills to Augment Business Acumen
While the women all noted that their business education helped them get where they are today, there are a few skills they've developed that came outside of their schooling.
"Learn public speaking and be comfortable speaking in front of a crowd," Aprile said.
Comfort with speaking doesn't have to just be in front of groups of employees, Jagroop-Gomes said. Lots of people today just don't know how to speak to each other.
"Get out from behind the technology," Jagroop-Gomes said. "It's becoming a replacement tool for that social interaction. Also, maintaining eye contact. We are in a technological society, and we sit behind a computer. Physically turn and make that eye contact."
Martore-Baker agreed. "The ability to develop relationships is what's missing," she said. "It's critical - and it should be a class in college, the ability to read body language."
Avoiding Burnout
The topic of burnout was discussed a few times throughout the event. Jagroop-Gomes, who said life got in the way of her education as a young mother, acknowledged that she had to keep the momentum going once she got started.
"I was very aggressive with my bachelor's degree," she said. "If you let life get in front of it, you're going to lose that system."
Regarding work, both Jagroop-Gomes and Aprile said that you have to be aware of how burnout would manifest in your life.
"You have to be tuned in to how you're feeling," Aprile said. "Some of it's normal, some of it's different - you're going to know. Know the trigger point for when I need to do something here."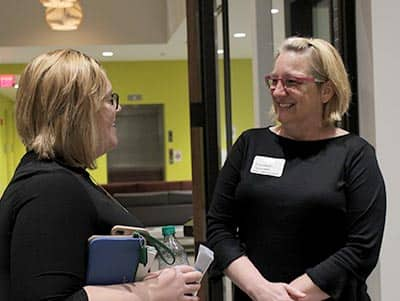 "Anger might be a trigger that you are burning out," Jagroop-Gomes said.
But by thoroughly knowing themselves and their capabilities, the three women were able to climb the ranks and reach their career goals. Their success also materializes from a true love of the work.
The People and the Work Make a Difference
The best part of the job is "absolutely the people that I work with," Aprile said. "Because I'm in healthcare, I'm watching doctors and nurses do such wonderful things."
Martore-Baker agreed that people make the job better. "It's just fantastic to see the work that people are doing," she said. "Every day, I look forward to going to work and wondering who I'm going to meet today."
"I love what I do," Jagroop-Gomes said. "If you love what you do, it permeates everything you touch. I absolutely love every component of my job."
Deidre Ashe is a copywriter in higher education. Connect with her on LinkedIn.
Explore more content like this article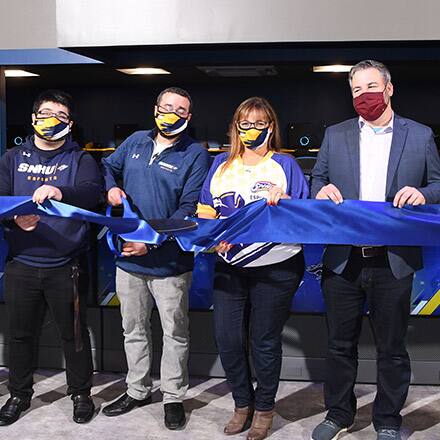 October 13, 2021
SNHU celebrated the grand opening of its esports arena on October 8th. A ribbon-cutting event marked the official opening to welcome the campus community and to see where esports players hone their gaming skills and compete against varsity-level opponents across the U.S. and Canada.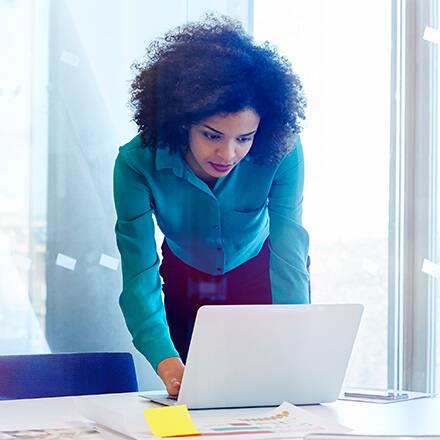 October 05, 2021
A business administration degree is a broad program that prepares you to tackle today's toughest business challenges and contribute to the bottom line of any organization in the areas of accounting, finance, human resources, marketing and more.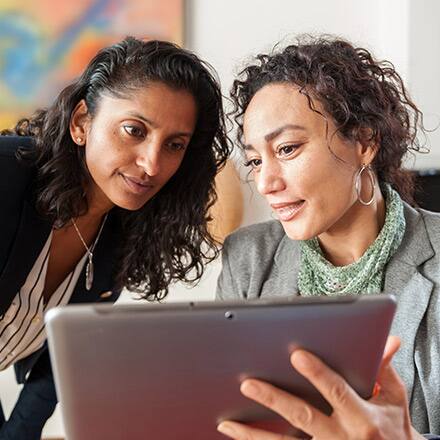 October 01, 2021
You know you want to take your career to the next level, and you're ready to get down to business with a master's degree. Here are 10 reasons why earning an MBA might make sense for you.