8 Couples Share Their College Love Stories
This Valentine's Day, we celebrate all the lasting love stories that have transpired at Southern New Hampshire University (SNHU). The alumni community consists of more than 1,200 couples, and there are even more taking classes online and on campus right now.
See what eight couples had to say about the role education played on their relationship and what they love most about one another.
Becky Whittle '11 '16G & Fred Whittle '12
Becky and Fred Whittle can't remember exactly when they met, but they know for sure it was during Fred's freshman year when they were both living in Washington Hall. Becky, a sophomore at the time, was a resident assistant on the floor below his.
Fast forward a couple of years, and the two communication majors crossed paths again when Fred was recommended for a tour guide position while Becky was the tour guide leader. Her ears perked up at his name.
"All I knew about him was he loved wearing flat-brimmed hats, played on the SNHU baseball team and walked around with the chicken and French fry boats that you could get at the café," she said. "Little did I know Fred would be backwards-tour-guide-walking (Fred has the best backwards-tour-guide-walk) into my heart that year and for the rest of my life."
The two tied the knot in November 2018 and continue to share their love for each other on their second Valentine's Day as a married couple.
Fred loves Becky's heart, above all else. "I love her positivity and willingness to help others, whether that be family, co-workers or volunteering for a charity or organization," he said. "She is always there for me and for you."
Becky admires Fred's personality. "He has this positive energy that is infectious," she said. "When he walks into a room, people look. When he speaks, people listen. He's the type of guy who not only can talk to anyone, but he'll listen to anyone."
Britney Bernard '16 & Cassie Midura '16
Britney Bernard and Cassie Midura met through mutual friends at the end of their freshman year, and though they were attending different schools at the time, Cassie said the timing was perfect. Britney was in the process of transferring to SNHU to major in environmental management.
"Attending the same university really allowed us to get to know one another," Cassie, a business administration major with a human resources concentration, said. They did everything together -- from taking the same classes, working on projects, exploring campus between classes and finding part-time jobs.
"We are so grateful for SNHU's emphasis on creating and maintaining a culture of inclusion," Cassie said. "During our time on campus, we always felt comfortable being our true selves."
Though it's been four years since they graduated with their bachelor's degrees, the couple remains connected with the university. They recently attended an event put on by SNHU's Future Business Leaders of America chapter and Easterseals, a nonprofit that provides services to people with disabilities, and they've come back to recruit at the semi-annual campus Career Fair with their employers.
"Being able to return to campus as an (alumna) and recruit/connect with students was amazing," Cassie said.
This summer, Britney and Cassie are getting married, and they could not be more excited.
Jim Naro '85MBA & Karen Naro '89
Soon after Jim Naro started his MBA at SNHU, then New Hampshire College, his wife, Karen, enrolled in a bachelor's degree program to support her accounting career that was well underway.
"We've always dreamed together and shared experiences together," Karen said. So it only made sense for them to be in school together, too.
It was a pleasant surprise when they found themselves in the same programming class, a course requirement for Karen and a prerequisite for Jim. "It was fun to help each other out in the course," Karen said.
To say the 80s was a busy decade for the Naros is an understatement. As the couple earned their degrees and advanced in their careers, they doubled their family in size -- welcoming a son and a daughter into their lives.
Now, when Jim and Karen aren't traveling or learning how to ballroom dance, the couple stays connected to their alma mater through Jim, who works as an adjunct instructor for the professional sales minor on campus.
Agreeing that education was the secret to gaining financial stability and enjoying life, the couple made sure their kids understood the value of a college degree.
When Karen crossed the stage to receive her diploma in 1989, she was pregnant with Jillian. Nearly three decades later, Jillian followed in her mom's footsteps and graduated from SNHU, too.
Pete & Mayra Ortiz
Pete and Mayra Ortiz met at a local dance club in the 80s and, as Pete likes to say, the rest is history. Ever since they've been raising a family and enjoying life together.
Now, entering a new chapter of their life, Pete and Mayra are revisiting their dream of going to college -- something they put on hold while their kids grew up.
"Since it wasn't uncommon that we did everything together, we decided to enroll at SNHU," Pete said. "This institution has provided an opportunity for us to finally achieve the goal we've both wanted for so long."
Earning their degrees online is a bonus for the couple because they can work on their assignments together anywhere. Since Pete started his online IT degree and Mayra, her online business degree, they've taken SNHU on vacation to Florida and Aruba, but, more often than not, they work side-by-side in the comfort of their home.
"It's pretty cool to know that we can still go on vacation while still staying connected to complete our assignments," Pete said. "I get to stay in on those cold New York winters on the couch, hammering away at our keyboards, sneaking a glance over at her and smiling."
They also make sure to get involved as a couple, and have met members of the SNHU community at a recent social event close to their home. "We also feel like we've made some really nice connections here at SNHU, which we hope will last beyond our graduating days," Pete said.
When they shared what they love about each other on Valentine's Day, it became apparent how aligned their values are.
Pete said, "There are many things I love about Mayra, but the one thing that I love about her the most is how caring and compassionate she is of others."
Mayra also spoke about Pete's big heart. "People look to Pete for guidance and comfort, and no matter how busy he may be, he always takes out time for those that are reaching out to him," she said.
Jess Camera '18 & Jared Chin '18
If it hadn't been for the sudden closure of Daniel Webster College, Jess Camera and Jared Chin probably wouldn't have met. When SNHU adopted the displaced students and programs, Jared, a mechanical engineering major, was among them.
Jess and Jared met at dinner one night during their senior year when their respective friend groups got together. When Jess, being a Peer Advising Leader, learned Jared had some questions about the class registration process, she took it upon herself to help him with his spring selections.
"What Jared didn't know was that I really liked him, and I was secretly jumping inside when he said yes," Jess said. The next day, when they were playing pool in Hampton Hall, Jared asked her on an official date.
"And now, over two years later, we live together and are the happiest we can be," Jess said. She loves how Jared never fails to make her smile, and Jared loves how supportive Jess is, even of his "crazy habits."
As the couple builds their future together, their college experience holds a special place in their heart. "Ultimately, this university brought us together and helped us grow closer to one another," Jess said. "SNHU taught us who we are and helped shape us into the people we are today, loving, caring and always kind."
Vaidehi Malpe '13MBA & Varun Chowdary Kommineni '13MBA
Hailing from two different states in India, Vaidehi Malpe and Varun Chowdary Kommineni found their way to the U.S. when they began their MBA in International Business on campus. Varun's roommate used to give Vaidehi a ride to class, but when he couldn't one day, he asked Varun to do it.
"I wasn't very enthusiastic at this prospect and kept denying my roommate's request," Varun said. He eventually gave in and could not be more glad he did.
"From that day on, giving her a ride was one of my most awaited (tasks) for the day," Varun said. He was mesmerized by her from the moment they met.
Soon, they were making excuses to see each as often as possible. "The evening rides turned into fun conversations in the car and hanging out post-classes," Vaidehi said. "Texting increased, and so did our time together. We could talk about anything and everything with so much ease that it was surreal."
Now, the two are married, and they could not be more thankful for the life they have together.
"Our wires crossed somewhere between the cold New Hampshire mornings, warm coffees and evening classes, (and are) entangled forever," Vaidehi said. "Whatever our souls are made of, his and mine are the same, and we have SNHU to thank ... for getting us together in this lifetime."
Derek Edry & Lindsey Beauchamp
The internet has played a tremendous role in Derek Edry and Lindsey Beauchamp's relationship. It's where they first met, and now they're using it to earn their master's degrees online together.
While Lindsey spends her days as an admission counselor at SNHU, she spends nights working toward her Master's in Communication with Derek, who is pursuing his MBA.
"When Lindsey's not guiding students on the path of higher ed, we're both at home together studying and doing our homework," Derek said. "Sharing in the challenges of earning a master's degree brings us closer together. I'm glad to have her support."
Celebrating their first Valentine's Day as a married couple, the two shared what they love about each other:
"Lindsey has a big heart and a passion for art and creativity," Derek said. "She's always looking to experience new things and never passes up the opportunity to see a good concert. She's the friend I want to hang out with and the wife I want to come home to at night."
While Lindsey loves how motivated and funny Derek is, she also thinks he's really kind and supportive. "He always helps me to be the best version of myself," she said.
Rachel Dembek '19 & Jarred Doody '19
It didn't take long for Rachel Dembek to notice how compatible she and Jarred Doody were. The night they met, they bonded over video games and TV characters, and when he asked her out on a date, their similarities continued to reveal themselves.
"A few days later, he asked me out on a double date to go rollerblading. Little did he know, that was my absolute favorite hobby," she said. "In the car, he played my favorite band without knowing, and I just knew he was the one."
Since graduating in May -- Rachel through the Degree in Three program and Jarred with a BS in Justice Studies -- the couple makes the occasional two-and-a-half hour drive to visit their "home away from home." Since it's where their romance first blossomed, they can't help but feel sentimental when they visit.
"No matter where I go, I can walk through a memory of us together, having fun. We spent so much time studying, working, building memories, making friends and learning," Rachel said. "We are excited to be alumni and out in the world, but we are happy that we both met at our forever home of SNHU."
This Valentine's Day, they're looking forward to their next adventure as a couple: moving in together.
You can read more love stories of SNHU here.
Rebecca LeBoeuf '18 is a staff writer at Southern New Hampshire University. Connect with her on LinkedIn.
Explore more content like this article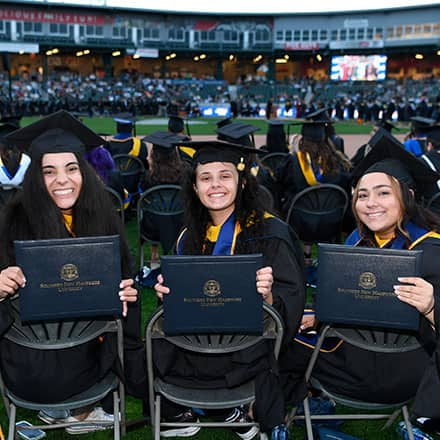 October 18, 2021
Southern New Hampshire University's Class of 2020 and 2021 campus graduates had their moment in the sun on Saturday when more than 400 celebrated their incredible achievements at Northeast Delta Dental Stadium in Manchester, New Hampshire.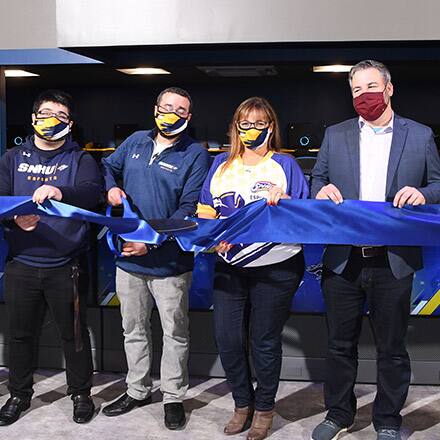 October 13, 2021
SNHU celebrated the grand opening of its esports arena on October 8th. A ribbon-cutting event marked the official opening to welcome the campus community and to see where esports players hone their gaming skills and compete against varsity-level opponents across the U.S. and Canada.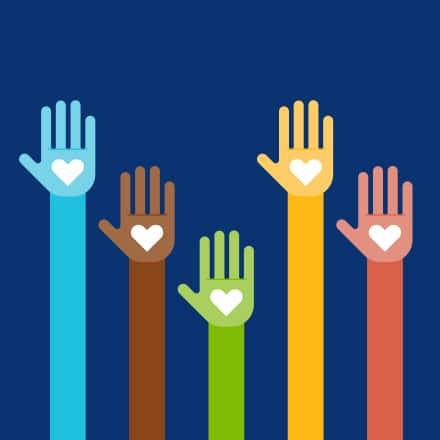 June 21, 2021
SNHU's 2021 Global Days of Service brought attention to a different societal issue each month: hunger, shelter, environmental justice and the pandemic's essential workers. Throughout the four-month-long event, Penmen from across the world shared their stories of service, community and strength.