Like Mother, Like Daughter: Family Support From Start to Finish
While many families can say they watched their Southern New Hampshire University (SNHU) graduate walk the stage at Commencement, only a few can say they crossed that stage together.
Such is the case with several mother/daughter duos who completed their degree programs at the same time and made Mother's Day weekend extra special this year.
Achieving Personal Goals Together
Debbie Dinkel '15 '19MBA earned credits from colleges over the years, but they never amounted to a degree. She realized she needed to give herself a deadline and set out to earn her bachelor's degree before her eldest child, Stephanie Block '19, did.
Once she began a BA in General Studies at SNHU, Dinkel quickly knew she wasn't going to stop with her first degree. "I thought, 'oh, this is fun! I want to continue,'" she said.
She completed her degree work one course at a time and recognized the support from her instructors and advisors along the way. "They made it a lot easier for me," she said.
Not only did Dinkel meet her deadline, but she also finished her MBA in Accounting when her daughter finished her BS in Business Administration.
Block thought graduating alongside her mother and celebrating their accomplishments was unforgettable. "It's just a neat experience that not everybody can say they did," she said, and she's grateful their journeys aligned.
College wasn't always easy for Block, but she kept her end goal in sight because she wanted to earn a degree. "It's such an important step in life," she said. "... It sets you up for the future."
Dinkel, who encourages everyone to earn a college degree, supported her along the way. "I was her editor, so we worked together," she said. "But she's a very smart girl, and I'm very proud of her."
Sharing Education, Career Goals
Elizabeth Gibson '19G and her daughter, Valerie '19G, share the same aspirations. They decided to earn their master's degree together, bringing them one step closer to opening a family-operated bed-and-breakfast consulting firm.
This spring, the Gibsons graduated with their MS in Psychology with a concentration in Industrial-Organizational Psychology from SNHU. This isn't the first time they attended the same college, but it's the first time they've graduated together. "Doing it together this time is a lot more special," Valerie said.
When they become business partners, they'll be able to blend their undergraduate degrees –psychology and business — while using their new degrees.
They're used to working together. Valerie is Elizabeth's assistant director at the martial arts facility they work at, and the two have supported each other throughout their degree programs.
"We've kind of pushed and motivated each other during some very hard nights and some very early mornings," Elizabeth said. "And we just kind of kept going together and making it happen." Since they started their degree together, they were determined to finish together.
When they did, it hit home for Elizabeth, who homeschooled all of her children. "Being able to complete our master's together and push through each class together has been great," she said. "It's bringing everything full-circle."
From Study Sessions to Graduation
Casey Whittington's work schedule is unpredictable. Some weeks she works long hours, while others have lighter loads. She wanted to earn a college degree, but adhering to deadlines would be difficult.
During a family and friends event at Anthem, where Whittington's mom, Lynne Cariglio '19 works, both mother and daughter had the opportunity to enroll in College for America. College for America is a competency-based education program geared toward working adults, where students master skills through projects instead of accumulating credit hours.
This approach to education was perfect for Whittington '19 because she didn't have to worry about weekly deadlines. "Being able to make my own schedule made it something I could not put off anymore," Whittington said.
Cariglio, who regretted never finishing her college degree, felt the same way. "This opportunity came up and … it was a perfect fit for me at the perfect time of my life."
So, they both enrolled, determined to complete their bachelor's degree in business management together.
"We had a lot of study sessions together," Whittington said. They spent weeknights and weekends together, plugging away at their work, only breaking for dinner.
"Casey would come up, and we'd sit at the dining room table and throw ideas at each other," Cariglio said.
Given they were there for each other through every step of the program, it was only natural to celebrate their achievement together at Commencement. "Graduating just in general is just a dream of mine," Cariglio said. "... Then to have Casey with me and, you know, pursuing her dream is just like the icing on the cake."
Family Pride and a Community of Support
For Jenny Gardner's 9-year-old daughter, Commencement was a big deal. Not only did her family travel from Delaware to New Hampshire, but she got to watch her mom and her grandmother, Susan Lasala '19, receive their diplomas.
"She's been taking pictures and trying to get every moment she can captured," Gardner '19, who earned her BA in Mathematics and IT said. And it was a big deal.
"This is a really special moment because graduating with my mom is amazing. We both get to walk the stage at the same time and attend the ceremony together and see each other graduate," Gardner said.
As a working mother, Lasala had doubts about returning to school. She ultimately enrolled because she thought a bachelor's degree in public administration would give her the footing she needed to help others in a bigger way. "I'm just really proud of her because she didn't think she could do this," Gardner said. "And she's done wonderfully the entire time."
Throughout their degree programs, they were able to lean on each other, but also find helpful resources within the SNHU community. Lasala said the key to succeeding in a degree program is time management, and SNHU helped her organize herself.
Gardner turned to her classmates to help her through tough times. "I have friends from all over the country, and we all support each other as students and kind of give that encouragement when one of us is losing motivation," she said.
Being able to graduate on Mother's Day was a bonus for them. "It's the greatest thing to graduate on Mother's Day with my daughter," Lasala said. "It's a memory I will never forget. It's a very special day."
Rebecca LeBoeuf '18 is a staff writer at Southern New Hampshire University. Connect with her on LinkedIn.
Explore more content like this article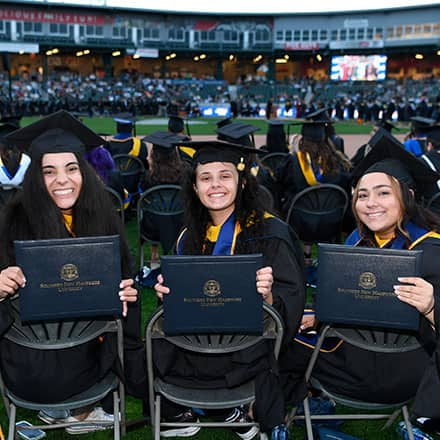 October 18, 2021
Southern New Hampshire University's Class of 2020 and 2021 campus graduates had their moment in the sun on Saturday when more than 400 celebrated their incredible achievements at Northeast Delta Dental Stadium in Manchester, New Hampshire.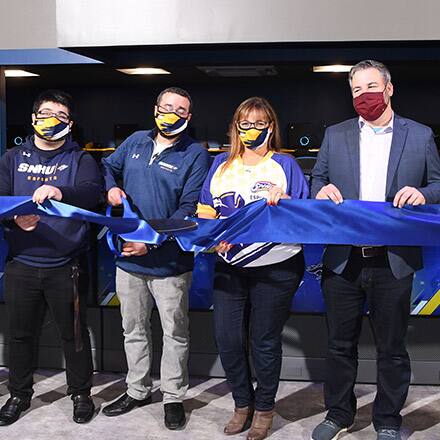 October 13, 2021
SNHU celebrated the grand opening of its esports arena on October 8th. A ribbon-cutting event marked the official opening to welcome the campus community and to see where esports players hone their gaming skills and compete against varsity-level opponents across the U.S. and Canada.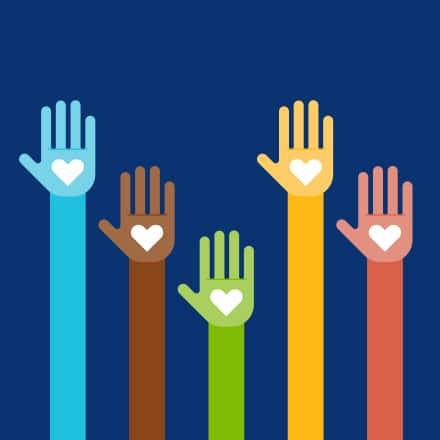 June 21, 2021
SNHU's 2021 Global Days of Service brought attention to a different societal issue each month: hunger, shelter, environmental justice and the pandemic's essential workers. Throughout the four-month-long event, Penmen from across the world shared their stories of service, community and strength.