Tapia Conference Opportunity for Students to Learn, Grow, Network
Six Southern New Hampshire University (SNHU) students were after knowledge, internships and jobs when they recently attended the ACM Richard Tapia Celebration of Diversity in Computing.
The students – studying for their degrees in computer science and data analytics – spent three days at the Marriott Marquis Hotel in San Diego listening to keynote speakers, including Ford CEO Ken Washington, and attending educational and career development workshops. There was also time to network with dozens of potential employers looking to hire new talent or offering internships.
Daniel Gannon, associate dean of STEM foundations at SNHU, had one word for the conference: amazing, particularly when it came to the opportunities for networking the students had.
"I think that for most students this was the first time that they thought about how to tailor their research interests to graduate programs or how their particular interest in specific coursework aligns with certain career opportunities," he said.
Serious About Changing Careers
Gilberto Cotto is earning his bachelor's in computer science as he transitions from a long career as a master electrician. He said he wants to use skills like critical thinking and problem solving to work in cybersecurity and help people and companies protect themselves from hackers.
"For me, it's the idea of helping people," he said. "You have to think proactive all the time. Being an electrician, you have to think that way. You always have to think one step ahead."
Cotto was awarded a scholarship from JP Morgan to attend the conference. He said the experience was eye-opening and strengthened his commitment to his education. "Everyone's intense and serious on what they're doing, and that makes me happy because I'm serious about what I'm doing," he said. "I'm serious about going into cybersecurity. I'm serious about learning."
A Focus on Diversity
Dr. Richard Tapia is a mathematician in Rice University's Department of Computational and Applied Mathematics in Houston. At Rice, he has directed more minority and female doctoral students in science and engineering than anyone in the country, according to the conference website. He also directs programs at the Alfred P. Sloan Foundation and the National Science Foundation focused on increasing the number of members of minority groups receiving graduate degrees in STEM fields.
It was that focus on diversity and inclusion at the Tapia conference that was most attractive to Gina Llanos Cramer.
"I like the diversity. I like what the conference is about," she said. "There's men. There's women. There's people with disabilities, visible and not visible. There's the LGBT community … It's just nice to know that everybody has an opportunity now."
Llanos Cramer previously attended the Women in Cybersecurity Conference and said she appreciated the opportunity to network with cybersecurity and computer science professionals at both conferences.
"The jobs are there. You just have to figure out how to market yourself correctly and find the right people to network with," she said. "It's much easier to do that here than it is from my computer at home. I wouldn't have been able to come to either of these conferences if it weren't for SNHU."
Networking and Access
Olivier Dejoie, a New Orleans resident, also working toward his bachelor's in computer science, is just at the start of his professional career. The 22-year-old always planned to go to college but took the opportunity to live in Europe immediately after high school playing semi-professional soccer.
After spending time living and playing in Germany and Spain, he was motivated to get his degree as he saw his peers graduating and launching careers. He was particularly interested in the conference's career fair and the opportunity to meet one-on-one with companies with internships available.
"Opportunities like this are few and far between," he said. "You need to show initiative by looking for other opportunities, coupled with SNHU, in order to propel yourself into the industry."
By the time he left, Dejoie had scheduled interviews with at least two companies. He said meeting other students studying computer science, especially fellow SNHU students, was another big benefit of the conference.
"The ability to talk to other people about their experiences … just being in an environment where you're surrounded by people with similar goals I think is beneficial," he said.
Finding Unexpected Resources
Ryleigh Wood didn't initially see how she could benefit from the Tapia conference. She changed her mind when she started learning about resources and opportunities she wouldn't have otherwise.
"If I hadn't gone, I wouldn't have known about research labs I could get internships at. I wouldn't have known there were cybersecurity internships out there," she said. "I wouldn't have even known where to go for resources. Something like this is beneficial for everyone."
Wood, a Honolulu resident studying cybersecurity, said she would encourage other students to take advantage of similar opportunities if they can.
"I would just say, 'Bite the bullet and go,' because you never know," she said. "There are some gems you can find once you get here."
Being Inspired by Industry Leaders
Amanda Selle works for the Southern Ute Indian Tribe in Durango, Colorado, as a business intelligence developer. She's studying data analytics and someday wants to work for a national computer science laboratory conducting and publishing research in academic journals. She said hearing from professionals with years of experience in the field was "engaging and inspiring."
She said she enjoyed hearing about the experiences of leaders in the field like Blendoor founder and CEO Stephanie Lampkin and University of Washington professor Jennifer Mankoff.
"It's kind of just from a different perspective," she said. "I think that's invaluable."
In-Person Connections Making an Impact
Jay Koucoules, who is studying information technologies, didn't have to travel far for the conference. The San Diego resident said the best part of the experience was being able to meet other SNHU students and encouraged others to take advantage of similar opportunities.
"There is nothing to lose, only opportunity. Go!" he said. "I was happy to meet and interact with fellow SNHU students and grateful SNHU entrusted me to represent them."
Gannon said experiences like the Tapia conference can be particularly meaningful for online students because it's an opportunity to spend time with fellow students in person.
"It's an incredibly high-impact opportunity for them just to get excited and be enthusiastic and passionate about the thing that they've come to study," he said. "And I think it can (lend) itself to some really amazing friendships and professional networks, too."
Joe Cote is a staff writer at Southern New Hampshire University. Follow him on Twitter @JoeCo2323.
Explore more content like this article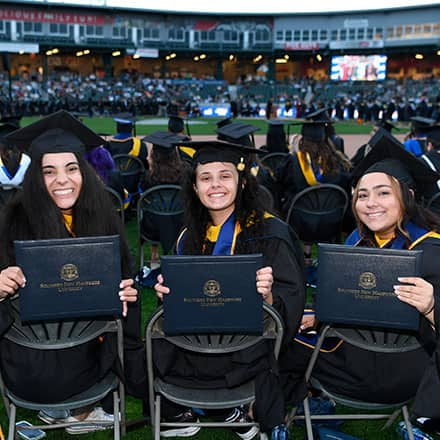 October 18, 2021
Southern New Hampshire University's Class of 2020 and 2021 campus graduates had their moment in the sun on Saturday when more than 400 celebrated their incredible achievements at Northeast Delta Dental Stadium in Manchester, New Hampshire.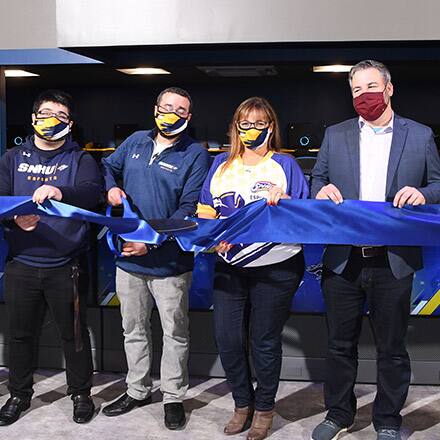 October 13, 2021
SNHU celebrated the grand opening of its esports arena on October 8th. A ribbon-cutting event marked the official opening to welcome the campus community and to see where esports players hone their gaming skills and compete against varsity-level opponents across the U.S. and Canada.
August 19, 2021
If you're wondering how to become a computer programmer, the field requires academic knowledge, a passion for math and engineering, adaptability and hands-on experience.