Women Are 20% of Cyber Security Field – Conference Works to Bridge Gap
The 6th annual Women in CyberSecurity Conference (WiCyS) drew more than 1,300 students, faculty and professionals to Pittsburgh, Pennsylvania, for sessions in learning, working and leading. Six scholars from Southern New Hampshire University (SNHU) were among those accepted to the invite-only conference.
According to a 2019 calculation by Cybersecurity Ventures, women will make up 20% of the global cyber security workforce by the end of this year, and WiCyS is committed to raising this percentage through supporting women entering the field. The conference offered two days of walk-in resume reviews and interview prep to ready students for interviews with companies who were actively hiring at the Career Fair.
"It's important for our learners to attend a cyber security conference geared specifically toward women because women in cyber security and STEM are needed/underrepresented in the workforce," Associate Dean Dr. Ann Marie Moynihan said.
This was the third year SNHU students and recent alumni have attended WiCyS. "WiCyS is an important conference for SNHU learners because it provides extraordinary networking opportunities with women in cyber security from academia, research and industry," Moynihan said.
'We've got to empower each other'
Before emerging in the cyber security field, Jillian Seabrook '17 '18G worked at a bank. One day, she asked a co-worker how to do something, and the co-worker refused to teach her, afraid that passing the information along would remove job security.
"I just remember hearing that, being like, I never want to be that person," Seabrook said. "So, whenever I learn something new, I'm always going to tell somebody else about it… That's why I deserve to be here (at WiCyS). I don't want to keep the knowledge to myself."
With that in mind, it's not surprising that Seabrook wants to teach. She recently accepted a job as an adjunct faculty member at SNHU, where she graduated with her master's in cyber security in November and a bachelor's degree in IT with a cyber security concentration before that.
She discovered an interest in the field while working at the bank. "I just saw fraud happen all the time," Seabrook said. "At least once a week someone came in with a fake check or a sob story about how they got scammed on Craigslist, and I was like, this is interesting. I want to go do something about that."
Seabrook is a big proponent of internships, so much so that she quit her job to accept a 6-month internship. Her internship paid off, as she was offered a full-time position within the same company's information security department upon her graduation.
"I recommend internships to people," she said, knowing firsthand what a difference they can make to employers when you're new to the field.
This year was Seabrook's second time at WiCyS, and she maximized her schedule with workshops and speakers at the conference. "I'm just excited to learn and just to hear different perspectives," she said. "There's not a place where you can come and just listen to so many different people's perspectives about security."
Seabrook even found herself offering advice to others. She recommended certificates to earn and tutored people at an NCL session she attended. "We've got to empower each other," she said.
'Now it's me time'
The minute Norma Depriest sat down on the shuttle from the airport to the conference, she felt overwhelmed – that is, until she started listening to the chatter around her. "People around me were having conversations, and I knew what they were talking about," she said. The same proved true when she arrived at WiCyS.
The road to her acceptance at this invite-only conference was a lengthy one. Raising 5 children left Depriest with little time to focus on her career, and she always had to work project-based jobs.
Now that her children are grown and have made her a grandmother of 18, Depriest can finally focus on herself. "Now it's me time," she said.
She started by going back to college. With 35 years of IT experience, she's just months away from earning her BS in IT with a cyber security concentration. Her sight is already set on a master's program. It was seeing an article about last year's WiCyS conference that convinced her to attend SNHU – the courses are online, but there are still opportunities to meet classmates in person.
Just a year later, Depriest is at her first WiCyS conference. "I keep asking myself if this is really happening, and I question, 'why me?'" she said. Acknowledging her long journey and commitment to the tech field, she also said, "Why not me?"
Having met with several employers at the career fair, Depriest is hoping to be considered for job opportunities. Among her many goals, she'd like to bring cyber security programs to high schools and develop artificial intelligence to detect online sexual predators.
'If you don't have diversity, then you're not going to have different perspectives'
Jenny Gardner '19 is "good at school." She enjoys learning, earns good grades and is very involved. When she first went to school for psychology, she didn't find it challenging enough.
On her second go-around, she decided to earn her bachelor's degree in mathematics. Wanting to further engage herself, Gardner also picked up a second major in IT and stayed busy with club leadership positions, the Student Advisory Board, peer leadership, tutoring and involvement in the NCL.
She believes it's essential to bring more women and people from different backgrounds into the STEM fields. "If you don't have diversity, then you're not going to have different perspectives," she said. "You won't have people who have new ideas and new ways to do things and different approaches if you always have the same type of person with the same background doing the same thing."
Gardner likes WiCyS's push for diversity in the field, as well as the scope of the employers at the conference. "There are people from all over the place, and I don't know where I'm going to end up geographically or in the field, and there are people in all sorts of fields," she said. She also enjoyed attending workshops and learning about systems that may come up in her coursework.
While she looks forward to receiving her degree alongside her mom in May, she's now diving into her master's in data analytics.
Gardner's children, ages 9 and 7, are already following in her footsteps. "My daughter already loves programming," she said, and her son is interested in engineering. "They're coming with me to graduation and (are) excited to meet the people we've met via camera."
'I'm a rare resource, and that's something to be proud of'
WiCyS might have been the last place Naomi Mathena expected to be once upon a time. After graduating from high school, Mathena enrolled in nursing school. It didn't take long to realize it wasn't the career path for her, and she decided to drop out and go home.
Even though she felt a bit intimidated by technology, many of the men in her family were working in the field. She thought, "Why can't I do it, too?"
When SNHU launched a bachelor's in cyber security program, Mathena found her real passion. She quickly changed majors to equip herself with the skills to pursue a job in this field.
While attending the 2018 Grace Hopper Celebration, Mathena scored a full-time rotational internship in cyber security, and though the internship hasn't started yet, it piqued the attention of recruiters at the WiCyS Career Fair. Mathena now has a couple of contacts at different companies who want to connect with her once she finishes her internship.
With graduation just a year away, she's focused on earning valuable experience in the field as an intern to maximize her potential in the eye of employers and building her confidence as she earns her degree.
Surrounded by so many cyber security professionals at WiCyS, Mathena initially struggled with imposter syndrome. She wasn't alone in her self-doubt, however. Workshops and speakers addressed this topic at WiCyS, providing Mathena with a powerful takeaway in recognizing her own self-worth.
"I'm a rare resource, and that's something to be proud of," she said.
'This is what it's about'
The timing of WiCyS was perfect for Whitney Kahn '19, who's 7 months pregnant with her third child. If the conference had been any later, it would have been impossible for her to attend.
Kahn works as a system administrator for a small Arizona business where she's involved in a little of everything tech-related. She's also working to create cyber security clubs at her local high school and community college to introduce students to the field at a young age.
To build on her knowledge and skills, Kahn earned her bachelor's degree in IT with a software development concentration earlier this year. In May – the same month her baby's due – Kahn will begin her master's degree in cyber security. She also takes advantage of opportunities such as WiCyS to meet people.
There aren't too many people in the tech industry where she lives in Arizona. "It's just such a great experience to see other women who I can talk absolute geek stuff with that other people won't understand," Kahn said. "It's refreshing, and it's definitely been, you know, a bonding experience."
While at WiCyS, she had the chance to meet friends she made on SNHU's National Cyber League (NCL) team, which she said strengthened the group's bond. Making the most of the face-to-face time she had with them at the conference, the group even stayed up late into the night playing Capture the Flag, a cyber security competition hosted by NCL.
While she found her cyber security courses interesting, it was her instructor's recommendation to join NCL that made everything click for her. "It was the push to participate in the National Cyber League that made me really see, 'oh my God, this is what it's about,'" she said.
'I left the conference excited and re-energized'
The first time Gina Llanos Cramer met Kahn face-to-face was at the airport near the conference. She recognized her immediately and gave her a big hug like they were old friends because in many ways, they were. They just hadn't met yet in person. In fact, until WiCyS, Llanos Cramer had never met any of her peers from SNHU in person.
She's met many of her now-friends through her involvement in clubs, including NCL.
Beyond burgeoning friendships, Llanos Cramer also gained valuable experience and skills. By including scores from her first two Capture the Flag competitions on her resume, she showed employers at WiCyS her impressive improvement between the fall and spring seasons.
Llanos Cramer fell in love with computers from a young age, and initially pursued a path in tech education. As the cyber security field grew and she learned about its growth potential and average salary, she decided to go back and earn a third degree, this time finding her passion.
Describing WiCyS as a "whirlwind," one of Llanos Cramer's biggest takeaways was the face-time she had to make and build connections with professionals in the field.
"To see all the students who are heading in the same career field as me and all the companies who were looking to recruit us gave me hope that I will find my dream career one day," Llanos Cramer said. "...I left the conference excited and reenergized, ready to tackle my remaining classes and ready to dive in head-first into cyber security."
A conference highlight for her was recording an episode of her security-related podcast, "Off the Rails," with some of the people she met and interviewed. The podcast kicked off with some of her SNHU peers, with the conversation focused on computer safety practices.
Building Up the Next Generation
Associate Dean Daniel Gannon, also a trip chaperone, found the Career Village to be a crucial asset of the conference. Students had the opportunity to meet with professionals to discuss their resumes, interviews and any questions they had.
"To have the opportunity to sit down with mentors and professionals in the field to discuss their current situation and what goals they have in mind, and then to work out that path with people who have already been there is such a meaningful experience for them," Gannon said.
He thought making connections at WiCyS was reassuring for students who did not start their careers on the cyber security path.
"It's just also really important for them to see that they can make these changes in their careers and their lives at any point and still be incredibly successful… By coming to WiCyS, the students are really able to see that there are people just like them who have made significant changes in their personal lives and their careers that have been empowering." Gannon said. "I think it's a transformative opportunity."
Rebecca LeBoeuf '18 is a writer and editorial coordinator at Southern New Hampshire University. Connect with her on LinkedIn.
Explore more content like this article
August 19, 2021
If you're wondering how to become a computer programmer, the field requires academic knowledge, a passion for math and engineering, adaptability and hands-on experience.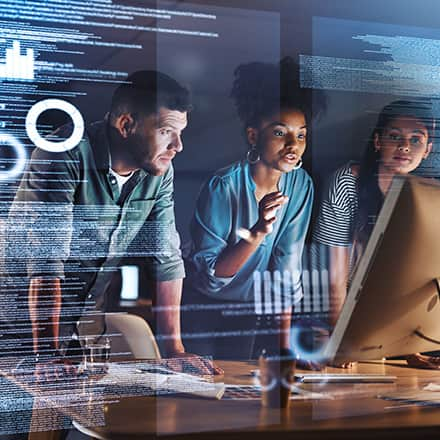 August 11, 2021
With a computer science degree, you can embark on a career with dozens of potential job roles suited to your interests. You can use the knowledge you develop earning your degree to work in technology, manufacturing and more.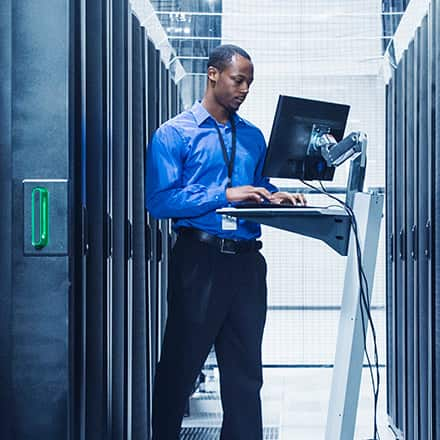 July 20, 2021
The field of cyber security is about leveraging top-notch problem-solving skills with technical aptitude to keep people and data safe. Despite being relatively new, the field of cyber security is here to stay.