SNHU's Week-Long Clinical Mental Health Counseling Residency
For the students in Southern New Hampshire University's first clinical mental health counseling residency for its online students, the weeklong campus visit was more than simply a taste of the traditional college experience.
The nearly 50 students, the first cohort in SNHU's online master's in clinical mental health counseling program, spent July 10-14 at the university's Manchester, N.H., campus, working in person with course instructors and one another, practicing the skills and "micro-skills" they'll use as professional counselors. SNHU has been hosting clinical mental health counseling for its on campus students for the past 17 years.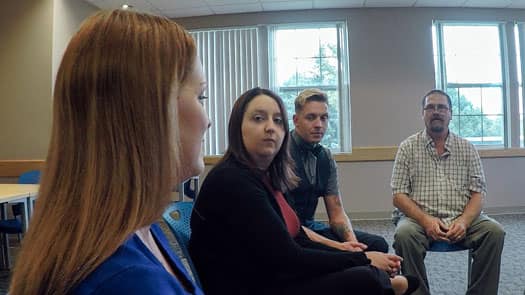 The residency - one of two built into the online counseling program - is actually a term-long course, one week of which students spent on the SNHU campus. Fatma Ouled Salem said the intensive work led to rapid learning. "The residency has been such a great experience," she said. "I've gained so much knowledge in such a short period of time. I'm so excited. I'm so much better at what I'm doing than I was, like, three days ago. It's mind-boggling to me to see how much progress everybody's making. I feel like I'm so empowered by the entire process."
One of the highlights of the residency, according to several students, was the demonstrations by counseling faculty and deans. The opportunity to watch an in-person demonstration of counseling skills and then ask questions was highly valuable, said Christine Bell. "What I've gotten professionally out of this residency is the opportunity to be exposed to certain techniques and skills demonstrated in front of me by my instructors or by my peers and (to) be able to make mistakes," she said. "(There's) a lot of constructive criticism that will be useful in my career."
The one-on-one and small-group interaction is invaluable for students, according to lead faculty Dr. Damion Cummins. "The residency gives (a) personalized experience for the student," he said. "They get to come in. They get to work with their cohort and get to really have this opportunity to work as a group together and see the demonstrations ... and practice themselves so they can learn the skills and the needed tools that will help them in the field of counseling."
Students also spent time practicing micro-skills - such as active listening, a reflection of feelings and paraphrasing - during mock sessions in which one student would role play as a client and another as a counselor. "The residency is the opportunity for the students to apply their micro-skills," said Dr. Lotes Nelson, a counseling program faculty member. "Those are the basic skills they need to develop to be an effective counselor one day."
After spending several weeks communicating with their instructors and classmates on online discussion boards and practicing counseling sessions via video, the chance to meet classmates in person was rewarding.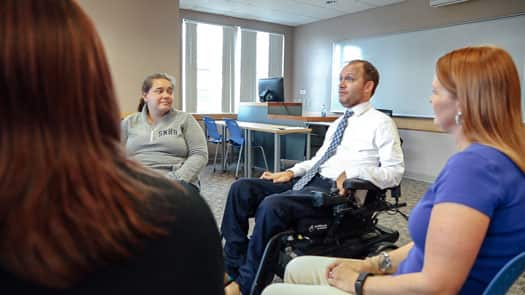 "The residency portion of this program has been beyond any expectation I could have had," student Megan Dawes said. "It was just amazing to see how easy it was to connect with everybody and how much that really prompted growth. ... We had this huge growing experience together in a really short amount of time, but it was quality time that we spent together."
The students in the counseling program come from across the country and have a variety of backgrounds. That's another benefit of the program, Tracey Rasmussen said. "Professionally, I think it's helping me look at things differently," she said. "It just exposes you to different cultures, different music, different personalities, different experiences. ... I would say that's probably the best part, just getting to know all these different people and realizing we're all just in this together."
Ouled Salem said it's not difficult to see how that will benefit students when they graduate and begin their counseling careers. "Working with students from different backgrounds, especially in the counseling field, has such a great advantage because we as counselors in training ... we're going to face people from different cultural backgrounds, different nationalities, different sexualities," she said. "It's very important for us to have this experience to understand and see the perspective of other people, understand how they feel, their experiences."
Dawes said that diversity also improves the quality of the interactions between students while they're still in the program, too. Students "have so many different perspectives that they bring to the table and it's definitely going to play into our careers as we move forward," she said.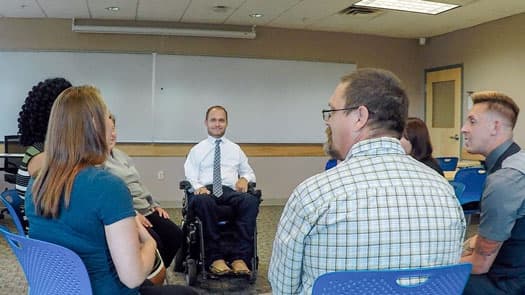 Dr. Marc Wilson, executive director of SNHU's online counseling program, said another advantage of the in-person residency and the connections students made with one another is how the video sessions they will engage in through the rest of their courses will benefit, something several students said they looked forward to. "One of the things that they commented on was when they go home ... how much more real the videos will seem because they've had this very intense connection," he said.
Overall, Wilson said he couldn't have hoped for the residency to go any better. "I think we established a great sense of cohesiveness as a group. They connected with the faculty," he said. "Really, I think for pretty much all of them, (it) really helped consolidate and deepen their sense of commitment to this university, to this program and to the counseling profession."
Joe Cote is a staff writer at Southern New Hampshire University. Follow him on Twitter @JoeCo2323.
Explore more content like this article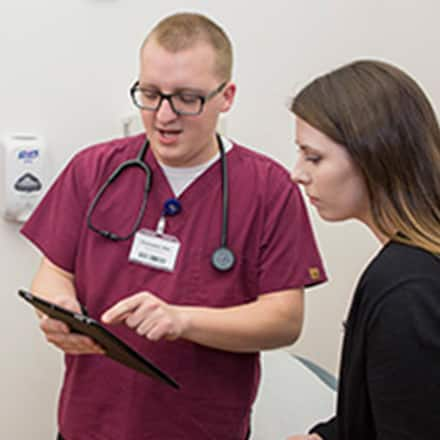 October 14, 2021
So many career paths can leave new and seasoned nurses alike wondering which specialty is right for them. To help, we've compiled a list of the 16 types of nurses employers are looking to hire, including information on salary, growth potential and required nursing degrees.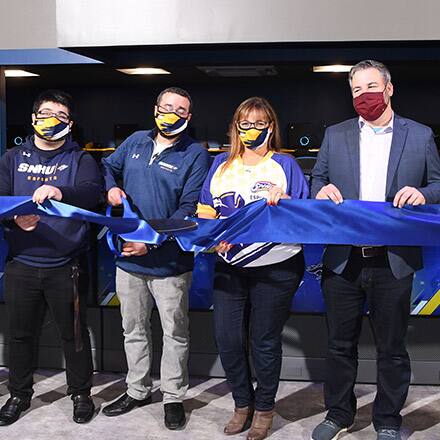 October 13, 2021
SNHU celebrated the grand opening of its esports arena on October 8th. A ribbon-cutting event marked the official opening to welcome the campus community and to see where esports players hone their gaming skills and compete against varsity-level opponents across the U.S. and Canada.
October 05, 2021
Both the nursing profession and some employers are calling on registered nurses (RNs) to obtain a Bachelor of Science in Nursing (BSN) to improve safety and help prepare for future healthcare challenges.