Examples of Jobs You Can Pursue with a Degree in Health Science

Understanding the numbers
When reviewing job growth and salary information, it's important to remember that actual numbers can vary due to many different factors — like years of experience in the role, industry of employment, geographic location, worker skill and economic conditions. Cited projections do not guarantee actual salary or job growth.
Health science encompasses a field of study and a varied group of professions centered around helping others get well and stay well. A degree in health science focuses on ethics, communication, healthcare delivery, data analysis and strategic planning, and it can include financial concepts related to healthcare.
A Bachelor of Science (BS) in Health Sciences can lead the way to a satisfying career grounded in life sciences or business, natural sciences or leadership. If you hope to go into a hands-on healthcare practitioner role, such as a nurse or physical therapist, a degree in health science can help get you there. Or, if the business side of things is what interests you, a degree in health science can lead to a role as a practice manager or an administrative position.
The study of health science encompasses a wide array of topics, according to Dr. Meredith L. O'Hara, associate dean of health professions at Southern New Hampshire University (SNHU), including:
Healthcare ethics
Healthcare finance
Healthcare research
Natural sciences, including cell biology, anatomy and physiology
Health science as a field is quite varied. Roles tend to be either clinical or non-clinical in nature, though skills can overlap. The type of work you might do in one can be very different from the type of work you do in another. Luckily, "there are an abundance of both clinical and non-clinical opportunities in the health sciences," said O'Hara.
Types of Health Science Degrees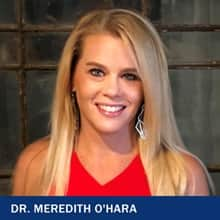 All universities that offer degrees in health science are not the same. Some schools have degree programs that prepare students for graduate study or professional degrees, such as medical school or physician assistant school. Students who already have a health background may benefit from a program such as SNHU's bachelor's degree in health science, which helps students take their existing health science background and train them with the skills they need to advance their career as a supervisor or manager in a health occupation.
One can always start in a technician role and then earn a bachelor's degree and qualify for a position as a supervisor or manager to advance their career, according to O'Hara. "While these management roles are mostly in a clinical setting, they aren't all necessarily patient-facing," she said.
For example, a medical laboratory technician wouldn't necessarily interact with patients, though they would still be working in a clinical setting. With a bachelor's degree in health science, that medical laboratory technician could become the medical laboratory manager, O'Hara said.
When it comes to programs of study, this variety means that options are plentiful for finding ways to help people. Whether in a position that's more hands-on or more behind-the-scenes such as research-based, administrative or laboratory-based roles, a health science degree can lead to many fulfilling paths to help others.
What Can You Do with a Health Science Degree?
Finding the right job means considering the career path that interests you the most, plus choosing courses that you'll enjoy. You can choose careers where you'll be literally hands-on with patients, such as a physical therapist, or managing an office as a business manager. If a leadership role interests you, a health science degree can be quite satisfying as well.
According to O'Hara, some degree programs, such as SNHU's bachelor's in health science, prepares students for a leadership role as a supervisor or manager in an allied health occupation. Examples of those occupations are:
Audiology
Diagnostic sonography
Health administration
Radiation therapy technology
An associate degree (or equivalent) in an allied health field is required first, "and then the college courses they take further prepare students for a leadership role in their chosen allied health profession," she said.
Healthcare Occupations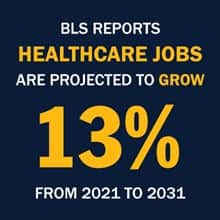 Overall, healthcare occupations are steadily growing. According to the U.S. Bureau of Labor Statistics (BLS), jobs in healthcare are projected to grow 13% between now and 2031, which is much faster than the average for all occupations. In fact, this growth is expected to add approximately 2 million jobs to the workforce in this time frame, reports BLS.*
While pay can vary based on the role and your experience and education, the median annual salary for jobs in the healthcare practitioners and technical occupations, according to BLS is $75,040. BLS also reports that across all occupations as a whole, the median annual wage is $45,760.*
There are many rewarding jobs available if you have a degree in health science, specifically in the area of healthcare occupations. According to BLS, medical and health services managers are slated for tremendous growth, with a projected 28% increase in jobs between 2021 and 2031, and in 2021 earned a median salary of $101,340.*
As a medical or health services manager, you may lead the planning, organizing and directing of a healthcare practice or laboratory. Skills in strategic planning, finance, communication and staff management are key.
A few specific jobs that fall under the umbrella of medical and health services manager, according to BLS include:
Clinical Manager: You might specialize in a particular medical department, such as physical therapy, surgery or nursing. Your responsibilities may vary depending on your area of work. Across all specialties, your role may include finance, budgeting, reporting and overall staff management.
Health Information Manager: Patient records and data would likely be your focus in this role; learning new technology for records management and ensuring privacy protocols are possible key functions.
Nursing Home Administrator: You could manage overall administrative services for a nursing home facility or specialize in operations management, finance or the direct care of residents.
According to O'Hara, the role of clinical laboratory technologist or technician is also one to watch. BLS reports this role earns a median salary of $57,800 per year and projected growth of 7% between 2021 and 2031.* Working in a diagnostic laboratory or hospital, or even a blood bank, are also roles that would allow you to build upon any previous allied health or clinical experience, learn healthcare administration and leadership skills and potentially go on to become a manager or supervisor.
Health Education
Working in health education could lead to a career creating programs, materials and events that teach others about managing their own healthcare conditions, BLS said. Your role in this area could focus on helping others connect with the healthcare services they need. You might provide healthcare outreach and educational efforts to others or provide informal counseling and support, as well as make referrals to appropriate services.
Careers in these roles are expected to grow 12% from 2021 and 2031, BLS reported, with a median salary of $48,860 per year.*
According to BLS some examples of areas to find work in health education and community health where a health science degree could benefit you are:
Healthcare Facilities: Your work may include teaching patients about their diagnoses and treatment options, or you might help leadership identify health concerns and create programs to alleviate them.
Nonprofit Organizations: Your work may include program development, grant writing or even marketing efforts to help promote health awareness. You may also support local health officials or collaborate with public health departments.
Public Health Departments: Your work might include developing public health campaigns for issues such as emergency preparedness, proper nutrition or immunization health.
Learn more about the importance of health education.
Medical Scientists
This area of health science applies research to improve healthcare, though people who work in these areas may not necessarily see patients. Largely research-based, roles in medical science include helping to treat and cure diseases, develop medications and write research grant proposals and articles for publication to share research findings.
Jobs in these areas require at least a bachelor's degree in a scientific field but usually require a master's degree as well, according to BLS. Some positions also require a doctorate or medical degree.
Careers in these roles are expected to grow 17% between 2021 and 2031, BLS projected, with a median salary of $95,310 per year.*
Some typical areas, according to BLS, to find work in medical science are:
Clinical Pharmacology: Your work might include researching drug therapies or creating new medicines.
Medical Pathology: Your work might include conducting autopsies for investigations or conducting medical research on human tissue.
Toxicology: Your work might include performing investigative work for a crime laboratory or hospital, or study pollution's effect on the body.
While these are all highly specialized roles, a BS in Health Sciences can provide a solid foundation to make you successful in pursuing a medical science career.
What is the Highest Paying Job in Health Science?
It might not surprise you that the top-paying jobs in health science are for physicians and surgeons, with a median salary equal to or greater than $208,000 per year, according to BLS, followed by dentists, whose median salary is $163,220.*
What may surprise you are the number of health science professions that also pay well, according to BLS, which notes these median salaries for 2021:
Is a BS in Health Science Worth It?
The answer to whether a bachelor's in health science is worth it is a resounding "yes," according to O'Hara. "With the growing need for allied health professionals, the opportunity to advance one's career as a supervisor or manager with a BS in Health Sciences can be invaluable," she said.
Considering that labor projections predict a steady increase in opportunities in the allied health field, and a BS in Health Sciences will help students reach supervisory or managerial roles in these careers, "a health science degree can open doors to a steady, rewarding career," O'Hara said.
With more than 50 career fields available for people with a degree in health science, the options to customize your career based on your interests and aptitude are endless.
Discover more about SNHU's online health science degree: Find out what courses you'll take, skills you'll learn and how to request information about the program.
*Cited job growth projections may not reflect local and/or short-term economic or job conditions and do not guarantee actual job growth. Actual salaries and/or earning potential may be the result of a combination of factors including, but not limited to: years of experience, industry of employment, geographic location, and worker skill.
Marie Morganelli, PhD, is a freelance content writer and editor.
Explore more content like this article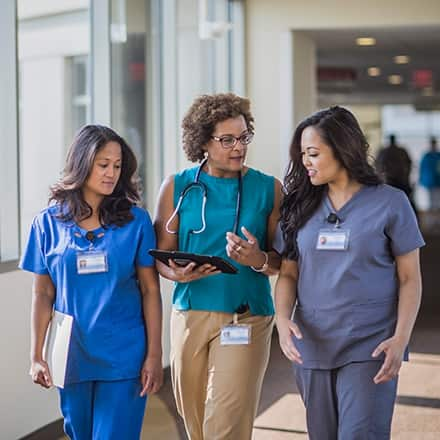 While nursing has always been a respected career, many people don't know that there are different levels of nursing degrees available, and there are several specialty areas to consider with each level. Nurses continuously develop skills, clinical knowledge and expertise throughout their careers.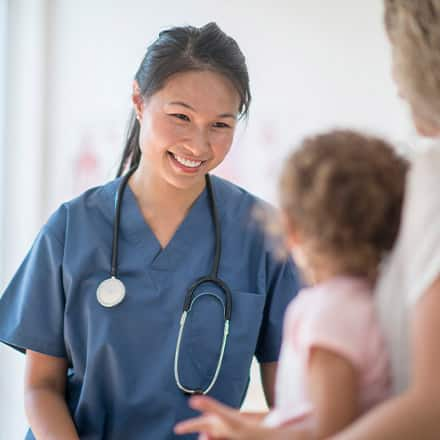 If you want to establish a rewarding nursing career, you're probably wondering what sort of degree you'll need. There are minimum educational requirements to qualify for the nursing licensure exam, and you may decide to gain additional credentials to help you advance in your role.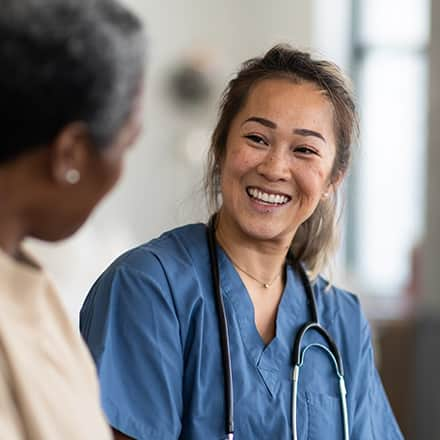 MSN stands for Master of Science in Nursing. This is a graduate degree that provides nurses the opportunity to further specialize in their chosen area of healthcare. The degree can also lead to a new specialization for nurses who are interested in taking their careers in a different direction.
About Southern New Hampshire University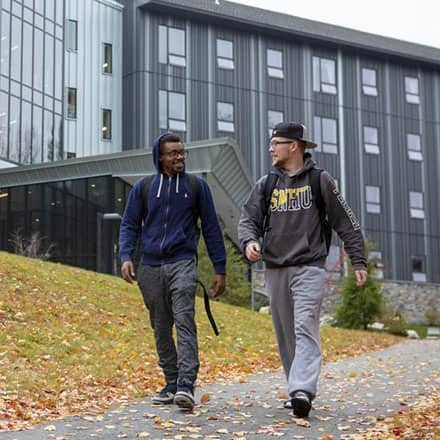 SNHU is a nonprofit, accredited university with a mission to make high-quality education more accessible and affordable for everyone.
Founded in 1932, and online since 1995, we've helped countless students reach their goals with flexible, career-focused programs. Our 300-acre campus in Manchester, NH is home to over 3,000 students, and we serve over 135,000 students online. Visit our about SNHU page to learn more about our mission, accreditations, leadership team, national recognitions and awards.