Nursing Leadership: 5 Tips for Managing Remote Teams
Technology and world events are revolutionizing how healthcare and nursing education is being managed and delivered. Work and education are no longer bound by physical location as technology communication tools provide a means for individuals and teams to connect, learn and function remotely. How and where nurses practice is changing, which impacts how we lead and manage teams.
Consider the recent increase in use of telehealth in meeting patient needs in the face of the COVID-19 pandemic. How has the pandemic and working remotely impacted you and your work? Many teams have had to quickly learn to meet virtually to accomplish their work. Remote team management creates new challenges for nurse leaders and managers. Here are 5 tips to help you successfully manage a remote team.
1. Think about leadership first, location second.
Leading a team from a distance is first and foremost about leadership – the principles of leadership haven't changed. Think of outcomes and others first. Leading and managing a remote team requires setting and achieving many types of goals.
Clearly identify, prioritize and communicate organizational, team and individual goals.
Create project timelines that include check-ins to review progress.
Listen and show interest during team encounters.
Seek frequent feedback to ensure team members are aware of work progress and are included in team decisions. Leading successfully requires an understanding of what people are thinking, not just what they are doing.
2. Build a trusting relationship with each team member.
High trust is correlated with high performance, high productivity and greater job satisfaction. Trust is harder to build and more easily broken while working remotely. To help build trust in remote work environments, delegate tasks and designate team assignments at meetings. This promotes transparency and intentionally creates opportunities for team members to get to know, work and build trust with each other.
Use technology to build relationships.
Encourage the use of webcams to allow people to associate faces with names.
Share praise in public so the team can learn about other's efforts, talents and strengths.
3. Use effective technology/communication tools.
Communication technology makes it possible for individuals to establish trust and work collaboratively while begin geographically dispersed. Choose effective technology communication tools to meet the needs of your team and organization and be sure the tools are utilized to their maximal potential.
Provide tool training and technical support to ensure all team members can accomplish work.
Establish communication norms by considering employees' needs.
Communicate in the ways that works best for others rather than based on your personal preferences. Some remote managers ask for weekly updates and a monthly activity reports to track individual employee work.
Set meeting norms with the team. Consider time zones, human needs and work-life balance when planning dates, times and frequency of meetings.
Build in meeting breaks by scheduling meetings that begin on the hour and last 50-minutes to allow a 10-minute break between meetings.
Use email wisely. For example, use "cc" for those things you want a team member to know but can "wait" to be read.
4. Team Motivation
How we communicate, motivate and engage remote team members will impact work processes and whether teams and individuals meet their goals. Getting to know what motivates your team members and learning about their interests, strengths and skills is important for work success. One way to get to know your team is to complete assessments like DISC, Meyers-Briggs or Strength Finders. The results of these standardized assessments can help teams identify individual strengths and helps in work planning and project assignments. Don't forget to ask people how they want to work with you and adjust the frequency, length and mode of communication with each person on your team.
5. Team Engagement
Don't let distance lead to employee isolation and disengagement. Personalizing your interactions with team members promotes a sense of connectedness. Be intentional when creating a social presence by leveraging multi-modal communication technologies. Motivate and engage employees by acknowledging individual and team accomplishments and recognizing professional milestones, birthdays and key family events.
Recently, our nursing team hosted a remote graduation celebration using Zoom to recognize three faculty members who completed their doctoral work and were unable to receive their diplomas at a traditional graduation ceremony due to COVID-19. We donned our cap and gowns, played "Pomp and Circumstance" and introduced each faculty member, noting their degree attainment and dissertation work. It was a wonderful event and a time for all to connect and celebrate personally and professionally.
These professional tips can help a nurse leader establish clear expectations for remote team communication and work expectations. Greater integration of technology communication tools into nursing education is essential to prepare future nurse leaders to effectively manage remote teams.
Lisa Urban, Ph.D., MSN, RN is an experienced remote leader and currently serves as the associate chief nursing administrator at Southern New Hampshire University. Dr. Urban has worked in higher education for over 25 years while maintaining a clinical practice presence. She has successfully led divisions, departments and programs to meet organizational strategic goals, achieve accreditation standards and has established numerous academic-business partnerships. Dr. Urban has shared her knowledge and experiences related to leading a remote workforce at national and regional conferences.
Explore more content like this article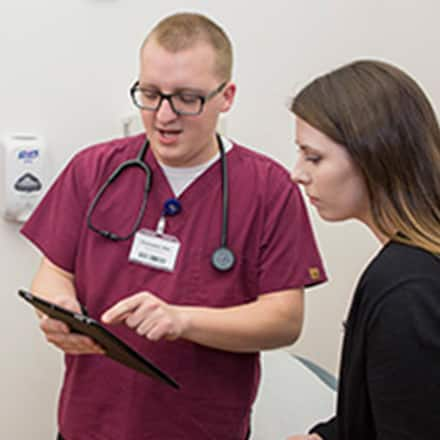 October 14, 2021
So many career paths can leave new and seasoned nurses alike wondering which specialty is right for them. To help, we've compiled a list of the 16 types of nurses employers are looking to hire, including information on salary, growth potential and required nursing degrees.
October 05, 2021
Both the nursing profession and some employers are calling on registered nurses (RNs) to obtain a Bachelor of Science in Nursing (BSN) to improve safety and help prepare for future healthcare challenges.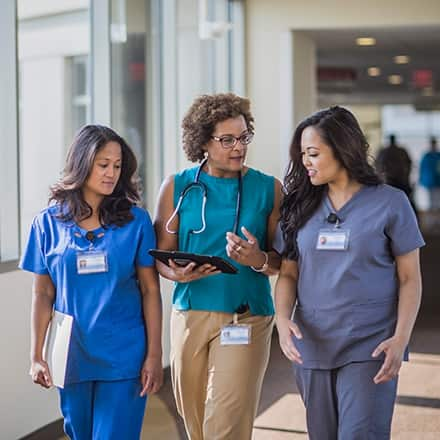 September 30, 2021
While nursing has always been a respected career, many people don't know that there are actually several different levels of nursing degrees and many different specialties available.