What is a CAHIIM Accredited Program?
If you're considering a career in the growing health information management (HIM) field, you may know that it's important to choose a degree program with CAHIIM accreditation. But what is a CAHIIM accredited program, and how can it help you succeed?
CAHIIM accredited programs have gone through a rigorous review process from the Commission on Accreditation for Health Informatics and Information Management Education (CAHIIM), requiring that they meet specific curriculum criteria and other quality standards.
The accreditation process provides public accountability and ensures program educational quality, said Lynn Ward, associate dean of health professions at Southern New Hampshire University (SNHU).
"CAHIIM really sets the bar for academic programs in health information management," said Ward.
If you want to earn a health information management degree, it's important to understand how the industry is changing and how CAHIIM accreditation affects you.
What is Health Information Management?
HIM workers are responsible for organizing, managing and protecting patient information and other health data for doctor's offices, hospitals and other medical facilities.
"Health information management is the information hub for all patient data," said Darla Branda, clinical faculty of health professions at SNHU. "They house all of the information from the lab, surgery, insurance companies, registries and more. They are the main hub that processes all that data and shares it where it is appropriate and applicable."
The HIM field is growing and evolving quickly, Branda said, as an aging population requires more medical services and new technology and regulations change the way that medical facilities collect, store and protect patient information.
According to the U.S. Bureau of Labor Statistics (BLS), jobs for health information technicians are projected to grow 11% by 2028, and jobs for health services managers are projected to grow 18% by 2028.
As demand for HIM increased, so did the number of related degree programs, Branda said. The CAHIIM accreditation process ensures that health information management schools are appropriately preparing students to take on the technological, regulatory and ethical challenges of managing patient data.
What Does CAHIIM Stand For?
CAHIIM stands for the Commission on Accreditation for Health Informatics and Information Management Education. CAHIIM accreditation is a voluntary peer-review evaluation process that aims to ensure health information management programs meet common standards of educational quality.
CAHIIM strives to continuously improve quality education to meet the demands of the healthcare workforce, partnering with schools and professionals in the field.
According to CAHIIM, to receive accreditation, health information management schools must submit an application, followed by a self-assessment that demonstrates alignment with accreditation standards and undergo a site visit from CAHIIM representatives.
The review process looks at every aspect of a health information management degree program, including the curriculum, staff and faculty qualifications, student access to appropriate learning resources, ongoing professional development and overall funding and support from the university, Branda said.
CAHIIM accredited schools must also show that they are engaged in an ongoing review of these standards and are consistently striving to improve the quality of their programs.
"(The accreditation) lends credibility to the quality of our curriculum and signifies that our program has the resources and support in place to deliver a high-quality learning experience for our students," Branda said.
Why is CAHIIM Accreditation Important?
Earning a health information management degree from a CAHIIM accredited program has benefits for colleges and universities and their students, and is a key factor in ensuring there is a qualified workforce for the growing health information field.
For students, the CAHIIM accreditation process ensures that they have access to a high-quality health information management program, which is critical to their success in the field.
Students who graduate from a CAHIIM accredited program meet one of the eligibility criteria to sit for the Registered Health Information Administrator (RHIA) credentialing exam, a minimum requirement for many health information management positions, said Ward.
"Only students who graduate from a CAHIIM-accredited program can sit for that exam," Ward said. "It's becoming more prevalent in the industry. More and more employers are recognizing the RHIA credential, so it really helps (graduates) with job search."
Whether you're seeking a health information management bachelor's degree or associate degree, studying as part of a CAHIIM accredited program can help you see yourself succeed in this in-demand field.
Danielle Gagnon is a freelance writer focused on higher education. Connect with her on LinkedIn.
Explore more content like this article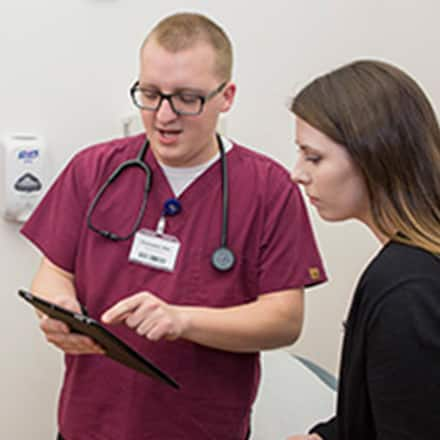 October 14, 2021
So many career paths can leave new and seasoned nurses alike wondering which specialty is right for them. To help, we've compiled a list of the 16 types of nurses employers are looking to hire, including information on salary, growth potential and required nursing degrees.
October 05, 2021
Both the nursing profession and some employers are calling on registered nurses (RNs) to obtain a Bachelor of Science in Nursing (BSN) to improve safety and help prepare for future healthcare challenges.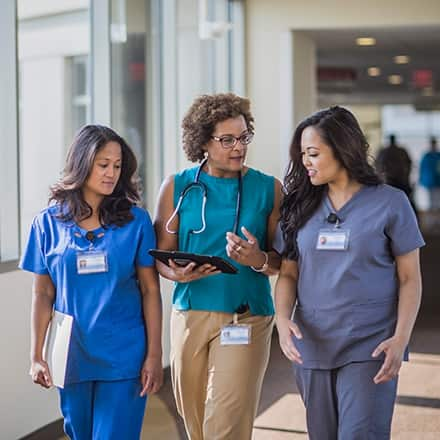 September 30, 2021
While nursing has always been a respected career, many people don't know that there are actually several different levels of nursing degrees and many different specialties available.