Health Information Management Master's
$637/credit (36 credits total)
Transfer up to 12 graduate credits
Get credit for certifications you already have
Complete in as few as 15 months
No GRE/GMAT required
Aligned with standards set by American Health Information Management Association (AHIMA)
Master's in Health Information Management Program Overview
As the demands on the healthcare field increase, so does the amount of patient information that organizations are responsible for securely storing and managing on a day-to-day basis. Leaders with advanced knowledge and skills are needed to think strategically, lead teams and understand how big data impacts the quality of care.
Southern New Hampshire University's Master of Science (MS) in Health Information Management (HIM) program prepares professionals to apply leadership, critical thinking, communication and problem-solving skills to various leadership and management roles in HIM.
In the MS in HIM program, you'll:
Integrate some of today's in-demand knowledge areas – like business, data analysis and computer science – into the ultimate healthcare technology career
Lead your organization as the go-to for accuracy, accessibility and security of crucial patient data
Have access to your coursework 24/7, allowing you to work on your graduate degree during times most convenient for you. Choose from multiple term starts throughout the year.
This online health information management master's degree is the ideal next step for continued study of graduates of the bachelor's in health information management program or those looking to build on their skills and experience in healthcare. Whether you're a new college graduate or a long-term healthcare system employee, understanding data systems and analysis can open up career paths that are on track for big growth in the coming years.
Note: SNHU's master's in health information management is not accredited by the Commission on Accreditation for Health Informatics and Health Information Management (CAHIIM), though the program is designed to align to standards set by CAHIIM. Completion of the MS in Health Information Management alone does not adequately prepare learners to be eligible to sit for the Registered Health Information Administrator (RHIA) exam or Registered Health Information Technician (RHIT) exam. Students should verify that they meet all requirements to sit for the RHIA or RHIT exam by visiting AHIMA's certification page.
Get credit for your HIM certifications. Already a credentialed HIM professional? At SNHU, we've identified AHIMA certifications with a 1:1 correlation to our MS in HIM courses, helping you earn credits and waive courses with certifications you already have. Having even one of these certifications can save you close to $2,000 in tuition and 2.5 months of time.
Registered Health Information Administrator (RHIA)
Certified Documentation Improvement Practitioner (CDIP)
Certified Health Data Analyst (CHDA)
Certified in Healthcare Privacy and Security (CHPS)
Learn more about getting credit for HIM certifications.
What You'll Learn
How to evaluate & create data management policies
Technological patient data protection methods
Healthcare enterprise planning techniques
Models for managing revenue cycles
Health information compliance program creation
How You'll Learn
At SNHU, you'll get support from day 1 to graduation and beyond. And with no set class times, 24/7 access to the online classroom and helpful learning resources along the way, you'll have everything you need to reach your goals.
Career Outlook
If you're looking to enter the health information management field, you've chosen a strong field. With big data being used to inform health interventions and population healthcare approaches, there's a great need for health information managers.
Job Growth
According to the U.S. Bureau of Labor Statistics, career opportunities for medical and health services managers are expected to grow 28% — much faster than average — through 2031.1
Salary
The median annual salary was $101,340 for medical and health services managers in 2021.1
The health information management program may prepare you for positions with a specific focus on compliance, privacy or clinical data analysis in any number of fields.
Andrea Johnson-Mignott, a clinical faculty for health professions at SNHU, also notes job opportunities in health information management have been expanding in academia.
"Health information management is a rapidly growing profession with many specialized areas as the implementation of electronic health records increases. This growth will affect those who work in healthcare analysis and big data analysis, in addition to those who work in academic settings. Many HIM professionals do not usually consider working as an educator, but there is a need in this area, and they are prepared to take on these roles."
Where Could You Work?
Ambulatory Care Facility
(Nursing home administrators)
Manage staff, admissions, finances and care of residents in a nursing home.
Outpatient Clinics
Manage a department's policies, reports/budgets and staff training on electronic health record (EHR) best practices.
Primary Care Offices
Take charge of the maintenance and security of all patient records and data.
Insurance Companies
Oversee teams that review claims and communicate with submitters to minimize inaccurate reimbursements/billing.
Hospitals
Direct the design and implementation of electronic medical records systems.
Universities
Teach and advise health professions students in subjects like healthcare reimbursement and medical terminology.
Start Your Journey Toward an Online Health Information Management Degree
Why SNHU for Your Master's in Health Information Management
Flexible
With no set class meeting times, you can learn on your schedule and access online course materials 24/7.
Affordable
As part of our mission to make higher education more accessible, we're committed to keeping our tuition rates low. In fact, we offer some of the lowest online tuition rates in the nation.
Prior coursework and work experience could also help you save time and money. SNHU's transfer policy allows you to transfer up to 12 credits from your previous institution. You could also earn college credit for previous work experience.
Respected
Founded in 1932, Southern New Hampshire University is a private, nonprofit institution with over 160,000 graduates across the country. SNHU is accredited by the New England Commission of Higher Education (NECHE), a regional accreditor, which advocates for institutional improvement and public assurance of quality.
Recently, SNHU has been nationally recognized for leading the way toward more innovative, affordable and achievable education:
"Most Innovative" regional university honors from U.S. News & World Report each year since 2015
A $1 million grant from Google.org to explore soft skills assessments for high-need youth
Recognition as a 2017 Digital Learning Innovator by the Online Learning Consortium
Network
At Southern New Hampshire University, you'll have access to a powerful network of more than 300,000 students, alumni and staff that can help support you long after graduation. Our instructors offer relevant, real-world expertise to help you understand and navigate the field. Plus, with our growing, nationwide alumni network, you'll have the potential to tap into a number of internship and career opportunities.
93.6% of online students would recommend SNHU (according to a 2022 survey with 17,000+ respondents). Discover why SNHU may be right for you.
Expanding access to quality higher education means removing the barriers that may stand between you and your degree. That's why you can apply at any time and get a decision within days of submitting all required materials:
Acceptance decisions are made on a rolling basis throughout the year for our 5 graduate terms.
Requirements specific to this program include:
Students must demonstrate competency in pathophysiology/pharmacology, anatomy and physiology, medical terminology, computer concepts and applications, and statistics to be admitted to the program. Competency may be demonstrated by the following options:

Provide proof of prior college-level academic credit or provide proof of that they hold the professional experience via professional resume.
Resumes due at application.

Applicants have the option to provide proficiency in these topics by taking optional assessments. Please speak to an admission counselor for more information.
If you're ready to apply, follow these simple steps to get the process going:

Preparing You for Success
Heidi Nolan '19
"I'm speaking with higher-level executive staff every single day."
Courses & Curriculum
The coursework in SNHU's master's in health information management program - one of only a few online graduate degrees of its kind available - opens doors for HIM professionals prepared to advance their careers managing and organizing patient data. Our 36-credit health information management program develops the skills applicable to further your career, and the curriculum utilizes an approach that focuses on information governance, data protection, health informatics, revenue management, compliance, healthcare law, ethics and analytics.
These courses are designed to prepare you professionally to apply leadership, critical thinking, communication and problem-solving skills to various leadership and management roles in HIM moving forward. These courses address the full range of opportunities and disciplines within healthcare information management in:
Creation of presentations and reports to use data in informing stakeholders about key organizational issues and developing policy
Security of patients' personal healthcare data, including the requirements of the Health Insurance Portability and Accountability Act (HIPAA), and implementation of effective policies
Leading a team of health information professionals and ensuring industry best practices related to ethical issues and information management
Additionally, the MS in Health Information Management program also culminates in a capstone allowing you to integrate previous coursework and practical experience with a focus on authentic demonstration. In your last class – the capstone course – you'll use what you've learned to develop and execute a capstone project that applies your knowledge in a complex and operationally charged business environment.
Our Program Mission:
Prepare students as ethical leaders and managers of health information, fostering their ability to think critically, plan strategically, and work collaboratively across an organization, while using technology to protect patient data and solve healthcare needs.
The program's mission and goals form the basis of program planning, implementation and is compatible with the mission of the Health Professions (HP) department and the university as a whole. The program's mission and goals are outcome-focused and measurable to improve program health and address any disparity in the curriculum.
List of Courses
Courses May Include
MS in Health Information Management Online
HIM 510
HIM Applications and Systems
Topics related to health information management, including revenue management, coding and compliance, developing professional identity, terminology and classification systems, Health Insurance Portability and Accountability Act of 1996 (HIPAA), and current trends are explored. Students tour a medical facility either virtually or in person.
HIM 520
Leading as a HIM Professional
This course explores leadership roles, change management, and key topics in the health information management industry through an overview of leadership in organizations, human resource (HR) management, training and development, ethics, process improvements, work design, and developing and revising policies. Students examine ethical concepts and learn first-hand what the role of a health information management professional entails.
HIM 530
Information Protection & Security in HIM
Building on the HIPAA foundation established in HIM-510 students learn how to create and revise working policies and regulations within organizations based on existing laws, and how to adapt infrastructures to support these policy changes. Students explore access of medical records and how to discern when access should be prohibited based on the policies in place.
HIM 540
Health Information Governance
Explore compliance for HIM professionals, regulatory requirements, and the relationship of coding and compliance, to develop an understanding of data governance pertaining to the significance of data integration, interoperability, and shared data. Learn how to assess the accuracy and standardization of data governance by reviewing various sections within the charts and their authorizations.
HIM 550
Data Management and Data Quality
Explore meaningful use of data and the management of patient-centered health information systems. Review data management policies, evaluate data from varying sources to create meaningful presentations/reports, design patient-centered health information systems, and manage virtual network communications. Learn how to collect data, evaluate it, and turn it into valuable information to present to various audiences.
HIM 560
HIM Informatics and Technology Infrastructure
Explore the technologies that support health information systems by examining different patient medical records and the various uses and steps in developing medical records. Create models of portals from a database-perspective.
HIM 600
Managing Compliance
Review the laws and regulations that are applicable to health information management professionals in regards to compliance, medical documentation, fraud, abuse, and penalties for documentation and coding violations based on governmental guidelines. Learn principles of medical auditing, medical record auditing skills, chart abstraction and perform a coding risk analysis.
HIM 660
HIM Strategic Planning and Financial Management
Explore the healthcare revenue cycle and financial principles relevant to strategic planning for the healthcare organization, including analytics, reimbursement models, forecasting the revenue cycle and methods of fraud detection.
HIM 675
Research Methods and Evaluation
Employ research methodologies, systematic processes for data collection to ensure data integrity, and data analysis to establish a framework for drafting the capstone project.
HIM 680
Advanced Topics in HIM I
Apply and expand on topics covered in previous courses in the MS Health Information Management program, including advanced classification systems, data governance, data management, and health information technologies such as data analytics and decision support. Apply theories learned in consumer informatics, and information integrity, contingency planning, as well as vendor management and enterprise information management.
HIM 685
Advanced Topics in HIM II
Apply and expand on topics covered in previous courses in the MS Health Information Management program, including strategic planning, and leadership roles in HIM. Apply theories learned in change management, work design, and project management.
HIM 690
Health Information Management Capstone
Integrate previous coursework and practical experience with a focus on authentic demonstration of competencies outlined by the program by synthesizing and integrating prior learning to design, develop, and execute a capstone project as a culmination of the M.S. Health Information Management program. Develop a well-thought-out, comprehensive project that applies knowledge in a complex and operationally-charged business environment.
Total Credits: 36
Minimum Hardware Requirements
| Component Type | PC (Windows OS) | Apple (Mac OS) |
| --- | --- | --- |
| Operating System | Currently supported operating system from Microsoft. | Currently supported operating system from Apple. |
| Memory (RAM) | 8GB or higher | 8GB or higher |
| Hard Drive | 100GB or higher | 100GB or higher |
| Antivirus Software | Required for campus students. Strongly recommended for online students. | Required for campus students. Strongly recommended for online students. |
| SNHU Purchase Programs | | |
| Internet/ Bandwidth | 5 Mbps Download, 1 Mbps Upload and less than 100 ms Latency | 5 Mbps Download, 1 Mbps Upload and less than 100 ms Latency |
Notes:
Laptop or desktop?  Whichever you choose depends on your personal preference and work style, though laptops tend to offer more flexibility.
Note:  Chromebooks (Chrome OS) and iPads (iOS) do not meet the minimum requirements for coursework at SNHU. These offer limited functionality and do not work with some course technologies. They are not acceptable as the only device you use for coursework. While these devices are convenient and may be used for some course functions, they cannot be your primary device. SNHU does, however, have an affordable laptop option that it recommends: Dell Latitude 3301 with Windows 10.
Office 365 Pro Plus is available free of charge to all SNHU students and faculty. The Office suite will remain free while you are a student at SNHU. Upon graduation you may convert to a paid subscription if you wish. Terms subject to change at Microsoft's discretion. Review system requirements for Microsoft 365 plans for business, education and government.
Antivirus software: Check with your ISP as they may offer antivirus software free of charge to subscribers.
University Accreditation
Southern New Hampshire University is a private, nonprofit institution accredited by the New England Commission of Higher Education (NECHE) as well as several other accrediting bodies.
Tuition & Fees
Tuition rates for SNHU's online degree programs are among the lowest in the nation. We offer a 25% tuition discount for U.S. service members, both full and part time, and the spouses of those on active duty.
Online Graduate Programs
Per Course
Per Credit Hour
Annual Cost for 15 credits
Degree/Certificates
$1,911
$637
$9,555
Degree/Certificates
(U.S. service members, both full and part time, and the spouses of those on active duty)*
$1,410
$470
$7,050
Tuition rates are subject to change and are reviewed annually.
*Note: students receiving this rate are not eligible for additional discounts.
Additional Costs:
Course Materials ($ varies by course)
Frequently Asked Questions
What can I do with a master's in health information management?
As health information management continues to expand, so do the career opportunities. Professionals in this field work across all healthcare providers and departments, from hospitals, clinics and surgery centers to behavioral health facilities, governmental agencies and even healthcare technology companies.
With a master's in health information management, you can become a leader in a wide array of settings in the field. While overseeing documentation practices is one of the hallmarks of the HIM profession, you'll potentially manage many other key aspects of health information including collecting, reporting, analyzing and protecting health data.
And, since health information management is a program where technology and healthcare coincide, advances in medical technology will continue to change the healthcare industry in the digital age for years to come. This leaves plenty of career opportunities wide open for someone with their MS in HIM.
According to AHIMA, advanced leadership roles within HIM include: 3
Chief of Information Intelligence (CII)/Business Intelligence Officer (BIO)
Chief/Director of Health Informatics Administration
Chief Information Strategy Officer (CISO)
Information Asset Officer (IAO)/Director of Information Assets (DIA)
Information Integrity Officer (IIO)/Director of Information Integrity (DII)
Chief/Director of Information Exchange Management
Privacy and Security Assurance Officer
Chief/Director of Enterprise Information Management (EIM)
Chief/Director of Information and Data Analytics
Information Research Director/ Manager/Analyst
Consumer Informatics/Advocacy Manager/Specialist
Enterprise Application Director/ Manager/Analyst
Business Intelligence Director/ Manager/Analyst


Just take it from former SNHU HIM student Heidi Nolan '19, who acts as a liaison between the healthcare world and executives as a project manager for an Air Force base hospital.
"I've learned how to problem solve and basically assess what needs to be fixed and, you know, make a suggestion."
Because a portion of her professional practice experience was presenting her findings to Nevada Health Centers' leadership team, she learned how to communicate to different audiences.
What's the difference between health information management and health informatics?
While both of these career paths aim to transform healthcare through technology and data, there are a few key differences to be aware of.
Health information management (HIM) focuses on medical records. It's the practice of acquiring, analyzing and protecting digital and traditional medical information vital to providing quality patient care. Think of it as a combination of business, science and information technology.
Health informatics (HI) focuses on applied IT. It's the science that defines how health information is technically captured, transmitted and utilized. Health informatics focuses on information systems, informatics principles and information technology as it's applied to the continuum of healthcare delivery.
How much do health information managers make?
While earning your master's in health information management can create new opportunities for you, salaries can range depending on various factors including credentials, experience, industry and job level.
The U.S. Bureau of Labor Statistics reports the median annual pay for medical and health services managers is $101,340 per year, and that median salary increases to $119,450 when working in the government.1
In 2019, the American Health Information Management Association (AHIMA) surveyed HI professionals about their salaries. It reported that the top 5 average salaries by job setting included life sciences, association/professional societies, vendor companies, laboratories/research and consulting firms.2
In addition, since a master's degree can better position you to earn HIM credentials, each one you earn could boost your salary even more. AHIMA reports that those with 4+ credentials have an average salary of $113,950.2
Is health information management a hard major?
Going back to school for any degree program takes hard work and dedication, and it depends on a number of factors, including how you learn and where your passion lies. If you enjoy working with data, consider yourself a detail-oriented person who strives for precision and has high regard for ethics and helping others, HIM may be the perfect fit for you.
That said, we offer excellent resources, such as academic advising, to make earning your degree as stress-free as possible. Check out our student services to learn more about the support you'll have, should you need it. If something pops up that you can't figure out on your own, we'll be there to help you.
Getting your online master's in health information management from Southern New Hampshire University also offers additional perks:
Benefit from several free books and resources - saving you money
Gain a free membership to the Health Information and Management Systems Society (HIMSS), which offers networking, career information and more
Join one of the country's only online HIM master's programs, filled with content that leads up to a real-life simulated experience
Is health information management in demand?
Yes. As technology continues to gain momentum in the healthcare world, the demand for highly educated professionals with a background in health information management will only continue to grow. With a master's degree in health information management, you can be prepared to take on management and leadership roles within large healthcare settings, while also being qualified to manage the technology, security and compliance needs of your organization.
According to Branda, the health information management profession will need HIM professionals to manage and disseminate essential healthcare information to internal and external stakeholders for clinical decision-making, research and revenue management. HIM professionals will also be needed to make informed decisions on matters such as department budgeting, workflow processes and the technological skills to oversee the many facets of their profession.
Do I need an undergraduate degree in health information management?
At SNHU, you'll need to meet our admission policy, which requires a conferred bachelor's degree and a minimum GPA. However, you don't need to be a medical professional, or even have an undergraduate healthcare degree, to pursue an HIM education. Whether you're re-entering the workforce or seeking a new career path, HIM is a broad field open to all experience levels. In this field, you can help others by improving the quality and integrity of health data, provide leadership in the planning, design, selection and implementation of health information technologies, perform data analytics to optimize business operations and manage projects to achieve specific organizational goals.
If you've worked in IT, management or tech, SNHU can help turn your current skill set into your HIM education foundation.
Health information management is currently filling roles in:
Compliance and risk management
Data privacy, confidentiality and security
HIM operations management
Informatics, data analysis projects and research
IT and infrastructure
Health information exchange
Patient identity management and more
You can build on your existing knowledge and skills as you pursue HIM coursework in several emerging areas in healthcare, including mobile health, consumer informatics, data and information analytics and healthcare policy.
MS Health Information Management Achievement Data
The Master's Degree in Health Information Management Program is in Candidacy Status, pending accreditation review by the Commission on Accreditation for Health Informatics and Information Management Education (CAHIIM). CAHIIM requires programs in candidacy status to provide achievement data which is reported below:

Enrollment: 98

Total number of full time and part-time MS Health Information Management students enrolled in at least one course during the August 1, 2021-July 31, 2022 timeframe.

Student Satisfaction Rate: 76.9%

The percentage of full and part time MS Health Information Management students who responded to the 2022 student satisfaction survey and indicated they were satisfied with their overall educational experience. Out of 47 students surveyed, 13 responded.

Graduation Rate: 39.6%

The percentage of full and part time MS Health Information Management students (first year and transfer) who graduated within 3 years of starting their program. This percentage is based on a cohort of 53 students that reached the 3-year mark between August 1, 2021 and July 31, 2022.

Employment Rate: *

The percentage of MS Health Information Management graduates who responded to the 6 months post-graduation survey and indicated they were employed. Out of 26 students who graduated between July 2021- June 2022, none responded to the survey.
Related Articles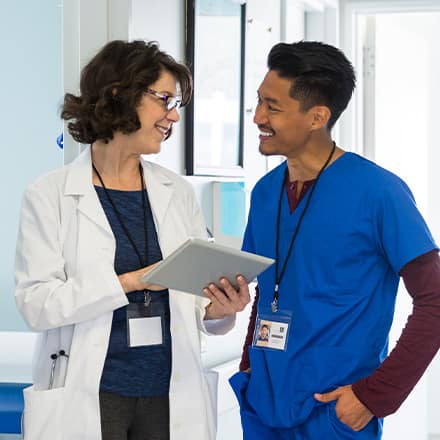 The field of healthcare is growing and evolving all the time. If you want to help lead this change in your career, the right education, knowledge and leadership skills will be key. Explore the different types of master's degrees in healthcare to discover what's right for you.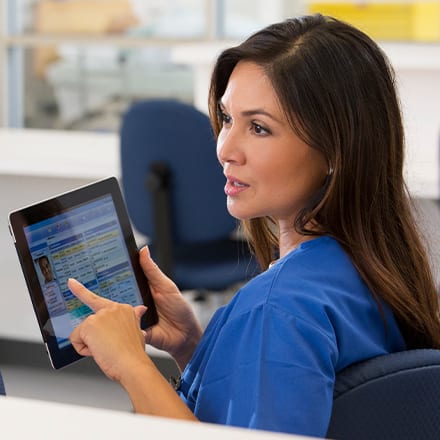 Health information management (HIM) is a critical field within healthcare that involves the secure and accurate documentation, management and analysis of patient health information. It encompasses areas such as coding and revenue cycle, informatics, data analytics and information governance.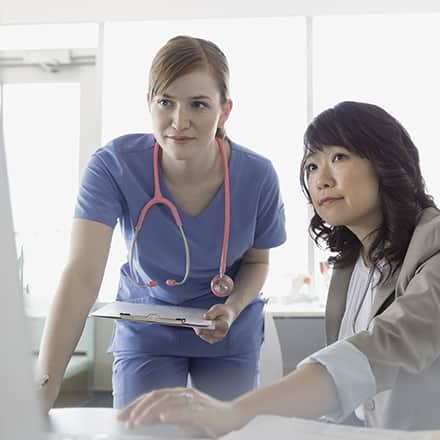 Licensed practical nurses, or LPNs, play a critical role in today's health care system. As an LPN, you can make a difference in patients' lives by attending to their care and comfort. While the time it takes to become an LPN may be shorter than other nursing roles, you need to take certain steps.
References
Sources & Citations (1, 2)
1 Bureau of Labor Statistics, U.S. Department of Labor, Occupational Outlook Handbook, on the internet, at:
https://www.bls.gov/ooh/management/medical-and-health-services-managers.htm#tab-1 (viewed Nov. 1, 2022).
Cited projections may not reflect local and/or short-term economic or job conditions and do not guarantee actual job growth.
2American Health Information Management Associations (AHIMA), on the internet, at:
https://www.ahima.org/downloads/ForEmployersHireHIMProfessionals.pdf (viewed July 26, 2021).
https://www.ahima.org/media/betc41er/salary-snapshot.pdf (viewed July 26, 2021)