What is Community Health?
If you're passionate about nutrition, exercise and spreading awareness around healthy habits, careers in the community health sector may be a natural fit. What is community health? It's a unique, emerging facet of healthcare that explores the industry from a science perspective.
This area of study is often confused with public health, and, while the two areas of healthcare do have some overlap, they differ in a number of key ways. While public health focuses on gathering and analyzing data on large samples of society, community health takes a more individualized, personal approach to discerning wellness trends and needs within a community, and implementing solutions within specific demographics.
Community health involves taking facts about health and wellness and applying them to initiatives such as nutrition programs or anti-smoking campaigns. Community health educators often work in offices and labs, as well as in the field, interacting with people and taking a hands-on approach to making improvements.
Pursuing a career in this up-and-coming industry means you'd act as a proactive force against unhealthy behaviors. While physicians and nurses treat medical issues once illness or injury occurs, you'd be helping prevent problems through access to beneficial health programs.
Lend Your Talents to a Growing Field
Healthcare has long been considered a dynamic career path, and this sentiment rings true now more than ever. As advances continue in clinical, social and technological knowledge, new wellness-related occupations also emerge. Earning an undergraduate degree in community health education can leverage your talents into a fresh and exciting career that's already in demand.
According to the U.S. Bureau of Labor Statistics (BLS), hiring for occupations like health educators and community health workers is expected to grow 13% between 2014 and 2024. The rise of these professions is largely due to an increased push to lower medical costs through proactively educating people on healthful habits.
Put Your Passion to Work in a Variety of Settings
Community health educators are essential in a number of different industries and capacities. You could work on a college campus, where your responsibilities may include leading discussions around drugs and alcohol or organizing exercise initiatives for students. You could also pursue a career in the nonprofit sector, where organizations are seeking qualified professionals to help raise awareness about specific illnesses and community health problems. You may focus on helping people with chronic medical problems, assist with fundraising and potentially educate policymakers on serious health issues.
As private sector businesses become increasingly health-conscious and employee-focused, community health educators are becoming a vital part of these organizations as well. Working in this area, you'd have the opportunity to identify key workplace community health problems and offer advice to management about how they could improve policies and conditions. For example, you may be responsible for creating wellness initiatives or developing company-wide healthy living newsletters.
Since certified community health professionals are already in high demand across a spectrum of industries, compensation in this field is relatively competitive. What is community health's earning potential? In 2014, the median annual salary for a community health educator was $50,430, with the top 10% earning more than $90,000, according to the BLS. Many of the top earners in this profession were employed by hospitals and government agencies. Notably, the BLS recommended pursuing a formal degree in community health education to maximize your job prospects.
Starting Your Community Health
If you're eager to start working as a community health educator, there's no better way to kick off your career than earning your online Bachelor of Science in Community Health Education. You'll be able to pursue your degree while maintaining the other responsibilities in your life.
Online degree programs are designed with working adults in mind, so they afford you the flexibility you need to balance your life, job and education. With the Internet as your classroom, you can check and complete assignments wherever and whenever's convenient for you.
Throughout your online community health education program, you'll take courses on a wide variety of topics that will help you achieve real-world success. In addition to learning about the community health problems you'll be facing in the field, you'll also be taught transferable skills like program planning, social marketing and mass communication.
Upon graduating with your degree in Community Health Education, you'll also be successfully eligible to sit for the Certified Health Education Specialist (CHES) exam. This test, which is issued by the National Commission for Health Education Credentialing, Inc., meets national standards and is fully accredited by the National Commission of Certified Agencies. It focuses on the "Seven Areas of Responsibility for Health Education Specialists" as determined by "A Competency-Based Framework for Health Education Specialists 2010," and will distinguish you among other community health professionals and help you rise to the top of your profession.
Are you ready to pursue your future in community health education?
Marcy Vadurro is a marketing professional within nursing and health professions in higher education.
Explore more content like this article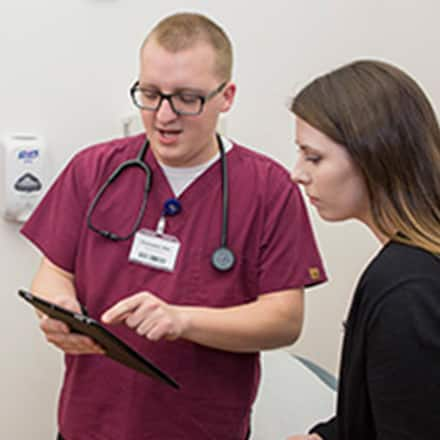 October 14, 2021
So many career paths can leave new and seasoned nurses alike wondering which specialty is right for them. To help, we've compiled a list of the 16 types of nurses employers are looking to hire, including information on salary, growth potential and required nursing degrees.
October 05, 2021
Both the nursing profession and some employers are calling on registered nurses (RNs) to obtain a Bachelor of Science in Nursing (BSN) to improve safety and help prepare for future healthcare challenges.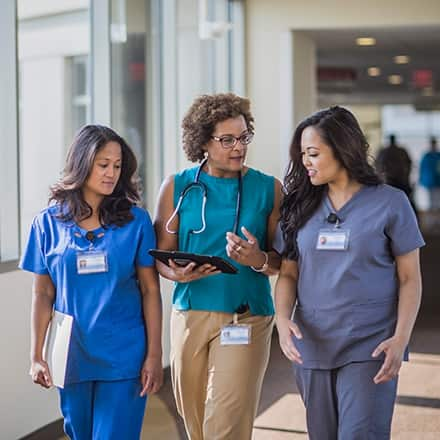 September 30, 2021
While nursing has always been a respected career, many people don't know that there are actually several different levels of nursing degrees and many different specialties available.